Thomas Frey Finds a Path to College With Career Currency and UNO's Supply Chain Management Program
Frey took advantage of his employer's Career Currency partnership with UNO to pursue a degree in Supply Chain Management after three kids and 20+ years away from school.
published: 2022/05/02
contact: Rachael Smith - Communication Specialist, UNO CBA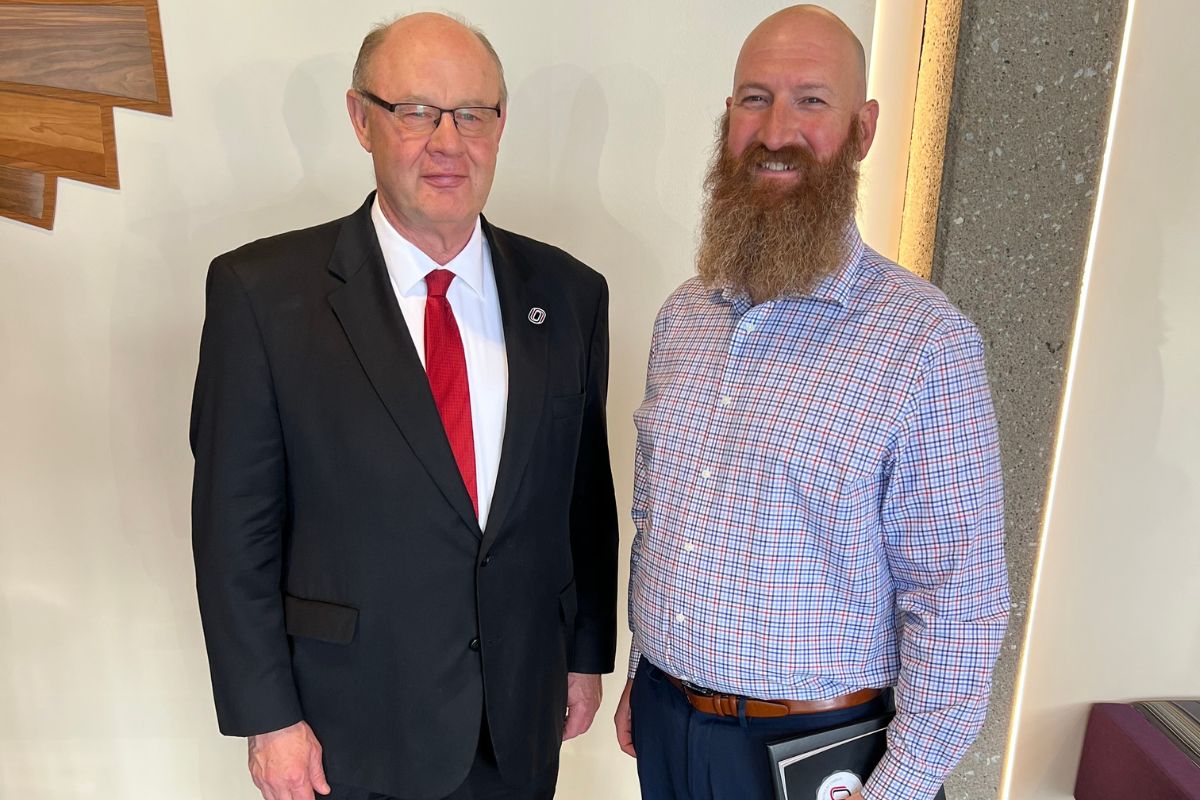 Thomas Frey (right) is recognized with Dr. Steve Schulz (left) for his efforts in Supply Chain Management at a UNO honoring ceremony.
The journey through college wasn't always direct for Thomas Frey. When he received a scholarship from the University of New Orleans, he tested out different majors, bouncing from engineering, to accounting, to general business. When he started working with an offshore construction company, he left college altogether.
Fast forward more than 20 years, and now Frey not only has three children of his own off at college, but he's back at university too. Through the UNO Career Currency program, which provides educational funding for Omaha-based employer partners, Frey is studying Supply Chain Management with the College of Business Administration. It was a decision he made for his career growth, and to uplift his family.
"I have a son at LA Tech in supply chain management, a daughter on full paid scholarship at Southern Miss for nursing, and a daughter at Pearl River CC for dental hygiene. I wanted to show them it was a mistake that I didn't finish college before, and if I can go back and finish, then they can focus on finishing too," said Frey.
And Frey isn't just working through his degree – he's excelling. He's been nominated for Outstanding Student in Supply Chain Management and is completing the program while working full-time as a welder for Union Pacific. He read about Union Pacific's educational assistance partnership with UNO on his employer's website, where he realized that because of his job, he could earn a fully paid degree. It's been a clearer journey for him ever since, especially due to the program's flexibility.
"The process was simple. Christine Bolas, the UNO-UP concierge, and Lizzie Dement, my advisor, helped me to get signed up and get my transcripts transferred over. It took no time at all," said Frey. "Being able to work completely online was the most beneficial aspect. First, because I live in New Orleans and work in Houston, attending class in Omaha was not an option. Being able to work on my own time was an immense help also. Working full-time as a welder on the rails, I was able to come home and work on school in the evenings, weekends, or even on breaks."
Frey is nearing the end of his program and is currently progressing through his senior corporate and business strategy class with Dr. Nick Arreola, which he calls "challenging, but very information-packed." He's even found value in classes outside of his core concentration area, such as his professional selling class with Dr. Anne Herman.
"I really enjoyed my professional selling class with Dr Herman. She interacted with students well and made class fun," said Frey. "It helped me learn to put better presentations together and become more comfortable using Zoom meetings. All of these classes will help me work my way into a job pertaining to Supply Chain Management."
Ultimately, Frey plans to leverage his degree into a Supply Chain Management role with Union Pacific. He's already started submitting his resume for openings and is confident in the knowledge he can bring to the table.
"I really enjoy working with Union Pacific. They're a great employer to work for. I hope to be able to use my degree and experience to work my way into the supply chain side of the business," said Frey. "I hope to be able to travel the country, too. I love exploring new places. With UP operating in 23 states, I would like to be able to work throughout."
Frey is a great example of the life-changing progress one can achieve through partnership, community, and commitment. We're proud to have Thomas as a UNO CBA success story!