The 2021 Capstone Cup: A Key Differentiator for CBA Graduates
Students in their final semester make business connections, apply their knowledge to real-world problems, and impact the Omaha business community.
contact: Rachael Smith - Communication Specialist, UNO CBA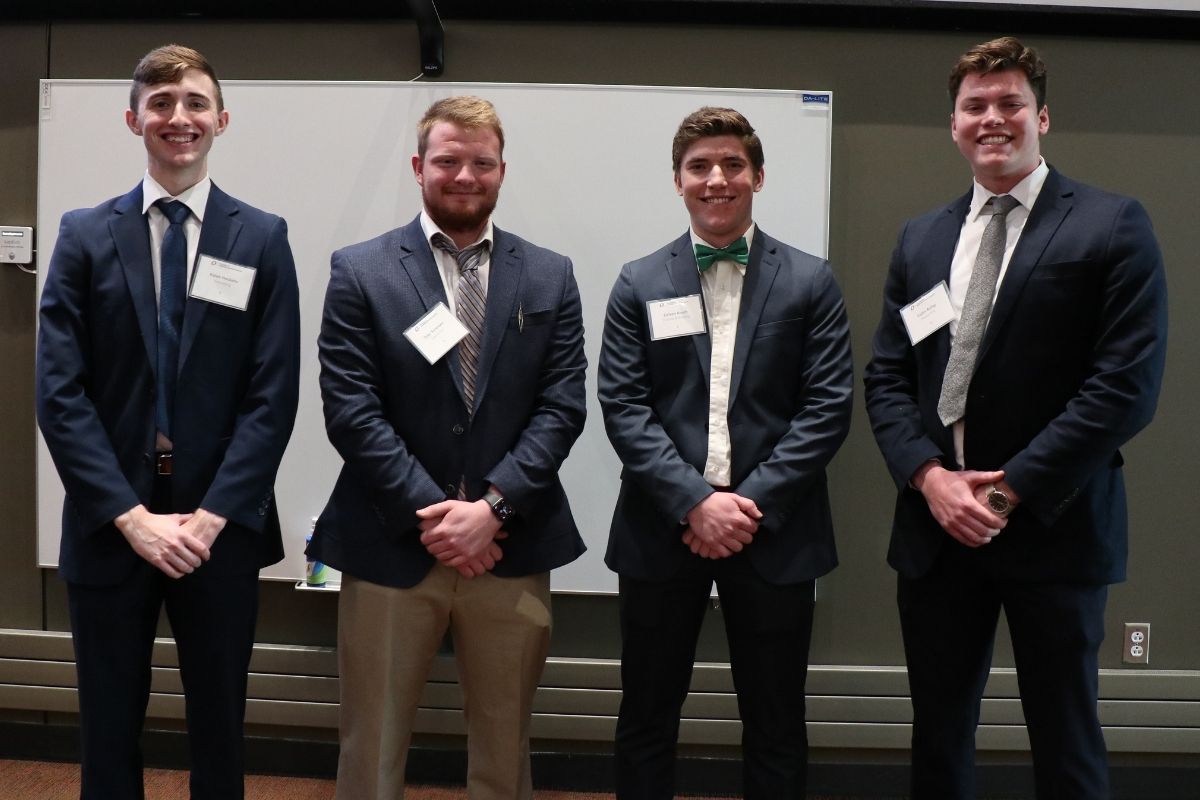 For UNO College of Business Administration undergraduate students in their final semester, their capstone course is an experience like no other. Students become consultants, competing against other student teams to provide recommendations towards real-world business problems that local companies are facing. This process is the semester-long Capstone Cup.
The Capstone Cup has always been an unparalleled experience for CBA grads, but 2021 took it up a notch. Students were tasked with consulting for local startup Tiiga, and perhaps one of the most noteworthy aspects of this year's Capstone Cup is that the founders of Tiiga were involved with the competition in its entirety. Students joined a live Q&A with company founders at kickoff, forming an indispensable connection with the Omaha business community.
Then, instead of formal presentations for only the first round of competition, teams developed and presented posters during a research fair-style event. In all, students presented to different judges four different times – a never-before-seen challenge for Capstone Cup participants.
How did the student teams pull this off? Exercising everything learned from their capstone course, Corporate & Business Strategy.
"While competing in the Capstone Cup, the most valuable information that helped us was our goal of differentiation. Dr. Bass discussed the importance of differentiation every class meeting," said Collin Bailey, member of the 2021 winning team along with classmates Kaleb, Tyler, and Colson. "We thought to ourselves, 'How can we differentiate ourselves from everyone else?' There was a common theme among seniors who competed in the competition this fall, and there were answers to Tiiga's problems, but we recognized those early on and decided to take a risk by finding a different solution."
The Capstone Cup is a differentiator, too. Students graduate with invaluable experience in strategy while compiling all their undergraduate learning into one focused and real-world effort. They form business connections along the way that they can leverage in their future careers.
"We continue to view the Capstone Cup as a key differentiator for our college and for our students. The engagement of the students throughout the competition demonstrates that they view this as much more than just another assignment," said Dr. Erin Pleggenkuhle-Miles, Associate Professor of Management. "They are provided the opportunity to not only showcase their skills to local employers, but this year they also were able to directly impact a local start-up. Experiences like the Capstone Cup will stay with students post-graduation."
After the competition, Tiiga is already implementing student recommendations. That means for students, their education is already changing the business world in their community.
"I loved my experience in the Capstone Cup and it lived up to my expectations. I was fortunate to have a fantastic experience with Dr. Bass in the Corporate and Business Strategy course that all seniors take," said Bailey. "She was invaluable to the success of our team and provided advice that was not only applicable to winning the Capstone Cup, but also to endeavors we may encounter in our future careers post-graduation."
Bailey, who is prepping for graduate school and begins work as a Tax Consultant Intern at Deloitte in January 2022, says he'll look back at his time at CBA "with great pride." Given the effort students put into the Capstone Cup and the positive impact their knowledge can make in their community, pride is a fitting feeling for our CBA grads.
The list of winning teams is housed on the Capstone Cup website. Congratulations to all competitors!
Contact Us
If you have a story idea, news tip or inquiry, please contact:
Lindsey Hasenjager, Director of Social Media and Promotions, College of Business Administration
lhasenjager@unomaha.edu • 402.554.3852