Dean Michelle Trawick profile
Dean Trawick, Ph.D., brings her life lessons and a wealth of experience in higher education to her dual role as John Becker Dean and professor of economics at the College of Business Administration (CBA).
published: 2021/09/01
contact: Nick Schinker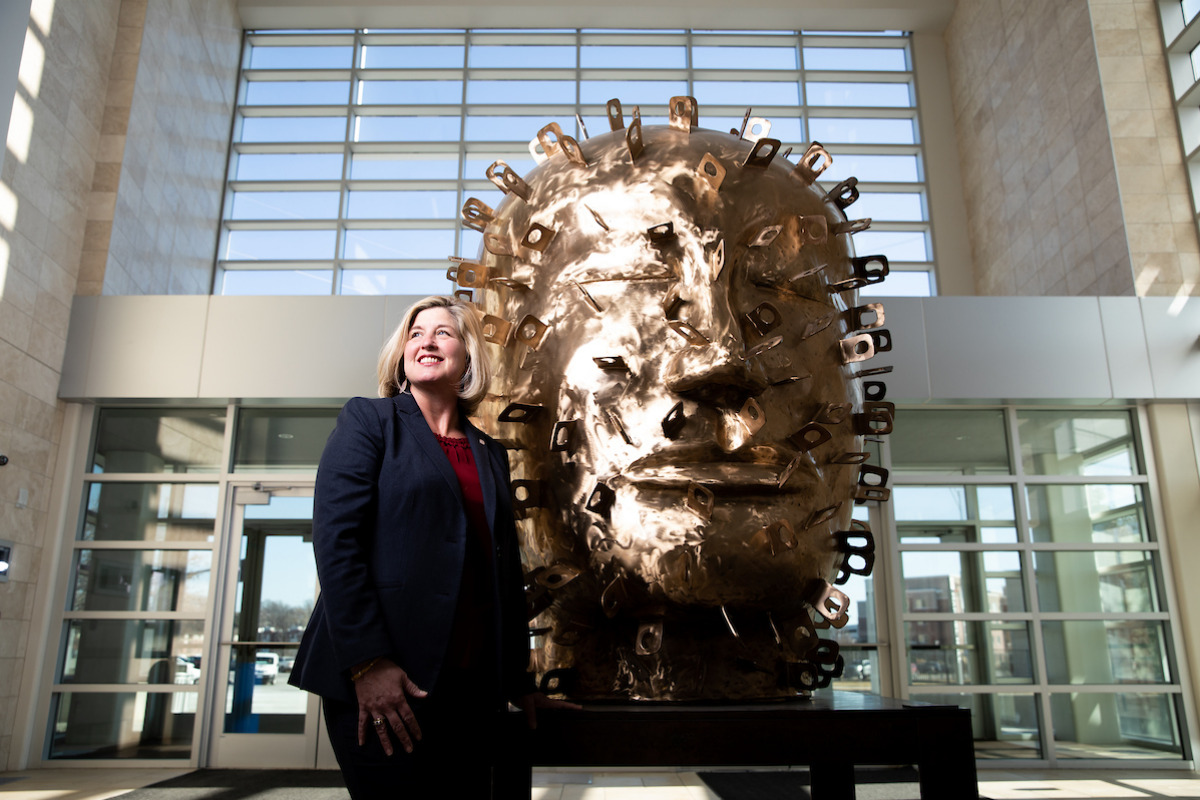 Growing up on a tobacco farm in Kentucky, Michelle W. Trawick learned many lessons.
"No matter how old you are, you have to get up early – even when you don't want to," she says, smiling. "Because on a tobacco farm there was a role for everyone. Even as a little kid, there was something for me to do. It's teamwork. As a family, we were involved in every stage of the process, from prepping the ground and setting the plants to drying the leaves and taking it all to market.
"Working together as a family produced a great sense of camaraderie and accomplishment," she says. "I felt like I was contributing."
She came to Omaha in February 2020 from Western Kentucky University (WKU) in Bowling Green, about 18 miles from the former tobacco farm where her father still lives. At WKU, she most recently served as Associate Provost for Faculty and Academic Excellence, as well as professor of economics.
She also served as the Associate Dean for Faculty and Administration at the Gordon College of Business, and as Chair of the Economics Department. Her leadership at WKU led to the extensions of accreditations in accounting and business; new academic initiatives that created and expanded academic and internship opportunities; and further philanthropic support of scholarships.
Trawick holds a Ph.D. in economics and a Master of economics from North Carolina State University, as well as a Bachelor of Arts in economics from WKU. Her husband, Mark, grew up in southern Spain and now works as a labor consultant. They have a son, Nathan, who is a student at the University of Kentucky.
Trawick succeeds Louis Pol, Ph.D., who led CBA for 17 years. "Lou has been helpful in so many ways, opening doors, introducing me to people," she says. "He's truly an asset to the college."
She came to Omaha a few weeks before the COVID-19 pandemic brought with it uncertainty, challenges and restrictions like most people had never known. "I arrived on campus Feb. 6 and was here only briefly before going on university junkets to Arizona and California," she recalls.
"The Arizona junket was my first official outing, and one of the speakers was supposed to be the head of the biocontainment unit at UNMC," Trawick says. Instead, the speaker was Chancellor Jeffrey Gold, M.D., who was filling in because word of the pending pandemic had already sparked preparations at UNMC.
"He told us what was coming but his words were so hard to believe," Trawick says. "Boy, was it true. He predicted it, and because of his foresight, our deans were well informed."
In the weeks that followed, classrooms were emptied and instruction transitioned from in-person to nearly 100 percent online. Almost daily, new challenges had to be overcome. With each one, Trawick and her fellow administrators, faculty and staff learned a whole new set of lessons.
That knowledge is serving as the foundation for a three-year-plan Trawick and her faculty and staff are designing that will outline the college's goals and priorities, as well as how to satisfy the CBA mission of diversity, equity and inclusivity while shaping its vision.
"Higher education is changing, and I have no doubt COVID-19 has expedited that process," Trawick says. "The number of traditional college-age kids is declining, while at the same time, tuition has increased to the point where it has created pushback and conversation on value.
"I believe education, in general, is how we solve the world's biggest problems. We have to look at how UNO and CBA can continue to be part of the solution."
Trawick is a first-generation college graduate. "I know how education changes one's path," she says. "It's one reason this job is such a good fit for me."
She believes that to continue moving CBA forward will require rethinking its audiences. "We need to address those groups that never thought they could go to college. We need to find out how to reach them; how to make it doable for them."
The college must also appeal to college graduates who have discovered they are "on a path where they don't want to be. We have to find out how we can help reposition them."
Increasing financial assistance and the number of workplace opportunities is crucial, she says. "We will be awarding $1 million in scholarships this fall," she says, proudly. "That is a record for CBA, and it is all donor-funded."
She says internship experience is often a key to hiring a recent graduate. "I would love to be able to expand our internship program, and I would like to establish a scholarship fund for students who want to take internship credit. Far too often, students face the choice of quitting a job that pays for their tuition in order to take a summer internship. Most just can't do that."
The college and the university are in an excellent position to meet these challenges, Trawick says. "We have to make it clear that we are advancing our students and our community," she says. "Let's be innovative. Let's take some calculated risks. Let's make it known that if you want to study business, CBA is the place to be."
It will require collaboration. "I came in here with ideas, but I want this incredible faculty and staff to contribute," she says. "I have been where a leader came in and listed their precise goals and objectives. They failed and they left."
Lessons from her childhood. Lessons from building a career in higher education. Lessons from a pandemic. Trawick incorporates them all in a leadership style that is determined and direct.
"I'm a tell the truth kind of person," she says. "Being very transparent has worked out really well for me."
In other words, the dean means business.
Contact Us
If you have a story idea, news tip or inquiry, please contact:
Lindsey Hasenjager, Director of Social Media and Promotions, College of Business Administration
lhasenjager@unomaha.edu • 402.554.3852