CBA's Centers and Programs provide specialized areas of focus for study, research and collaboration to better our community, our country and beyond.
Interdisciplinary collaboration. Innovation, entrepreneurship and franchising. International business and the study of growing global economies. Commerce and applied behaviors research. Local and regional business development. It's all here!
UNO College of Business Administration business professionals are making an impact well beyond the walls of Mammel Hall.
Their work in our centers and programs runs the gamut — from using collaborative science to effect change to teaching kindergarten students smart money skills — and is some of the most respected work in the region, across the country and around the globe.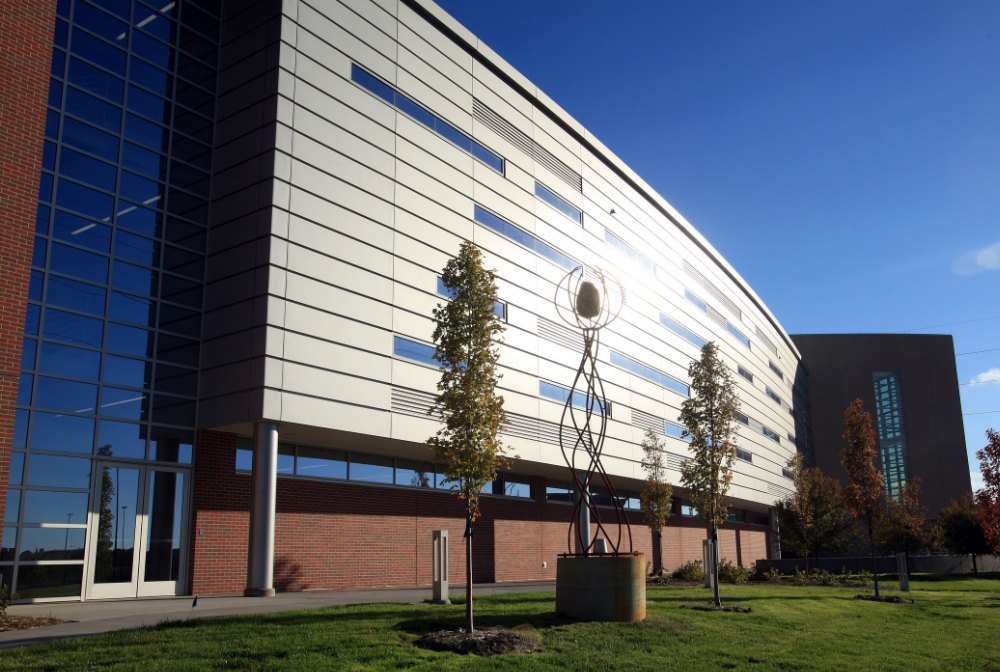 Mammel Hall: Home of the UNO College of Business Administration
The centers and programs offered through CBA are as varied as the people they serve. But they have something important in common: a desire to look at knowledge in a new way, uncover information and create innovations to make a difference in how our world works.
Explore the centers and programs listed below to learn more about the opportunities available for CBA students, faculty and staff.
The Center for Collaboration Science is an interdisciplinary initiative involving about 25 faculty members from all six colleges of the University of Nebraska at Omaha that bring their diversity of knowledge to bear on improving collaboration for organizations in Omaha and the nation at large.
It develops, validates, and publishes scientific foundations for collaboration-related phenomena and helps organizations to apply these findings to make performance differences that matter.
The mission of the UNO Center for Economic Education is to improve the economic literacy of current and future Nebraska and Western Iowa citizens by providing educational and training programs and materials for teachers of K-12 classes.
The Center assists and encourages teachers in their efforts to teach the economic concepts needed by future citizens to become well-informed voters, wise consumers, and effective producers.
In September 2013, UNO announced a $1 million gift from alumnus and Omaha native John Morgan of Minneapolis, Minn., to create one of the campus' highest-ranking endowed faculty positions.
This gift established the John Morgan Community Chair in Innovation, Entrepreneurship and Franchising in CBA. It is the sixth community chair at UNO funded through the University of Nebraska Foundation's Campaign for Nebraska and the first endowed chair in CBA.
The Center for International Business Initiatives pursues the goal of enhancing international business knowledge and experience at UNO's College of Business Administration.
The center serves as a resource for Nebraska students and businesses as well as for the international business community. It also makes it possible to connect knowledge with real-world business experience while providing an exceptional opportunity for students to learn and contribute to the process. Join the adventure!
The UNO Center for Real Estate and Asset Management was established in June 2015 to meet the increasing demand for real estate professionals and provide innovative research of interest to greater Omaha's real estate community.
Building on a 60+ year legacy of excellence in real estate education and research, the center fosters partnerships with commercial, governmental, and academic institutions to advance education and best practices in all segments of the real estate industry. Integral to this effort is the fundamental task of preparing students to provide lasting contributions to this dynamic field for generations to come.
UNO CBA China Studies Program's faculty affiliates conduct internationally recognized research on the Chinese economy.
The China Studies program aims to promote research and scholarly activities on various aspects of the Chinese economy and to heighten local area awareness of China's current role in the global economy.
The Koraleski Commerce and Applied Behavioral Laboratory (CAB Lab) at UNO provide multi-disciplinary research support to CBA, regional businesses, and the non-profit community. Through the Research Participation Program (RPP), students are granted the opportunity to be involved in a diverse range of experimental research with immense practical implications.
From managerial research focusing on human relations practices and leadership behaviors to accounting research considering auditing practices, and marketing research exploring consumer retail shopping preferences to financial research regarding optimal financial statement preparation, studies conducted in the lab are valuable to students, professors, and businesses alike.
The Nebraska Business Development Center (NBDC) helps Nebraska businesses grow and create new jobs.
They provide consulting and educational services to small and mid-sized businesses. Many services are free to the business owner or entrepreneur, and all are confidential and impartial. By helping build and grow successful businesses, NBDC contributes to Nebraska's high quality of life.