UNO Benefits 101: Health Insurance
Benefits-eligible employees receive much more than a paycheck for their contributions to UNO. Stay informed by knowing all the options and deciding what works best for your situation.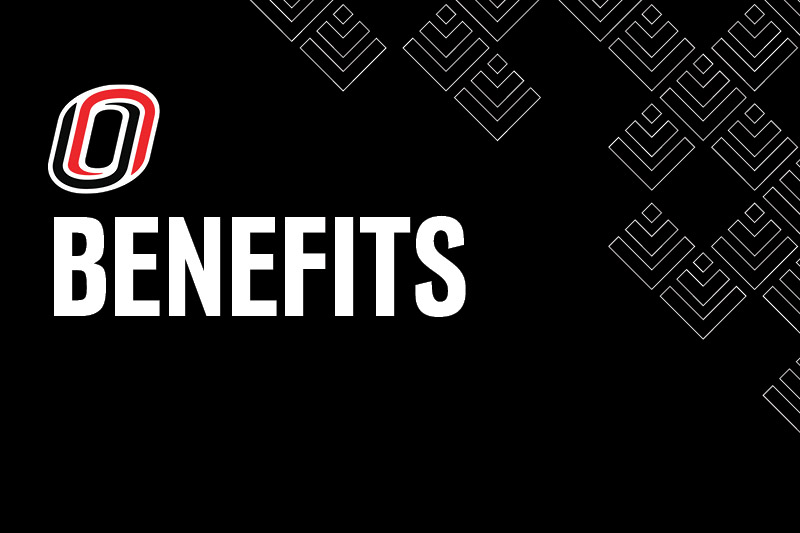 The value of being employed at UNO is not just measured by hourly or salaried pay. In fact, there is a wide range of benefits, services and programs offered by the University that make up a total compensation package for our faculty and staff.
An important piece of this package is access to health, vision and dental insurance. 
The University of Nebraska is a self-insured entity that sets the rules for its own plans; however, these plans are administered by a third party. The unversity's health insurance plan is administratively managed by UMR, a United Healthcare company, and its dental insurance plan is managed by Ameritas. CVS Health provides pharmacy insurance. 
To fully take advantage of these benefits, known as NUFlex Benefits, it is important to understand how the various parts of a health insurance plan work, including:

UNO Human Resources also wants to make sure all benefits-eligible employees know certain key terms when discussing their benefits plan and making a choice that works best for them and their familes. 
---

Deductibles
A deductible is the amount you owe for health care services before your health insurance begins to pay. For example, if your deductible is $450, your plan won't pay anything until you've met your $450 deductible for covered health care services subject to the deductible. After the deductible has been met, co-insurance is applied. The deductible may not apply to services like preventive care.
Co-Insurance
Co-insurance is your share of the costs of a covered health care service. This is calculated as a percent (for example, 30%) of the allowed amount for that service. You pay co-insurance plus any deductibles you owe to cover the costs of a prodecure For example, if the health insurance allowed amount for an doctor's office visit is $100, and you've met your deductible already, your co-insurance payment of 30% would be $30. The insurance company pays the rest of the allowed amount.
Co-payment (Co-pay)
A co-payment (or co-pay) is a predetermined fee, in addition to what health insurance covers, that an individual pays for health care services. For example, a Preferred Provider Organization, or PPO, may require a $20 "co-payment" for normal services delivered during a physician office visit. Co-pays do not go towards the deductible. Please note: the NUFlex medical plan does not have any co-pays for office visits.
Stop-Loss Limits/Out-of-Pocket Limits
A stop-loss or out-of-pocket limit is a health insurance policy that provides for 100% payment of expenses after total patient out-of-pocket co-insurance expenses exceed a certain contractual dollar amount. 
As an example, the NUFlex Basic Medical plan for a single individual includes a $450 deductible, a 30 percent co-insurance and an in-network stop-loss limit of $1,600. 

The beginning of each year marks the start of a new cycle. Under this plan, any medical service costs, for example a doctor's visit, after the first of the year would be 100% covered by the individual until the cumulative total of those costs reaches a $450 deductible.
Once this happens, the individual will then begin to pay co-insurance amounts equal to 30% of each expense until the individual's equals the $1,600 stop-loss limit. At this point insurance will pay 100% of any subsequent medical service until the start of the new year.
---
In addition to these important concepts, there are other terms that can help in navigating health insurance questions:

An allowed amount is the maximum amount which the insurance company allows providers to charge for covered health care services. This may be called "eligible expense," "payment allowance" or "negotiated rate." If your provider charges more than the allowed amount, you may have to pay the difference.

With each medical service that requires insurance, you shoud receive an Explanation of Benefits (EOB) statement. This statement details the charges for the services received, the amount the health insurance company will pay for those services, and the amount the insured person will be responsible for paying.
Depending on which provider (i.e. any person or institution that provides medical care) you may use for your healthcare services, they may or may not be considered "in network," which means a group of physicians, hospitals and other health care providers working with the health plan to offer care at negotiated rates. You can see if your physician is part of the UMR network on the company's website.
One way to keep medical costs down is to focus on preventative care. Preventative care is an approach approach to health care which emphasizes preventive measures and health screenings such as routine physicals; well-baby care; immunizations; diagnostic lab and x-ray tests; pap smears; mammograms; and other early detection testing. The purpose of offering coverage for preventative care is to diagnose a problem early, when it is less costly to treat, rather than late in the stage of a disease when it is much more expensive, or too late to treat.


Visit the UNO Human Resources benefits overview page for additional terms and important information about health care and other benefits.


---

Throughout the year, UNO Human Resources will update this page with additional information and guidelines for a variety of benefits options offered by the University of Nebraska system.
Benefits-eligible employees can view their total compensation statement through Firefly through the following steps:
Login to Firefly using your NUID and TrueYou password

Click the "About Me" tab in the "Employee Self Service" section of Firefly.

Scroll down slightly and click "View Total Compensation Statement" in the "Compensation" area of the page.
UNO's Total Compensation Statement will not only visually highlight the value of these additional compensation benefits, but also show a complete list of each benefit and its corresponding dollar value.
Make sure you stay informed, take advantage and, if needed, get support through the UNO Human Resources Benefits team, who can help you with any concerns you might have.
You can contact Esther Scarpello, UNO Benefits Manager, at escarpello@unomaha.edu; or Tim Rochford, Benefits and Student Employment Specialist, at trochford@unomaha.edu. Both can be reached by calling the main Human Resources office line: 402.554.3998.


About the University of Nebraska at Omaha
Located in one of America's best cities to live, work and learn, the University of Nebraska at Omaha (UNO) is Nebraska's premier metropolitan university. With more than 15,000 students enrolled in 200-plus programs of study, UNO is recognized nationally for its online education, graduate education, military friendliness and community engagement efforts. Founded in 1908, UNO has served learners of all backgrounds for more than 100 years and is dedicated to another century of excellence both in the classroom and in the community.
Become a fan of UNO on Facebook and follow UNO's Twitter updates. 
Contact Us
If you have a story idea, news tip, or other question, please email the UNO News team at unonews@unomaha.edu.