UNO Magazine: UNO Institute Helps Nebraska Diversion Programs Keep Youth Out of Trouble
UNO's Juvenile Justice Institute is working closely with diversion programs across the state of Nebraska to keep young people out of the justice system while other researchers across campus are helping map the impact.
published: 2022/07/16
contact: Brandon Bartling - Office of Strategic Marketing and Communications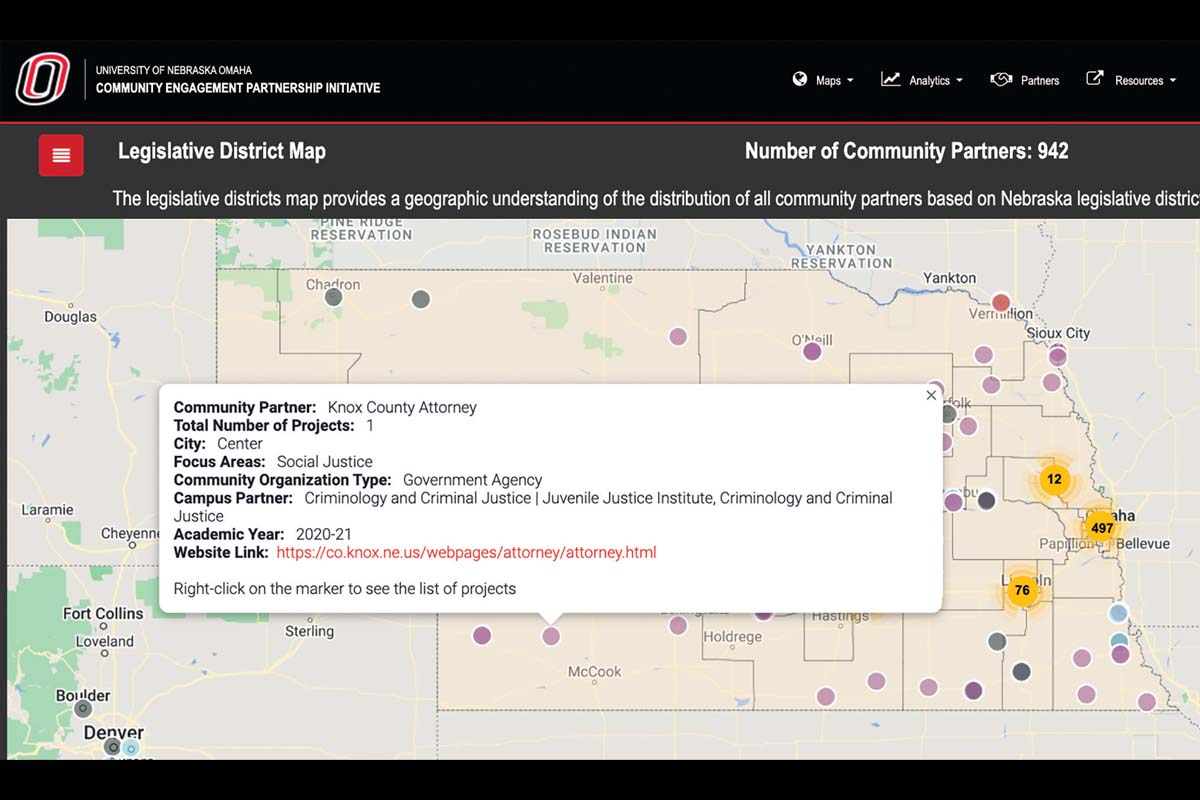 UNO's Community Engagement Partnership Initiative, or CEPI, highlights the impact of efforts like those being conducted by the Juvenile Justice Institute to help reduce recidivism in young offenders.
Diversion programs can help youth avoid long-term consequences following a minor law violation and get back on the right track. However, efforts to keep young adults out of the juvenile justice system are only as successful as the completion rates of those diversion programs.
That's where the Juvenile Justice Institute (JJI) at UNO comes in. Housed within UNO's School of Criminology and Criminal Justice, the JJI was established in 2002 as the research arm for Nebraska's juvenile justice system.
Programs that receive funds from the state to help keep kids out of the court system are required by state law to be regularly evaluated. Anne Hobbs, director of the JJI, believes its work is critical to the state—both in terms of finances and in keeping youth out of trouble.
"Legislators recognized the cost-savings of partnering with the university to evaluate the more than 240 juvenile justice programs operating across Nebraska's 93 countries," Hobbs says. "Normally, program evaluations are costly, by partnering with the university, the state has access to multiple faculty members, graduate students, and resources that would otherwise be too expensive to support."
For example, the JJI works closely with the Nebraska Crime Commission who maintains a database of juvenile justice programs that divert youth out of the legal system. If a juvenile is currently enrolled in a diversion program or commits a new offense in one county, the other counties can see that the youth is already enrolled. These data allow JJI to track rates of recidivism, return to a program, and relapse into criminal activity, between different areas.
JJI has evaluated juvenile diversion programs, mentoring programs, attendance interventions, as well as alternatives to detention. JJI always works closely with the programs that they evaluate. For example, JJI has worked closely with Schuyler Community Schools in Colfax County, to study their unique responses to complicated problems. Hobbs said that mental health support and resources are in higher demand in schools due to the COVID-19 pandemic.
UNO's Community Engagement Partnership Initiative, or CEPI, puts the institute's efforts on the map—literally. This student-developed tool provides an interactive database to track and map community engagement projects from 2018 to today with university ties.
Sara Woods, director of UNO's Barbara Weitz Community Engagement Center, says the CEPI map not only highlights where UNO is engaged with communities across Nebraska, but also helps identify areas where the university has opportunities to expand its reach.
"CEPI helps us capture our tight knit connections and collaborations between UNO and the community, showcasing mutually beneficial projects in a tangible and impactful way. What do we mean when we talk about collaborating and carrying out UNO's metropolitan mission? This is what it looks like."
With projects dotting each of Nebraska's 93 counties, the CEPI map illustrates how the JJI and other university partners touch each part of the state—from Alliance in the panhandle to Falls City in far southeast Nebraska. To view the map and see all of UNO's partnerships statewide, visit cepi.unomaha.edu.
About the University of Nebraska at Omaha
Located in one of America's best cities to live, work and learn, the University of Nebraska at Omaha (UNO) is Nebraska's premier metropolitan university. With more than 15,000 students enrolled in 200-plus programs of study, UNO is recognized nationally for its online education, graduate education, military friendliness and community engagement efforts. Founded in 1908, UNO has served learners of all backgrounds for more than 100 years and is dedicated to another century of excellence both in the classroom and in the community.
Follow UNO on Facebook, Twitter, Instagram, TikTok, LinkedIn, and YouTube.