UNO Magazine: A Different Kind of Silicon Prairie
UNO researchers are imagining a future where you can avoid taking prescriptions just by changing your diet, where diseases can be detected early to avoid loss of livestock, and where computers can help us make enough food to feed the world.
published: 2022/07/16
contact: Charley Steed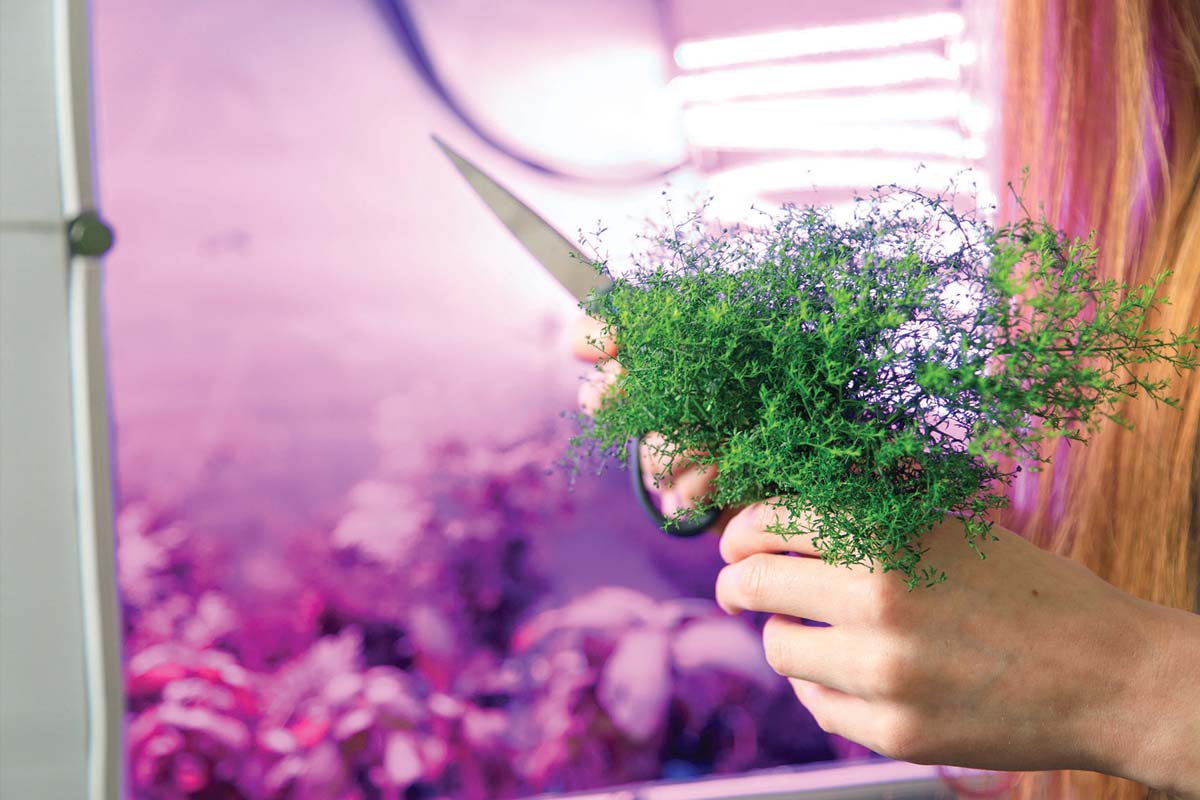 Kiran Bastola's food computer at UNO's College of Information Science and Technology
Imagine a future where you can avoid taking prescriptions just by changing your diet.
Imagine a future where diseases can be detected early to avoid massive loss of livestock.
Imagine a future where computers can help us make enough food to feed the world.
That is the world of bioinformatics, a marriage of health sciences and computer science, and its counterpart biomedical informatics, which uses cutting-edge technologies to understand data across the fields of biology, medicine and healthcare.
"We use bioinformatics to understand our bodies, the food we eat, medicine we take and diseases we encounter," explains Kate Cooper, Ph.D., assistant professor of interdisciplinary informatics. "It gives us the chance to understand everything from how to fight COVID-19 variants to understanding how we can help keep livestock and plants healthy through times of disease and drought."
For decades, UNO has been one of the leading bioinformatics and biomedical informatics institutions in the Midwest. Thanks to partnerships across the state with other universities in the University of Nebraska system, faculty and students at UNO have begun to help the state advance in areas such as telehealth, livestock breeding and crop resiliency.
Kiran Bastola, a UNO professor with a Ph.D. in plant biology, has his own food computer that can closely monitor and adjust different environmental factors to maximize the elements of a plant's biology. Not only is it practically beneficial to farmers, but there is a "cool" factor that is inspiring a new generation of future scientists to explore agriculture.
"Many students may not want to go into traditional farming, but they may be interested in farming that features an IT component, such as technology-assisted farming," Bastola says.
Recent diseases such as COVID-19 have also shown the need for sharing access to high-tech, high-touch therapies. To meet this need, Ann Fruhling, Ph.D., professor of interdisciplinary informatics, and Babu Guda, Ph.D., professor of genetics, cell biology and anatomy, launched the state's first Center for Biomedical Informatics Research and Innovation (CBIRI).
Marrying pharmaceutical research, public health practices, medical imaging technology and more, CBIRI is designed to bring people together from "bench to bedside" and provide not just holistic health options, but individualized ones as well.
"I grew up on a farm and there are some unique challenges that people that make their livelihoods in those spaces face," Fruhling says. "That is where the center can really play a role because we are in the forefront of research that informs providers on how to customize healthcare."
She says CBIRI is designed to serve as a hub not just for researchers like her, but providers but providers and healthcare consumers.
"We have goals to build a network with the expertise of different providers in rural communities to help facilitate more information exchange. You can have all the scientific innovations in the world, but if they don't impact the individual than we haven't really done our work."
Much like the concepts of bioinformatics and biomedical informatics are only just beginning to show their promise, UNO stands at the forefront of what's possible in the future.
About the University of Nebraska at Omaha
Located in one of America's best cities to live, work and learn, the University of Nebraska at Omaha (UNO) is Nebraska's premier metropolitan university. With more than 15,000 students enrolled in 200-plus programs of study, UNO is recognized nationally for its online education, graduate education, military friendliness and community engagement efforts. Founded in 1908, UNO has served learners of all backgrounds for more than 100 years and is dedicated to another century of excellence both in the classroom and in the community.
Follow UNO on Facebook, Twitter, Instagram, TikTok, LinkedIn, and YouTube.