Nebraska Promise Deadline Extended: Complete the FAFSA by May 1, Workshop April 21
To be considered for the Nebraska Promise, complete the Free Application for Federal Student Aid (FAFSA) by May 1. For assistance completing the FAFSA, attend the Virtual FAFSA Event; April 21.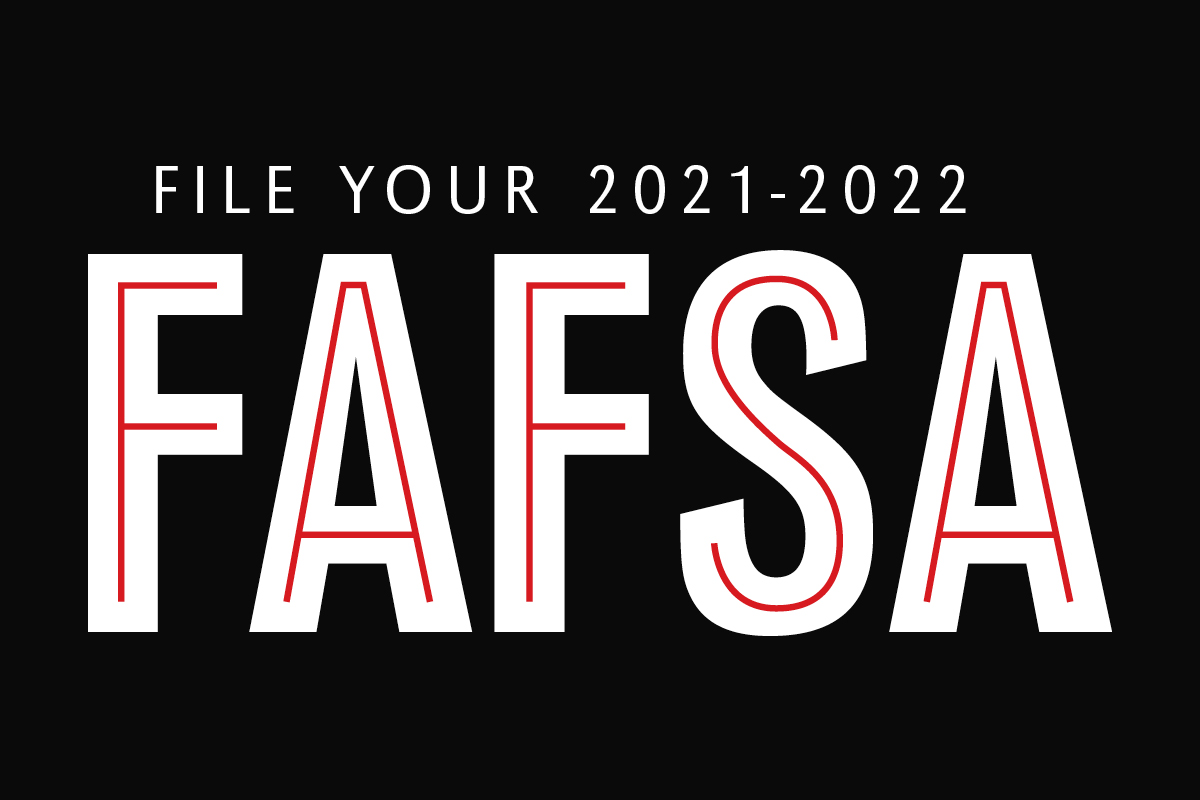 The 2021-2022 Free Application for Federal Student Aid (FAFSA) is now live! 
The FAFSA is a government form that prospective and current college students (undergraduate and graduate) must submit each year to determine their eligibility for federal student aid. Applying early ensures you are awarded your maximum financial aid eligibility, avoids processing delays, and allows plenty of time to have the FAFSA processed for timely disbursement.
File Your FAFSA by May 1
Also, remember that a completed FAFSA is necessary to qualify for the Nebraska Promise program, which will cover the cost of tuition for students from families making $60,000 or less. You must file your FAFSA by May 1 to be considered for the program if you are eligible.
Add UNO's School Code to your FAFSA: 002554.
The UNO Office of Financial Support and Scholarships is committed to providing you with the support you need. Visit their website for great resources and assistance.
Virtual FAFSA Event April 21
Please join the Office of Multicultural Affairs (MCA), Wednesday, April 21, 2021, as we host a Virtual FAFSA Event from 9 A.M.- 6 P.M.
Students can schedule a time to meet one-on-one with campus partners to complete their FAFSA application. If interested, please schedule an available time. After registration is complete, you will receive a Zoom link.
Have questions? Please contact MCA at 402.554.2248 or email us at mca@unomaha.edu.
---
Deadlines
You must complete your FAFSA by May 1, 2021 to be considered for the Nebraska Promise.

For 2021-2022, you must complete your financial aid file (to-do list items) by July 1, 2021. 
---
Frequently Asked Questions
Answers to some frequently asked questions are listed below. If you have additional questions about the FAFSA, or financial aid in general, please contact the UNO Office of Financial Support and Scholarships.
What is Federal Student Aid (FSA)?
Federal student aid from the federal government includes:
Grants - free money that doesn't have to be repaid
Loans - money you can borrow for school that has to be repaid, sometimes with interest. 
Work-study - money you earn to pay for your education
Federal student aid can be used to pay for education-related expenses included in your UNO's cost of attendance (COA) such as tuition and fees, room and board, books and supplies, and transportation.
Why Should You File the FAFSA?
Anyone who plans to attend college should submit the FAFSA. The FAFSA is also utilized to determine eligibility for nonfederal student aid and various scholarships. Some financial aid programs require a FAFSA even though the aid may be awarded without regard to family income. 
What is the IRS Data Retrieval Tool?
The IRS Data Retrieval Tool allows applicants who have already filed their federal income tax returns to prefill the answers to some questions on the FAFSA by transferring data from their federal income tax returns. This can save you and your family time in completing the FAFSA.
When to Submit the FAFSA?
The 2021-2022 FAFSA is based on 2019 tax year information. You can complete this beginning Oct. 1, 2020, for the Fall 2021, Spring 2022, and Summer 2022 semesters. 
Advantages of Filing the FAFSA Early
Benefits include:
Avoid Delays — Filing early ensures you will be awarded the maximum financial aid eligibility from Federal, State, and Institutional sources, and allows plenty of time to complete financial aid verification (if required) and to resolve any issues. 

Alignment— The financial aid application process may be more aligned with the college admission process. Knowing how much financial aid is available earlier can help families make better enrollment decisions.
Certainty—Applicants will not need to estimate income or taxes paid. Most students and families can use the IRS Data Retrieval Tool to import IRS tax data directly into the FAFSA. 
Less pressure—The October 1 start date will provide more time for students and parents to explore and understand financial aid options and apply for aid before state and institution deadlines.
About the University of Nebraska at Omaha
Located in one of America's best cities to live, work and learn, the University of Nebraska at Omaha (UNO) is Nebraska's premier metropolitan university. With more than 15,000 students enrolled in 200-plus programs of study, UNO is recognized nationally for its online education, graduate education, military friendliness and community engagement efforts. Founded in 1908, UNO has served learners of all backgrounds for more than 100 years and is dedicated to another century of excellence both in the classroom and in the community.
Follow UNO on Facebook, Twitter, Instagram, LinkedIn, and YouTube. 
Contact Us
If you have a story idea, news tip, or other question, please email the UNO News team at unonews@unomaha.edu.