Using His Voice to Help Students Find Their Own
published: 2020/02/28
contact: Charley Steed - University Communications
email: cdreed@unomaha.edu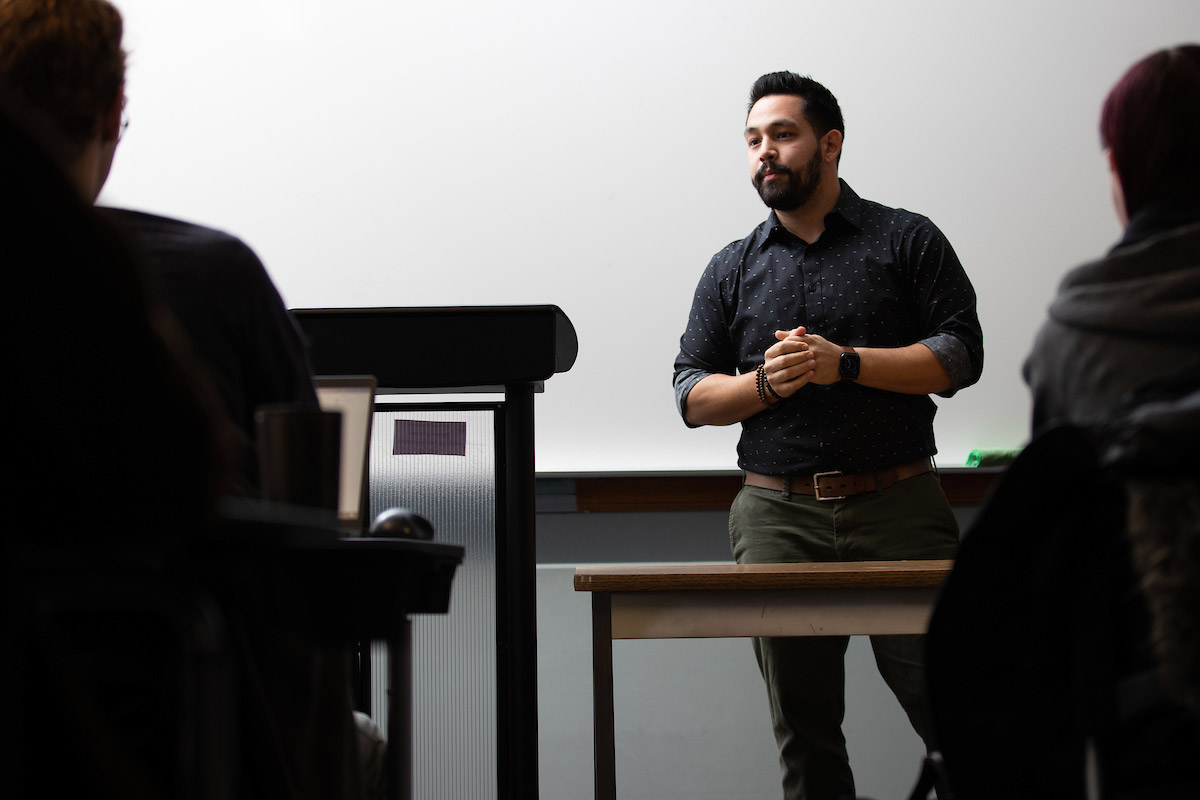 Cameron Logsdon, an instructor and assistant coach for the MavForenics team, says he aspires to be the kind of teacher and coach for his students that he was supported by when he was at UNO.
A first-generation student.
A single parent working full time.
A person of color.
When it comes to connecting with his students, it doesn't take much for Cameron Logsdon, Public Speaking Course Coordinator for the School of Communication, to find a someone who has been where he was at a decade ago.
"Everybody comes to UNO needing something different and it's my job - as a coach and as a teacher, to try and help guide them toward the thing you need most."
Logsdon started his journey as a student himself in the mid 2000s, not too long after he found out he was going to be a father, unsure of what his future would be. It was thanks to an introduction made by his high school speech coach to the then-coach of MavForensics, Abbie Syrek, currently a lecturer in the School of Communication, that helped him find a purpose.
"When we finally got Cameron on to campus he was like a lot of our students are - wide-eyed and probably terrified but he quickly ascended to a leadership role and really transformed the forensics program from a student perspective."
Following an impressive competitive career, including earning the first national title in the program's history, Logsdon continued his education so that he could be a mentor for students just like him.
It's a philosophy Kristina Medero, who graduated in 2019 with a master's degree from UNO after completing her undergraduate degree in Kentucky, observed and experienced first-hand.
"Personally, I didn't know any of the professors at UNO and that is so important in a master's program. Cameron not only helped introduce me to the faculty but even helped me find my thesis chair."
As someone who also worked closely with undergraduate students Medero says she truly valued the extra effort Logsdon would take to make sure no one fell behind.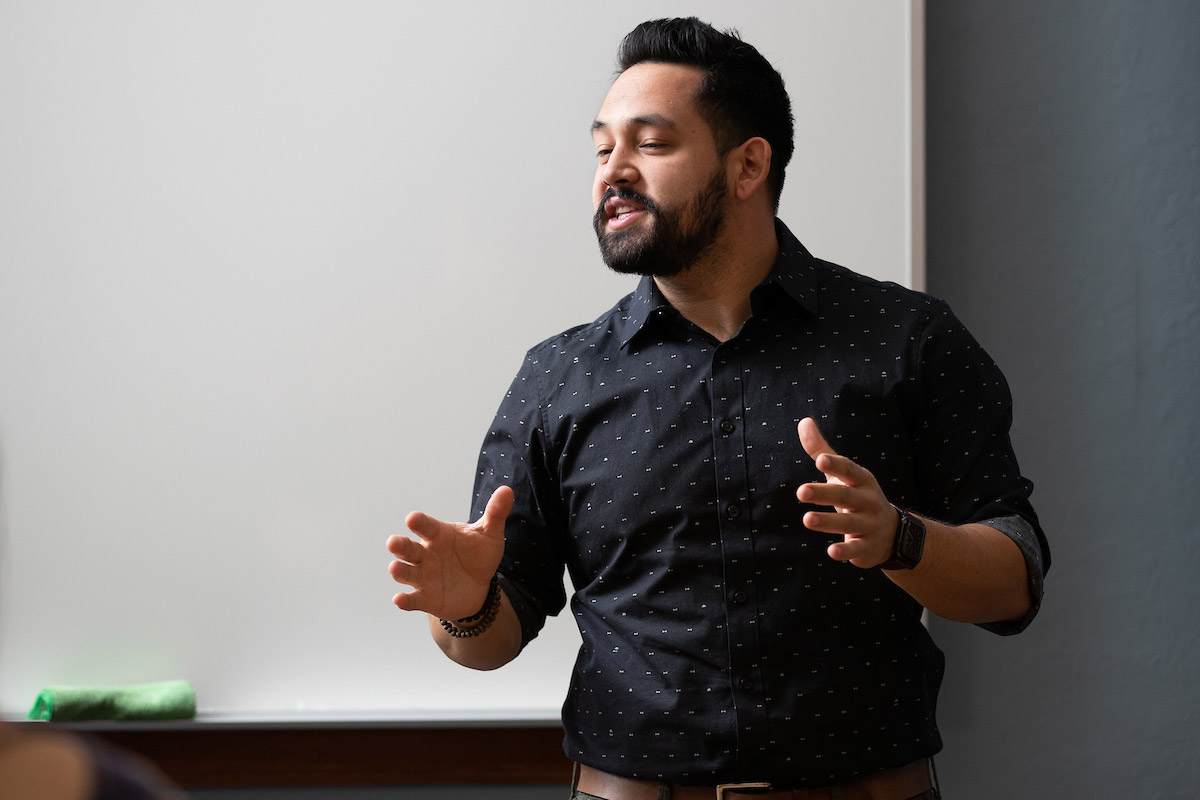 "Balancing academic requirements with everything else a student has going on can be a real struggle," she says. "But he does a great job of having conversations to help them break down the problems they are facing, tackle it piece by piece and find access to campus resources."
Syrek says that as Logsdon's coach, instructor, and now colleague, she has seen the impact of that extra effort and the experiences he brings to the classroom.
"I cannot even speak to how many times his expertise in helping students navigate the constant transitioning identities of being a student of color, of being a first-generation student, of experiences that literally cannot have where I believe Cameron was able to save their lives in terms of keeping them in school, keeping them grounded and protecting their mental health."
For Logsdon, the goal of getting students from enrollment to graduation is a long-term personal and professional investment in the future.
"The college experience is living and learning and being exposed to new ideas," Logsdon says. "When students fail to complete that degree what happens is that they are stunted in their life exposure and may never go outside of their own comfort zone ever again. We have to encourage students to keep pushing themselves to be lifelong learners."
To that end, Logsdon says that even the simplest gestures can make an incredible difference to a student in need - the same way it did for him.
"A gesture from a teacher here, a little bit of help, and having a community on campus that can push you through - the small things that pile up until, eventually, you can stand atop that collection of little gestures and see another world of opportunity that you wouldn't have seen from where you were before."

Cameron Logson's 2015 TEDxUNO Presentation
About the University of Nebraska at Omaha
Located in one of America's best cities to live, work and learn, the University of Nebraska at Omaha (UNO) is Nebraska's premier metropolitan university. With more than 15,000 students enrolled in 200-plus programs of study, UNO is recognized nationally for its online education, graduate education, military friendliness and community engagement efforts. Founded in 1908, UNO has served learners of all backgrounds for more than 100 years and is dedicated to another century of excellence both in the classroom and in the community.
Follow UNO on Facebook, Twitter (X), Instagram, TikTok, LinkedIn, and YouTube.