UNO Researchers Estimate Fluctuations in Oxygen Cost While Walking
published: 2020/11/04
contact: Brandon Bartling - University Communications
email: unonews@unomaha.edu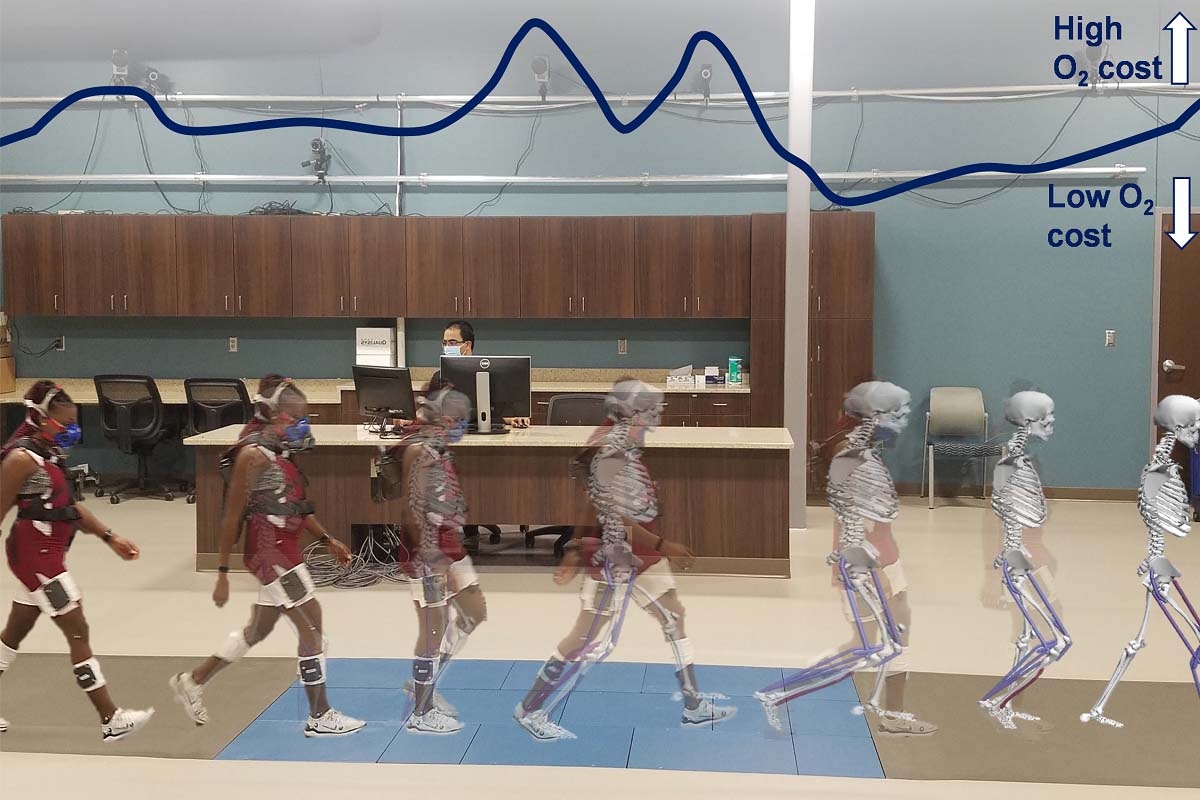 Researcher Arash Mohammadzadeh Gonabadi measures the movements and muscle actions using a 3D camera system and muscle sensors. The data is fed into a computer simulation that estimates fluctuations in oxygen costs across the gait cycle. Photo credit: Taylor Wilson
Putting one foot in front of the other only scratches the surface of what's taking place when a person walks – and certain stages of each step require more oxygen to carry out than others.
Under the leadership of Philippe Malcolm, Ph.D., assistant professor of Biomechanics at the University of Nebraska at Omaha (UNO), graduate student Arash Mohammadzadeh Gonabadi within UNO's Center for Research in Human Movement Variability (MOVCENTR) tested several methods of estimating fluctuations in energy cost within the gait cycle.
The results, recently published in the Public Library of Science (PLOS) Computational Biology, could shift our understanding of the science behind walking and pave the way for physical therapy and rehabilitation innovations.
Using a respiratory mask, researchers can measure the average rate of oxygen consumption during walking. However, different phases of the gait cycle contribute differently to the average oxygen consumption, even if someone walks at a constant pace on a flat surface. Measurements of oxygen consumption using a respiratory mask are not fast enough to detect which phase of the cycle requires the most energy to complete. These limitations previously meant that researchers could not pinpoint which phase of someone's gait cycle had the highest metabolic cost.
Computer programs developed over the past decade have enabled investigations into these oxygen cost fluctuations throughout the gait cycle. Using recordings from muscle sensors and an advanced 3D camera system, combined with software developed by the NIH National Center for Simulation in Rehabilitation Research and Stanford University, UNO researchers compared different equations for estimating fluctuations in oxygen cost within the gait cycle.
"These simulations can help us understand which phases of a person's gait cycle contribute to increased oxygen consumption in patients" Malcolm said. "Our estimations of fluctuations in oxygen cost matched relatively well with coarse predictions from perturbation experiments, but there are considerable differences between estimations using different equations. Improved estimation methods could be useful for applications in exercise therapy and assistive device design."
Such applications could be useful for patients who suffer from cardiovascular and lung diseases. Knowing which phase in someone's gait cycle causes them problems could allow for the developing exercise therapies that target the most costly phase or devices such as exoskeletons that assist right when it is most needed.
Malcolm and fellow researchers within UNO's MOVCENTR hope to continue expanding on this research by developing methods that are more data-driven using motion capture datasets and rely less on assumptions than current simulations. In the longer-term, dynamic estimations of fluctuations in oxygen cost could supplement or even replace current slower respiratory measurements and guide researchers and healthcare professionals toward improving patient mobility.
Research reported in this article was supported by the National Institute of General Medical Sciences of the National Institutes of Health under Award Number P20GM109090. The content is solely the responsibility of the authors and does not necessarily represent the official views of the National Institutes of Health.
About the University of Nebraska at Omaha
Located in one of America's best cities to live, work and learn, the University of Nebraska at Omaha (UNO) is Nebraska's premier metropolitan university. With more than 15,000 students enrolled in 200-plus programs of study, UNO is recognized nationally for its online education, graduate education, military friendliness and community engagement efforts. Founded in 1908, UNO has served learners of all backgrounds for more than 100 years and is dedicated to another century of excellence both in the classroom and in the community.
Follow UNO on Facebook, Twitter (X), Instagram, TikTok, LinkedIn, and YouTube.