UNO Faculty, Students Develop Database to Provide Real-Time Data Analysis for 911 Calls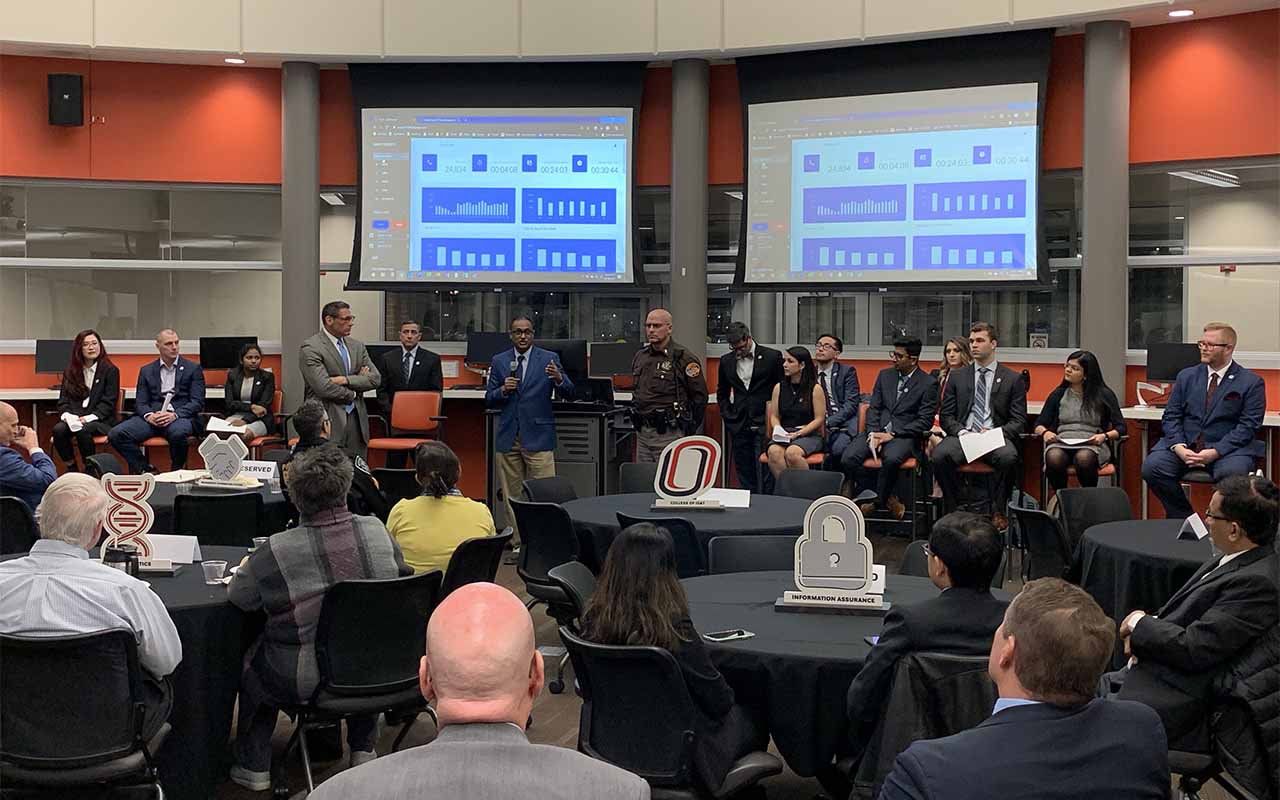 Faculty members and graduate students from the University of Nebraska at Omaha (UNO) College of Information Science and Technology's (IS&T) have developed a database and visual dashboard that provides insight into trends, patterns, and statistics for Sarpy County's 911 calls. This project will help Sarpy County police departments and the sheriff's office make more informed decisions directed by trends they are seeing with the calls coming in.
Sarpy County, the fastest growing county in the state, receives over 140,000 calls for service a year, a number projected to increase. In the past, little analysis of the 911 data could be performed due to limited access to the data. The new Law Enforcement Database gathers basic information, such as location, date and times related to the calls as well as number of calls received and related response times. The dashboard allows law enforcement personnel to filter for various information such as period of time, type of incident, or if there was an injury. The dashboard includes a heatmap, allowing users to drill-down on specific districts and see what trends are happening in any given area at any given time.

"There's this amazing potential of doing meaningful analytics and helping the agency to see how activities tie together," Sachin Pawaskar, professor of practice at IS&T, said. "This data has the power to make their jobs more efficient and allows them to ask better questions of the data and inform decision making. It was a great project for our students to understand they need to make a product that is usable for the user, not themselves"
The idea was initiated by Kerry Ward, an associate professor at IS&T, and Lieutenant Dennis Svoboda of the Sarpy County Sheriff's Office. Ward, who was a police officer for six years in Indianapolis, Indiana before becoming a faculty member at IS&T, saw an opportunity to work with local law enforcement and partnered with Svobada. Based on their research with John Prince, the Public Safety IT manager for Sarpy County, they realized the first step was to make existing information more readily available to the departments. A team was established with representatives from all of the Sarpy County police agencies to determine requirements for the dashboard.
"There's a growing need for law enforcement to take a more data-driven, evidence-based approach to policing. This is becoming increasingly apparent, particularly for departments with growing communities such as Sarpy County," Ward said. "Setting a foundation upon which they can start to look at data is important for police departments that may not have used data in the past."
Upon seeing the potential to develop an easy to use dashboard to present the 911 data, the Sarpy County team approached the IS&T Management Information Systems (MIS) capstone class, taught by Pawaskar. The result was the Law Enforcement Dashboard as well as a deeper understanding on how the data can deliver insight for officers to make more informed decisions on issues such as staffing, shift changes, and response times. 

"The law enforcement agencies within Sarpy County are very excited about the relationship that has been developed with the university during this project," Svoboda said. "This partnership has resulted in the development of a dashboard that will have an immediate positive impact on public safety.  We look forward to providing safer communities for all citizens by working with the university on future projects."
"This project required a lot of work for the capstone course and by the Sarpy County team," Ward said. "Lt Svoboda, John Prince and the Sarpy County team volunteered countless hours to the project over and above their normal work responsibilities. Having worked closely with all of them, and as a resident of Sarpy County, I was impressed by and appreciate the dedication and quality of our public servants."
About the University of Nebraska at Omaha
Located in one of America's best cities to live, work and learn, the University of Nebraska at Omaha (UNO) is Nebraska's premier metropolitan university. With more than 15,000 students enrolled in 200-plus programs of study, UNO is recognized nationally for its online education, graduate education, military friendliness and community engagement efforts. Founded in 1908, UNO has served learners of all backgrounds for more than 100 years and is dedicated to another century of excellence both in the classroom and in the community.
Become a fan of UNO on Facebook and follow UNO's Twitter updates. 
Contact Us
If you have a story idea, news tip, or other question, please email the UNO News team at unonews@unomaha.edu.