UNO Researcher Finds Shoe Stiffness Impacts Energy Use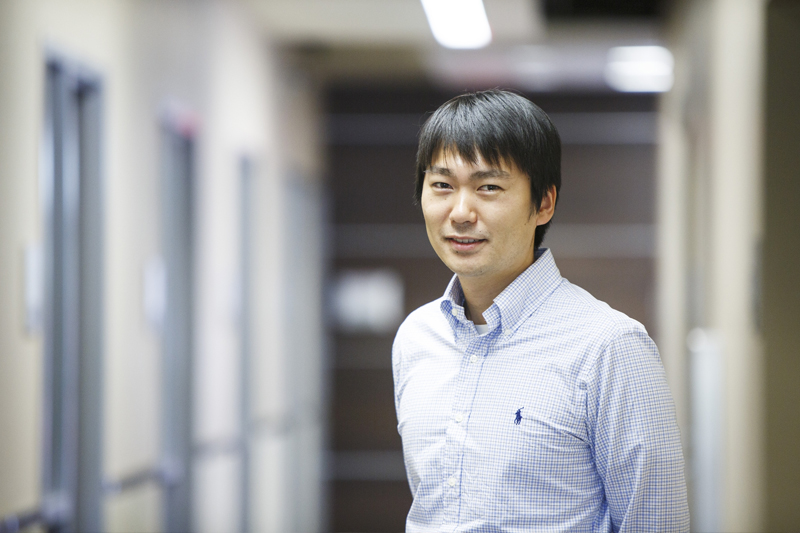 Kota Takahashi, Ph.D., assistant professor in UNO's Department of Biomechanics, led the study.
OMAHA – Work on your feet all day? Switching footwear could make a difference on your energy level.
A new study led by a University of Nebraska at Omaha (UNO) researcher shows one key element of shoe design can significantly impact the energy cost of walking.
The study, published Friday, July 15 in "Scientific Reports," found participants used more energy walking in stiffer shoes. Among the results: walking with a very rigid shoe compared to a more flexible sneaker required an average amount of additional energy roughly equal to the energy cost of walking with an extra 13 pounds at the waist.
The study is a collaboration between Kota Takahashi, Ph.D., assistant professor in UNO's Department of Biomechanics; Michael Gross, Ph.D., a professor at the University of North Carolina at Chapel Hill; Herman van Werkhoven, Ph.D., assistant professor at Appalachian State University; Stephen Piazza, Ph.D., professor at Pennsylvania State University; and Gregory Sawicki, Ph.D., associate professor at North Carolina State University (NCSU).
The group analyzed the muscle mechanics, force output and energy cost of subjects walking barefoot, in a name-brand running shoe, and with three carbon fiber insoles of varying stiffness.
The study used an ultrasound device to capture images of a calf muscle moving and a separate mask device to measure energy consumption. The research setup is among the first of its kind, allowing researchers to directly link muscle contraction with energy output.
Researchers found rigid insoles created more force, but also increased the energy cost of walking, likely because the inserts increased the demand on foot and ankle muscles.
"The rigid insoles are effectively acting like springs, allowing the muscles to generate more force and pushing that force farther down the foot, away from the ankle," Takahashi said. "But a lot of times, you may not want the extra force. If your goal is to minimize energy use, you don't want rigid shoes."
Takahashi said the research complements previous studies showing rigid shoes can help sprinters travel further, faster, as well as similar studies with high jumping.
He initially hypothesized energy use would decrease with more rigid insoles because of the greater force produced, but instead found the opposite.
Takahashi said the research points to the need for custom footwear, reflecting both the individual and the activity. For instance, people with stiffer feet may benefit from more flexible shoes. Likewise, sprinters will want stiffer shoes than marathoners.
"If you think of your muscles in the legs like an engine, I tend to think of the foot as your transmission that sets the gear." Takahashi said. "For every speed at which you want to drive, there is an optimal gear. We can view shoes as a potential way to change the gear, so we can optimize the output of muscles in our leg."
Researchers believe this study will open the door to new studies examining the impact of other shoe design components, including sole height, ankle support and rocker bottom shapes.
"There are so many parameters, so many structural properties that you can alter. I think we now have the procedures and protocol in place to be able to fully explore them," Takahashi said.
Researchers collected data for this study at NCSU, in the Human PoWeR (Physiology of Wearable Robotics) Laboratory. A Rehabilitation Engineering Core Pilot Grant at NCSU and the University of North Carolina at Chapel Hill funded the research.
Takahashi, the lead author, ran the study during his postdoctoral work at NCSU, before coming to UNO in 2015.
UNO's Biomechanics Research Building is home to the nationally recognized Center for Research in Human Movement Variability, which is funded by a $10.1 million grant from the National Institutes of Health. Research at the center addresses how bodies control and adjust movement patterns and how variability in movement can be tied to, cause or be symptomatic of a number of wide-ranging disorders including autism, peripheral arterial disease and stroke.
Established in 2016, the Department of Biomechanics offers a Bachelor of Science in Biomechanics and partners with the School of Health, Physical Education and Recreation to offer curriculum for a Doctorate in Exercise Science.
For media requests, please contact:
Sam Petto, UNO Media Relations Coordinator
unonews@unomaha.edu
402.554.2704
or
Charley Reed, UNO Associate Director of Media Relations
unonews@unomaha.edu
402.554.2129
About the University of Nebraska at Omaha

Located in one of America's best cities to live, work and learn, the University of Nebraska at Omaha (UNO) is Nebraska's premier metropolitan university. With more than 15,000 students enrolled in 200-plus programs of study, UNO is recognized nationally for its online education, graduate education, military friendliness and community engagement efforts. Founded in 1908, UNO has served learners of all backgrounds for more than 100 years and is dedicated to another century of excellence both in the classroom and in the community.
Become a fan of UNO on Facebook: www.facebook.com/unomaha and follow UNO's Twitter updates at http://twitter.com/unomaha.