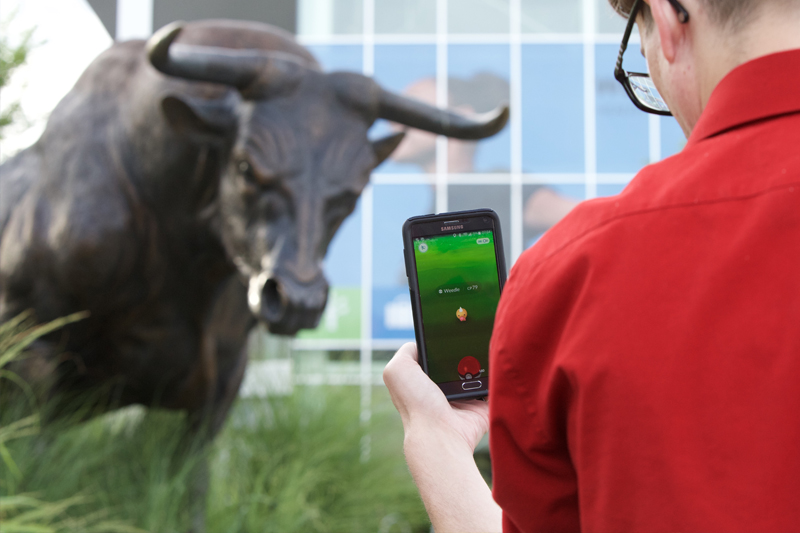 Wanna catch'em all? You better come to UNO!
Whether you're Team Valor, Team Mystic, or Team Instinct, there's more than 500 acres of campus – all with free WiFi - to explore while playing Pokémon Go.
You'll find everything from Weedles and Rattatas to Scythers and Gastlies as you make your way from Baxter Arena to Arts and Sciences Hall.
UNO has more than 35 Pokéstops and 5 gyms across its three campuses and on weekends, parking on campus is open to the public so there's no better time to explore! Check out the Visitor Parking Map for more info as well as other ways to get to campus*. 

Key Landmarks to Look For:

Dodge Campus
Criss Library (9): Walk inside and cool off at the café, or check out what's on display at the Osborne Family Gallery.
Henningson Memorial Campanile (14): Battle it out in the center of Dodge Campus at the gym under the 168-foot bell tower.
Arts and Sciences Hall (2): Built in 1938, this is the oldest building on UNO's campus. You'll find another gym at the building's northwest corner.


Pacific Campus
Peter Kiewit Institute (A): This building, which houses UNO's College of Information Science and Technology, is at the 67th and Pacific Streets intersection.
Mammel Hall (B): Home to the College of Business Administration, Pokémon trainers will be kept busy at the seven Pokestops surrounding Mammel Hall.
Scott Court (F): UNO's newest student housing complex is where you can find another gym to take over (S 64th Ave and Shirley Streets).


* Please Note: Only the Blue Line shuttles run over the summer
Contact Us
If you have a story idea, news tip, or other question, please email the UNO News team at unonews@unomaha.edu.