Conscious College Road Tour Coming to Omaha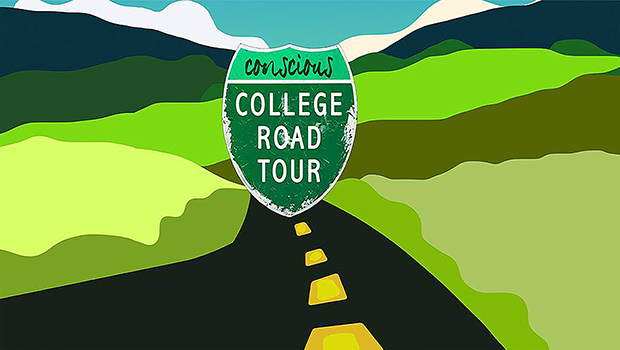 UNO's Office of Sustainability is pleased to announce that UNO has been selected as one of the stops of the Conscious College Road Tour (CCRT), a unique, interactive, hands-on opportunity for students to become informed about conscious living.
Join UNO and Turning Green, organizers of CCRT 2016, Monday, March 28, 2016 for free promotional materials, activities, and much more.
The Conscious Information Station (Scott Café): 11:00 A.M. – 3:00 P.M.
The conscious information station is focused on six key lifestyle categories: food, style, zero waste, space, clean, and body. The interactive tables feature free product samples, information boards, hands-on demonstrations, activities, and in-depth conversations.
CCRT Town Hall Meeting (CPACS 132/132D): 6:00 P.M. – 8:30 P.M.
An evening gathering for students, faculty, and school leaders to brainstorm and develop one student-led sustainability initiative that Turning Greenwill support until completion. Dinner will be provided by Chipotle. Space is limited. To reserve your spot, RSVP on UNO's Office of Sustainability's MavSync Portal.
We are looking for volunteers to assist during the day, from setting up the event to working at the information stations and town hall. If interested in volunteering to help make this event a success, email sustainability@unomaha.edu. Someone will be in touch with more details about time and duties.
Join us March 28 to learn more about sustainability and conscious living.
Stay connected throughout the event by using #ConsciousCollege. Follow Turning green on Facebook @TurningGreen and on Twitter/Instagram @TurningGreenOrg. 
Contact Us
If you have a story idea, news tip, or other question, please email the UNO News team at unonews@unomaha.edu.