Did Romeo and Juliet Live in Ancient Israel?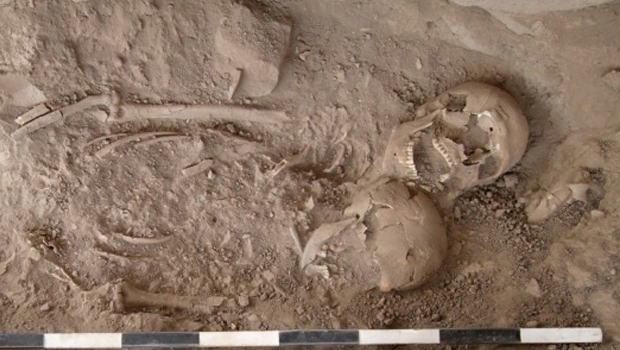 Archaeologists believe the young man and woman were buried in the 12th century BCE. (Image courtesy: Hanan Shafir)
OMAHA – Archaeologists hope to soon begin a new phase of research into the secrets of an extraordinarily rare, and romantic, discovery made at a biblical excavation project led by the University of Nebraska at Omaha (UNO): the ancient remains of two teenagers, buried together and apparently embracing.
First unearthed in the summer of 2010, the excavation leaders are only now publically announcing the discovery, made at a dig site dedicated to uncovering the buried city of Bethsaida, located just east of the Jordan River in Israel.
This year, researchers hope to begin investigating the couple's cause of death while also extracting and examining DNA for additional research. They are in the process of applying for grant funding to cover the cost.
"This type of burial is extremely rare in archaeological discoveries," said Dr. Rami Arav, director of excavations and professor of religion and philosophy at UNO. "This is possibly only the third burial of this kind ever discovered, and the first in this region. We still have so much to learn about these two."
The archaeologists' research up to this point has determined that the male was likely 17 years old; the female was likely 14 years old. The teenagers were buried in the 12th century BCE and likely residents of the Biblical kingdom of Geshur. Aside from that, little is known about the pair.
The dig team nicknamed the couple the Romeo and Juliet of Bethsaida, a reference to the intimate position they were buried in. Juliet's head rests on Romeo's shoulder. Romeo's arms wrap around Juliet.
"While intriguing, we have no clue who this couple was or why they were buried together," said Arav.
Once funding is secured, Prof. Israel Hershkovitz, with Tel Aviv University's department of physical anthropology, will lead the new research on the remains.
Even after Hershkovitz examines the DNA, the archaeologists say much of the ancient couple's history will remain a mystery, to be further illuminated with new discoveries at the dig site.
The Bethsaida Archaeology Project at UNO leads a worldwide consortium of universities and colleges in excavating the Bethsaida site.
In 2013, an archeologist with the Bethsaida team was able to find a rare "Lovers' Coin" that showcased the faces of Cleopatra, Egypt's last pharaoh, and Marc Antony, a political leader in Rome, on each side. There are only a handful examples of the coin that exist in museums today.
The next dig begins May 22, 2016 and runs through July 9. For more information, go to http://www.unomaha.edu/international-studies-and-programs/bethsaida/index.php.
For media requests, please contact:
Sam Petto, UNO Media Relations Coordinator
unonews@unomaha.edu
402.554.2704

or

Charley Reed, UNO Associate Director of Media Relations
unonews@unomaha.edu
402.554.2129
Related Links
Researchers Find Rare Coin, Other Artifacts at Bethsaida Dig Site
Read the Bethsaida Field Reports
UNO Professor Featured in Smithsonian Magazine
About the University of Nebraska at Omaha
Located in one of America's best cities to live, work and learn, the University of Nebraska at Omaha (UNO) is Nebraska's premier metropolitan university. With more than 15,000 students enrolled in 200-plus programs of study, UNO is recognized nationally for its online education, graduate education, military friendliness and community engagement efforts. Founded in 1908, UNO has served learners of all backgrounds for more than 100 years and is dedicated to another century of excellence both in the classroom and in the community.
Become a fan of UNO on Facebook and follow UNO's Twitter updates.