Immigration Advocate Shares Story on Campus

OMAHA – Julissa Arce knows all too well what challenges face the young people in America who are here without proper documentation. For years, she was one of them.
Arce, a prominent figure in the immigration movement, shared her story at UNO's Community Engagement Center Wednesday, kicking off the campus celebration of Hispanic Heritage Month.
"I used to hear about criminals, but when I looked at my parents I saw something completely different," Arce told the crowd. "They weren't criminals. They were hardworking people who were trying to give me and my brother a better life. When I looked at myself in the mirror, I didn't see a criminal. I just saw a young girl who was trying to go to college."
Arce lived as an undocumented immigrant for years. Her family brought her to the US with a tourist visa. It expired when she turned 14, but she and her family stayed. Arce considers San Antonio, Texas her hometown.
It's where she grew up, studied hard in high school, joined honor societies and joined her school's cheerleading squad.
"I had done everything I was told to do to go to a great university," she said. "But then when I turned in my applications, I kept getting rejection letter after rejection letter. And it wasn't because of my SAT scores. It wasn't because of my GPA. It wasn't because I wasn't qualified. It was because I wasn't eligible. I was leaving one really critical piece of information out, and that was a nine-digit number called a social security number, and I didn't have one."
As Arce continued to apply to schools, life dealt her family a serious blow. Her mother suffered a nearly fatal accident.
"So not only was I dealing with a crushed dream of not going to college, I was also dealing with my mom potentially dying. And there were some days when I felt really guilty about even being upset that I wasn't going to college."
But when her mother came out of her coma, the first thing she asked was how the college applications were going.
"I told her I was going to UT – the University of Texas at Austin," Arce said. "But that wasn't true because I still hadn't gotten in."
It would take an act of Texas legislators: making the state the first in the nation to allow undocumented immigrants to attend public universities.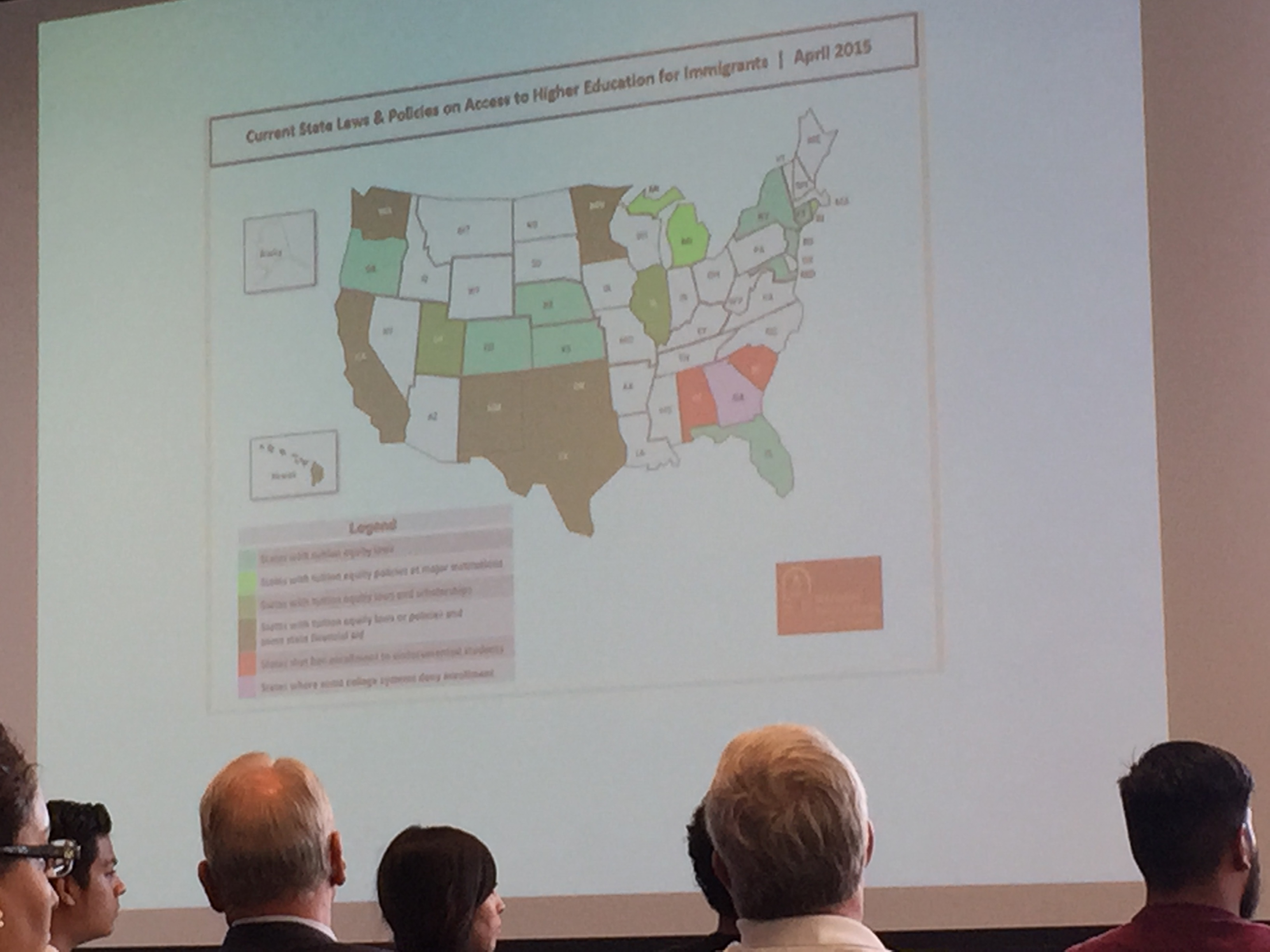 In the years to follow, a handful of states have passed similar laws. Nebraska is one of them, allowing undocumented students to attend public universities and pay in-state tuition. The map to the right shows states with similar laws in green. States with laws banning undocumented students from higher education are shown in red.
In 2001, Arce was accepted at UT. It was one of the most exciting times in her life, but also filled with sadness.  
"My parents made probably the ultimate sacrifice for me to go to college. They went back to Mexico. We just couldn't afford both my mom's medical bills and my college tuition. Because even though I was able to go to college, I still wasn't able to fill out the FAFSA."
And in 2001, there were no scholarships for undocumented immigrants.
Arce would take the Greyhound bus from Austin to San Antonio each weekend, paying for college by working at the funnel cake stand her family had left her. It could be scary. She had to carry a backpack filled with the money she had made.
Arce was undocumented. She couldn't open a bank account.
But the stand was a success. Eventually Arce saved enough money to buy a car, which was "amazing but also terrifying."
"Every time I got behind the wheel of a car I was breaking the law," Arce said. "I didn't have a driver's license and so making that 70 mile commute every weekend, was really incredibly terrifying."
Arce continued to get good grades at UT, with one rule guiding her the entire time: think of only tomorrow.
"Every time I let myself think about the future, I almost had a panic attack," Arce said. "I couldn't let myself dream, because those dreams were just not attainable."
Arce had been hoping that the DREAM Act would pass, granting her legal residency and providing her a path to citizenship. But years came and went with no changes.
When Arce lost her small funnel cake business due to city development, she had to make a choice. She bought fake documents.
"It's not something that I advocate for. And it is something that for a very long time was a source of shame. But it is something I had to do."
As Arce grew closer to graduating, the DREAM Act still had not passed. Then Arce got a once-in-a-lifetime job offer.
"If you're a finance major and you want to work in investment banking, you probably want to go work at Goldman Sachs."
She took it. She was terrified.
"I really didn't know if these documents were going to work. I didn't know if I was going to pass a background check when I had to get fingerprinted by the FTC (Federal Trade Commission) and FINRA (Financial Industry Regulatory Authority) to get my trading licenses. I really imagined myself getting handcuffed and taken off the trading floor."
But that never happened. Arce rose up the corporate ladder, eventually earning her citizenship in 2014.
"I didn't think that I would feel any different, but I did. I really, really did," Arce said.
Earning citizenship allowed her to take a step back and reevaluate how she was using her time and talent.
"All I could see, and all I could think about was the 12 million people who still had to live their life in the shadows."
Arce left Wall Street to join Define American, a nonprofit media organization that uses the power of storytelling to change the national dialogue on immigration and citizenship.
She also started the Ascend Educational Fund, a scholarship program that supports undocumented and documented first-generation immigrant students. In the last three years, they've raised $175,000, now supporting 26 students.
Arce shared her story with a Bloomberg reporter. The article made national headlines, sparking a conversation about immigration and the pursuit of the American Dream.
And through Define American, that's exactly what Arce hopes to accomplish.
"We come here because we hope for a better future. And to me that drive, that determination, that hunger is what defines America, and what makes it so great. My story is just one of them but there are millions more."
UNO Chancellor John Christensen opened the event Wednesday, stressing the importance of providing education to everyone, including students without documentation. The University of Nebraska at Omaha plans to roll out ally training for students, faculty and staff regarding undocumented students this academic year. Undocumented students interested in attending UNO can receive financial help through the privately-funded Dreamer's Pathway Scholars Program.
Related Links
Learn More About UNO's Office of Latino/Latin American Studies & Upcoming Hispanic Heritage Month Events
Local Latino Artists Showcase Art in New Omaha Exhibit
Researchers Publish Study on Nebraska Latino Population
About the University of Nebraska at Omaha

Located in one of America's best cities to live, work and learn, the University of Nebraska at Omaha (UNO) is Nebraska's premier metropolitan university. With more than 15,000 students enrolled in 200-plus programs of study, UNO is recognized nationally for its online education, graduate education, military friendliness and community engagement efforts. Founded in 1908, UNO has served learners of all backgrounds for more than 100 years and is dedicated to another century of excellence both in the classroom and in the community.
Become a fan of UNO on Facebook: facebook.com/unomaha and follow UNO's Twitter updates at twitter.com/unomaha.
Contact Us
If you have a story idea, news tip, or other question, please email the UNO News team at unonews@unomaha.edu.