Iraqi Refugee Finds Her Calling in Business at UNO
From escaping hardship and loss in northern Iraq to starting a new life in Nebraska, this Maverick's remarkable journey led her to achieve new heights and discover a passion for a future in business.
published: 2023/05/18
contact: Brandon Bartling - Office of Strategic Marketing and Communications
email: unonews@unomaha.edu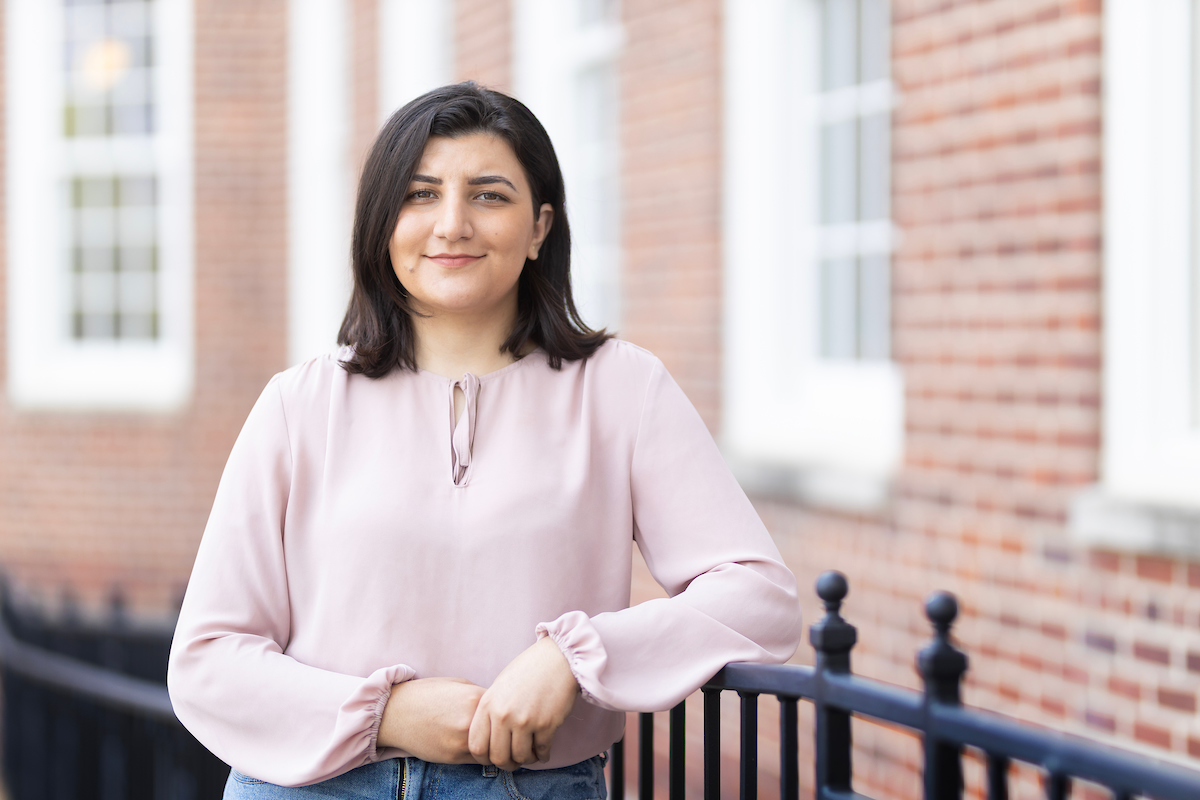 Maysaa Kalei will earn her bachelor's degree in business administration with concentrations in economics and international business.
OMAHA – It wasn't long ago that Maysaa Kalei saw a very different future for herself.
Growing up in northern Iraq, she never expected to graduate from college despite her strong academic performance. Now in her seventh year in America, she finds herself preparing to earn her degree in business administration with concentrations in economics and international business from the University of Nebraska at Omaha's (UNO) College of Business Administration (CBA).
But Kalei's journey to UNO, let alone a college degree, has been full of hardship and loss.
Her senior year of high school in Iraq was upended by violence. ISIS extremists attacked her hometown of Sinjar in August 2014. Thousands of Yazidi people were killed and children were abducted. Suddenly, Kalei's family was forced to leave everything behind and leave Iraq.
"Seeing how hard [my parents] were working toward building the house for us and making a living for us, and then, it's gone overnight, just seeing that was really upsetting," Kalei said. "Living that experience, you really feel a lot in those moments, but you also feel like your pain is nothing compared to what other people had been through back in Sinjar."
Over the next 22 months, Kalei and her family found their way to Turkey and then to Jordan to complete the process of migrating to the United States. After lacking stability for nearly two years, the International Organization for Migration helped her family make their way to Lincoln, Nebraska, joining her brother there, in June 2016.
Now in a new culture and learning a new language, Kalei had to restart high school despite having nearly graduated back home in Iraq. While she worked toward her diploma, she dedicated herself to not only learning English but also seeking out opportunities to surround herself in American culture, practice the English language, and realize her dream of earning a college degree.
Her afterschool research led her to apply for the Susan T. Buffett Scholarship and admission at UNO. Drawn by the city of Omaha and its potential for job and internship opportunities, Kalei became a Maverick. She received the full-ride scholarship and joined the Thompson Learning Community (TLC). As a Buffett Scholar and a first-generation student, Kalei greatly benefitted from the structure, guidance, and social connectivity of the Thompson Learning Community.
"I really can't tell you how much I appreciate that because it really made college so much easier on me," she said.
No longer burdened by the cost of her education, Kalei could focus on choosing her path for the future. She originally envisioned her college journey leading toward a career in medicine. After looking through majors on the UNO website, she tried some business classes and started to find her passion. So, she wondered: How could she match her newfound passion for business with her life experiences?
"I wanted to do something more that involves communication, relations, and also travel because I've lived in different countries," she said. "Although it wasn't necessarily by choice, it gave me a lot of perspective about other cultures and peoples and how they interact with one another. I really liked seeing the differences in people and in society, so I wanted to make sure that was part of my future career."
Kalei supplemented her studies with getting engaged in student organizations. She joined Delta Sigma Pi and served as president of the Collegiate Entrepreneurs' Organization – both student organizations housed in UNO's College of Business Administration.
Ultimately, UNO and, more broadly, Nebraska, made such an impact on her personal life and career trajectory that she wants to find ways to give back. She's already started to work toward boosting the state's workforce through an internship with the Nebraska Department of Economic Development. As part of her capstone project, she's worked on a project to keep international talent here in Nebraska after they earn their college degree.
"Some international students are my friends, and I noticed some of them are looking for jobs after graduating. If the company doesn't offer a work visa, they can't stay, so they either have to go back or earn another degree to make it work," Kalei said. "I'm trying to work on a program to connect these students to companies that are looking for international talent to help them stay here and continue their future in Nebraska."
Kalei expects to graduate in August 2023. She will participate in the May 2023 commencement ceremonies. She's been brushing up on another new language, Japanese, as she prepares for a trip to Japan to work with a partner company through her internship with the Nebraska Department of Economic Development. While she hopes international travel remains in her future, she plans to return to Nebraska and start her career here, ideally as a trade specialist, later this summer.