UNO Named a National Science Foundation Innovation Corps Site
The new partnership will connect scientists and engineers with the resources they need to commercialize their innovative ideas.
published: 2023/03/15
contact: Melissa Lindell Kozak - Sr. Director of Communications & Marketing, UNO CBA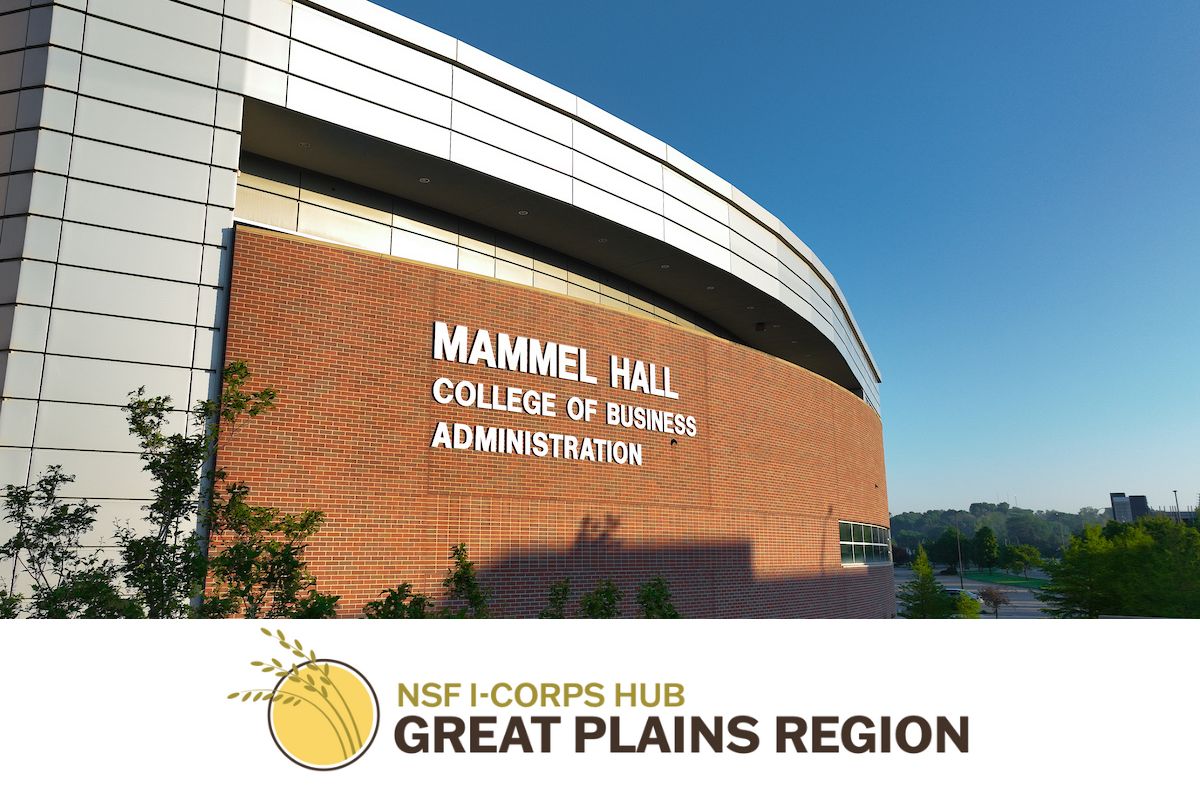 The University of Nebraska at Omaha College of Business Administration (CBA) is housed in Mammel Hall.
The University of Nebraska at Omaha College of Business Administration (CBA) has joined a five-year partnership with National Science Foundation (NSF) to serve as an Innovation Corps (I-Corps) Site as part of the Great Plains Hub. The UNO site will provide immersive, entrepreneurial training for scientists and engineers with the goal of moving ideas to commercialization.
The NSF's I-Corps program began in 2011 with the goal to successfully train an entrepreneurial workforce while bringing cutting-edge technologies quickly to market and nurturing an innovation ecosystem. The program's two-month training is experiential and immersive and helps prepare scientists to extend their focus beyond the university laboratory and accelerate the economic and societal benefits of their research projects.
CBA, home to the Center for Innovation, Entrepreneurship and Franchising (CIEF), was invited to join the program due to CIEF's strong commitment to entrepreneurial education. CBA is the only college of business serving as an I-Corps Site within the Great Plains Hub, and one of only a few nationally. As such, they are expected to provide essential leadership in this key area of entrepreneurial education.
NSF I-Corps consists of five regional Hubs across the nation. Each Hub consists of a lead institution and seven or more partner institutions. The Hubs bring together universities, researchers, entrepreneurs, local and regional entrepreneurial communities, and federal agencies.
Michelle Trawick, John Becker dean of UNO CBA, attests to the importance of Omaha's place in the program. "Omaha has a vibrant and growing start-up community, and this program will further strengthen that entrepreneurship and innovation ecosystem. CBA's Center for Entrepreneurship, Innovation and Franchising is highly regarded for programs like the Maverick Venture Fund and the Maverick Technology Venture Alliance. Leveraging CBA's expertise and reputation in a community that fosters new technology and innovation makes perfect sense."
I-Corps provides training to research teams to help them bring their ideas from the laboratory to the marketplace. Each I-Corps team has an Entrepreneurial Lead (EL), an Industry Mentor (IM), and a Technical Lead (TL). Over the course of five to eight weeks, the teams receive entrepreneurial education, mentoring, and funding to accelerate their fundamental research into emerging products and services that can attract follow-on funding.
Brent Clark, professor of management and director of the UNO Site, envisions CBA playing a significant role in connecting entrepreneurs with the resources they need to succeed. "CBA's role in the Great Plains I-Corps Hub will be to provide those with great startup ideas with the opportunity to take initial steps in making their ideas a reality. These early steps in the entrepreneurial journey are often incredibly difficult and intimidating for many founders that lack startup experience. Our Site will provide I-Corps certified instructors that can show participants how to perform customer discovery, lean startup methodologies, and other critical early steps. We will also host and support programming, as well as financially support program participants."
The Hub will consist of seven partner programs, each bringing unique strengths and benefits. Partner institutions are The University of North Dakota, South Dakota State University, South Dakota School of Mines and Technology, Dakota State University, The University of South Dakota, and The University of Wyoming.
Clark sees potential in the UNO Site to change the face of Omaha-area entrepreneurship, especially through UNO's commitment to elevating those in the earliest stages of their startup journeys or who may lack access to entrepreneurial resources. "Omaha has a lot of momentum in the tech startup space right now, but still lags behind many peer cities in key areas. For example, while we already have a number of excellent resources for accelerating existing startups, there is a real need for earlier stage help – from idea to startup. I-Corps will help fill this gap and make it easier get something started. I envision I-Corps as a way to serve university inventors by providing help at the earliest stages of the entrepreneurial journey. It's also a way to create downstream momentum and increased deal flow for accelerators like NMotion, startup studios like Beeso Studios, and risk capital providers like Dundee Venture Capital, Proven Ventures, and Invest Nebraska. I-Corps graduates will be strong candidates for those offerings."
CBA's participation in this program reinforces UNO's vital presence as a research institution committed to local workforce development. Trawick is confident that UNO will play a pivotal role in bringing the I-Corps mission to fruition. "UNO is well-positioned to ensure this region of the Great Plains Innovation Corps Hub succeeds."