UNO CBA Students Win Gold in Marketing at the Inaugural Omaha Freedom Festival
UNO College of Business Administration (CBA) students in Principles of Marketing were honored for their marketing efforts for the Omaha Freedom Festival, which commemorates Juneteenth and educates the community about North Omaha culture.
published: 2022/08/09
contact: Heather Nelson, adjunct professor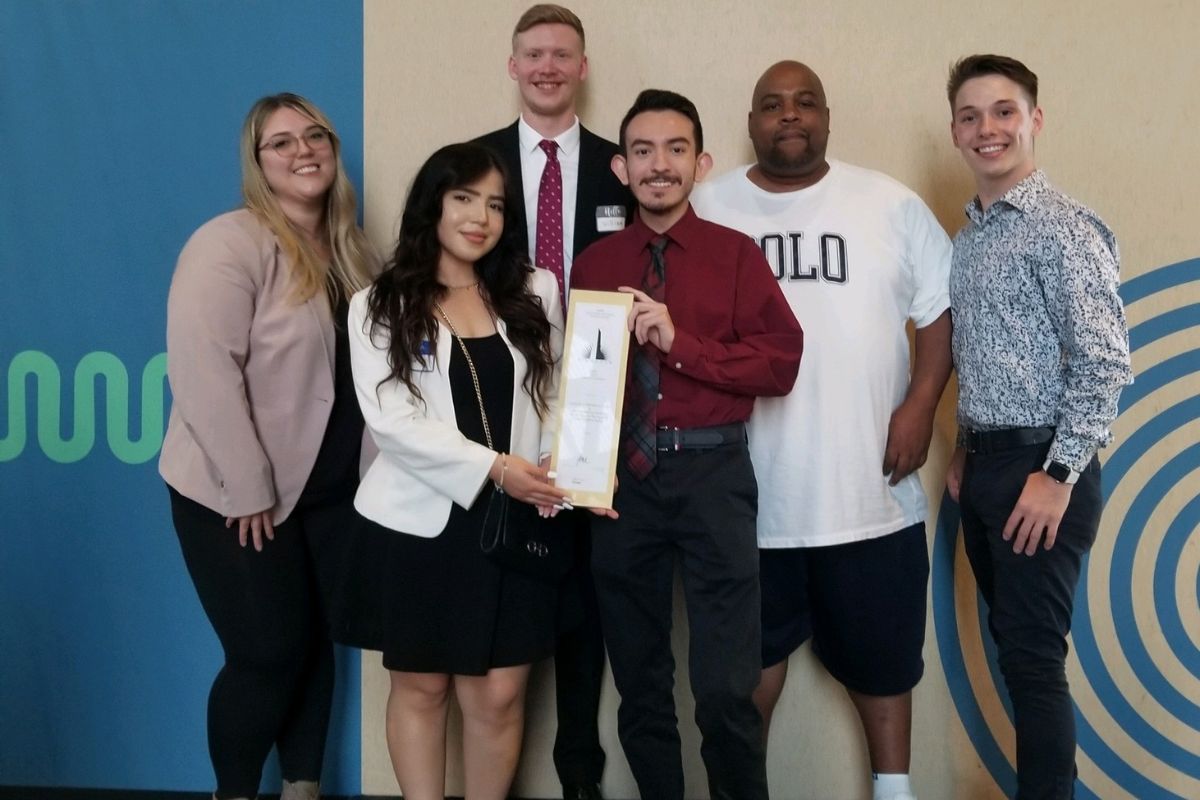 From left to right, CBA students receive their award at the American Marketing Association ceremony: Heather Williams, Jessica Sanchez, William Scheopner, Hissam Moncada, Calvin Williams, Connor Mockenhaupt.
Before Juneteenth became a federal holiday in 2021, 71 UNO College of Business Administration (CBA) students in Principles of Marketing, taught by Adjunct Professor Heather Nelson, began a Service Learning Academy project in commemoration of Juneteenth. In partnership with Freedomtainment, a non-profit in North Omaha, the students launched an idea sketched on a napkin into a reality during the heart of the pandemic. Calvin Williams, Freedomtainment's Operations Director and current CBA student, proposed his vision for creating the Omaha Freedom Festival with a mission to "educate, empower, and entertain the community about North Omaha culture" on the anniversary weekend of Juneteenth. This was a large undertaking – which is where CBA students stepped in.
The students rose to the challenge, working remotely during Spring 2021 to create and implement the inaugural festival's marketing strategy across multiple mediums, including web, email, social media, and public relations. The students conducted market research to identify the need to educate the community about Juneteenth and the history of North Omaha. They pursued this process through short-form blog writing, using Canva to create blog headers and Buffer to push out social media posts. The students reviewed insight reports, analyzing and learning from the results achieved in real-time. Each student had an opportunity to use their personal "super powers," as Williams called them, to contribute in a personal and unique manner. Multilingual speakers provided translation services while others offered talent to video creation, photography, graphic design, and even making a children's coloring book for parents and teachers to use to introduce Juneteenth.
As class was preparing to conclude, it was evident the impact the UNO students had on the Omaha community. But, Williams was only 5 weeks away from the first festival and still needed support to make it a reality. UNO CBA responded by offering a 6-week special topics course during the Summer 2021 term in event planning, retaining 9 students to see the project through completion.
"The success of the inaugural festival is greatly attributed to the diversity and offerings contributed by the UNO students," remarked Williams. "They were the marketing department, which helped to bring over 5,000 people out to a new event during the pandemic and garnered both local and national media coverage."
In June 2022, the Omaha Chapter of the American Marketing Association honored the students with the gold award in the student category for their marketing outcomes achieved while working on the Omaha Freedom Festival, a first for UNO.
"Over the course of 6 months, my students and I researched and educated the community about Juneteenth and helped create and market the Omaha Freedom Festival, which has now been tapped as a regular celebration activity to showcase North Omaha's history and position it as a point of destination," stated Nelson. "This is a well-deserved award. Collectively, the UNO students have not only developed knowledge and skill in marketing and learned the value of civic service; but have created a lasting impact for the City of Omaha."
To read the students' blogs, see:
https://omahafreedomfestival.com/category/the-blog/
To see the students' reflections and outcomes learned in their own voice, see:
https://omahafreedomfestival.com/the-blog/uno-student-reflection-of-the-omaha-freedom-festival/