CBA Professional Selling Students Team Up with TAGG and Give Back
Students worked with local businesses and encouraged them to partner with TAGG's platform, allowing the Omaha community to give back where it matters most – at home.
published: 2021/08/03
contact: Rachael Smith - CBA Marketing Department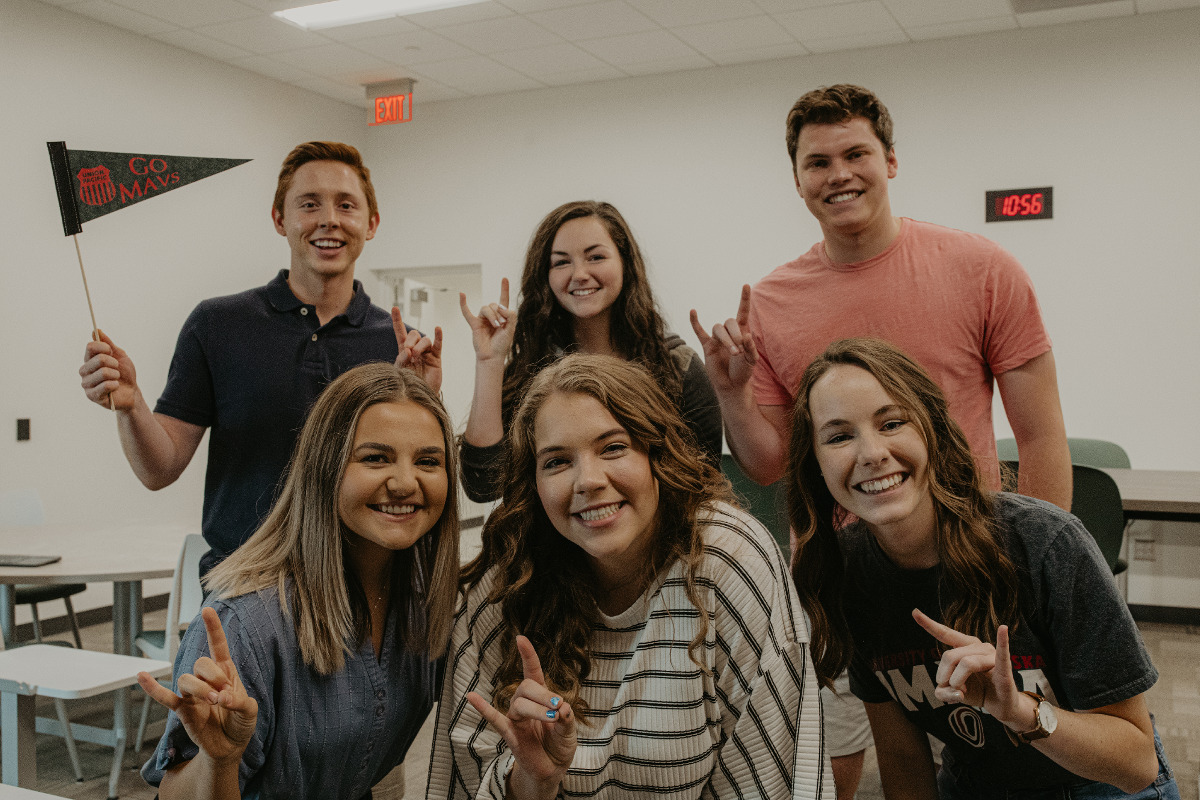 During just four weeks in the spring 2021 semester, UNO CBA Professional Selling students teamed up and made a difference right at home. Partnering with Together A Greater Good (TAGG), the students raised $700 for the campus food pantry, working in teams to set up calls with local businesses, partner them with TAGG's platform, and encourage the greater Omaha community to give back. With students overcoming COVID-19 travel restrictions and businesses operating at limited capacity, this was both a challenge and real-world learning experience.
TAGG allows businesses to give back by donating a portion of each purchase made when a TAGG app user shops at a participating business. Students were responsible for understanding TAGG's value proposition and shadowing with a TAGG professional to encourage businesses to join the program and give back to the campus food pantry. In total, the CBA Professional Selling students helped migrate six businesses to the platform - Angus Burgers & Shakes, 3rd Base Bar & Grill, The Banh Mi Shop, Arby's Elkhorn, Eat Fit Go, and IQ Car Wash. Not only did this effort help the broader campus, but it also provided several benefits to participating students, the business college, and the businesses who joined.
"The students were impressive! While we didn't get the opportunity to work with them in person, our experience with them over Zoom calls, text messages and emails were very professional, with many of them going above and beyond to make this project successful by introducing TAGG to as many local businesses as possible," said Holly Baker, co-founder of TAGG. "We even hired the top performing student for a summer internship to continue with the momentum created by this project. We are so thankful for the opportunity to work with UNO and also to make an impactful donation to the food bank."
The willingness to form relationships and above all make a difference also helped students to develop their confidence in sales, gain hands-on experience, and help others during a time that otherwise separated most.
"When going into this class, I saw sales as intimidating. Having to reach out to businesses, specifically cold calling, was definitely something that I was scared of," said Kaylie Langan, CBA student and now business specialist with TAGG. "The partnership with TAGG helped me gain confidence while using different prospecting techniques that we learned throughout our time at UNO.
This was an amazing partnership that benefited all students involved. We all were able to get real life experience and step out of our comfort zone. This project was the closest thing to a real sales job that I have experienced. As CBA students, experiences like this will help give us an advantage when looking for jobs after graduation, and in our future careers. Initiatives like this can greatly affect CBA students and the campus as a whole because of the endless possibilities that come with it."
And in the spirit of bringing people together again, one of the participating businesses recruited to the TAGG platform is owned and operated by a UNO alum passionate about giving back and being a part of Maverick Spirit once again.
"As a UNO Alum, I jumped at the chance to partner as a way to give back to the community and in appreciation of the experience and degree I earned through UNO, which has contributed to my success," said Travis Barker, owner of IQ Car Wash. "The benefits are that we get to advertise with TAGG and give back to what our customers are passionate about. The students did a good job explaining to us how it works and what TAGG can do for us. The experience thus far has been good and we are hoping to broaden the use of TAGG over time. We are thankful for the opportunity and how easy and simple the program is for local businesses to utilize."
Efforts like this show that the CBA Professional Selling students' learning has real-world meaning and positive impact, and that giving back and working together always leads to the best payoff. Visit the UNO CBA Professional Selling program website to learn more about how CBA students are community change-makers.
Contact Us
If you have a story idea, news tip or inquiry, please contact:
Lindsey Hasenjager, Director of Social Media and Promotions, College of Business Administration
lhasenjager@unomaha.edu • 402.554.3852