Fueling your mind requires fueling your body. Scott Dining Hall (Scott Café) makes it delicious, convenient, and affordable. Enjoy breakfast, lunch, or dinner, including soups, salad bar, deli, grill, and daily desserts.
Is a Scott Café Meal Plan Right for You?
Meal plans are a convenient and economical choice. Before choosing a plan, ask yourself:
Do I eat breakfast?
Will I be on-campus on the weekends?
Which plan works with my class schedule?
Do I have time to cook in my room?
---
Meal Plan Choices
Unlimited Access
$2,049 per semester
This plan is a great value for someone looking to eat multiple times a day and not have to worry about cooking.
160 Meal Plan
$1,329 per semester
Provides approximately 10 meals per week. This plan is ideal for students who want lunch and dinner during the week but is comfortable finding breakfast and weekend meals on their own.
120 Meal Plan
$1,039 per semester
Provides approximately 7 meals per week. This plan is perfect for students on the go but needing a delicious hot meal every day.
80 Meal Plan
$749 per semester
Provides approximately 5 meals per week. This plan is perfect for students who want to save time and money by grabbing a lunch or dinner Monday though Friday.
Walk-in Pricing
Breakfast =$8.50
Lunch = $11.00
Dinner = $13.00
Special Dinner = $18.00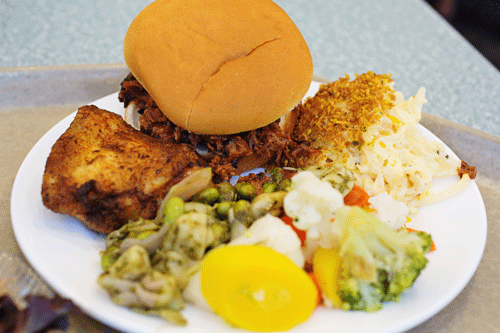 Academic Year Hours of Operation
Monday — Friday:
Continental Breakfast 7:00am — 10:30am
Hot Breakfast 7:30am — 10:30am
Lunch 11:00am — 1:30pm
Specialty Bar 11:30am — 7:00pm

*Friday Specialty Bar 11:30am-4:30pm

Dinner 5:00pm — 8:00pm

*Friday Dinner 5:00pm-7:00pm
Saturday & Sunday:
Continental Breakfast 9:00am — 11:00am
Hot Brunch 11:00am — 1:00pm
CLOSED 1:00pm — 5:00pm
Dinner 5:00pm — 7:00pm
What Comes With a Meal Plan?
Unlimited access means you can enter Scott Café as many times as you like, anytime we are open, whether it is a meal, snack, or beverage.
Unlimited access pertains to Scott Café only. Students who choose to use their unlimited access at Scott Café Express in PKI are limited to one meal swipe for that meal period. The meals at Scott Café Express in PKI are provided to meal plan holders as a convenience and as a meal replacement from Scott Café. It cannot be used in the same meal period as a meal at Scott Café.
Carry-out items are limited to a beverage, a piece of fruit, or a hand-held dessert. Bringing containers into the dining hall for taking to go food is not permitted.
Meal plans begin in August for the fall semester and in January for the spring semester. Meals do not expire at the end of each week, they expire at the end of the semester. Your MavCARD will provide you access, the card must be present at each visit. Meal plans are for you only and are not transferable to other individuals.
Meal plans cannot currently be utilized on the Dodge Campus.
Meal Plan Cancellation Policy
$50 fee prior to the start of the semester
1st week = 10%
2nd week = 15%
3rd week = 20%
4th week = 25%
No cancellations after the 4th week of the semester