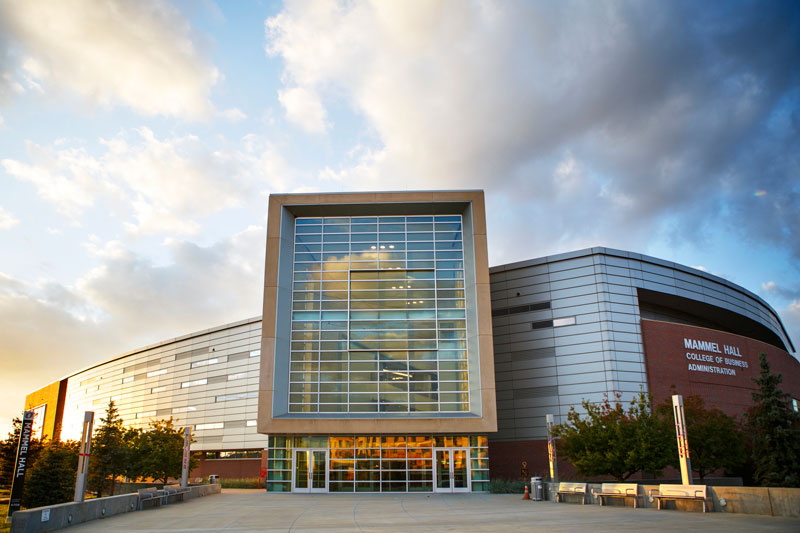 This page is updated monthly and includes links to media mentions of UNO College of Business Administration students, faculty, alumni and events.
-CBA Assistant Professor, Dusty White, Ph.D. was featured in Zippia, weighing in on the current job market trends. Read the full article here. 

- Omaha Magazine published a piece on women rising to higher ranks in businesses and organizations. Lynn Harland, Ph.D., associate dean of UNO's College of Business Administration, spoke to how UNO's search for a new CBA dean brought in four finalists who were all women—a situation that came about organically through the search process.
- The Daily Record reported on the University of Nebraska Board of Regents approving the naming of the Rod Rhoden Business Innovation Center in honor of the Rod Rhoden Foundation, one of the three lead donors for the new UNO Mammel Hall building extension.
- The 
Omaha World-Herald
 interviewed Jamie Wagner, Ph.D., assistant professor of economics and director of the center for Economic Education at UNO, about the toll the COVID-19 pandemic has taken on women in the workforce.
- Silicon Prairie News reached out to entrepreneurs, investors, business leaders and government officials across Nebraska to get their take on 2020 and see what trends they think we will see in 2021. Hear more from CBA Associate Professor of Management, Brent B. Clark, Ph.D., and what he views as the biggest change in 2020 for tech startups in 2021. 
- 11/18 - WOWT interviewed Phani Tej Adidam, Ph.D., professor of marketing and entrepreneurship at UNO, about how rising COVID numbers are leading people to stock up on and hoard essentials such as toilet paper. The story was republished by KOLN (Lincoln, NE).
- CBA Lecturer, Laura Beal, creator of the
KEES program
, was highlighted in the Midlands Business Journal for her work in helping students learn the fundamentals of planning and saving.  Read the full article
here.
-The Conversation published an article written by Erin Bass, Ph.D., associate professor of management at UNO, regarding the balance of the ethics and legality of tax evasion. The article has been republished by the Houston Chronicle, Yahoo News, the New Haven Register(New Haven, CT), the Arizona Daily Star (Tucson, AZ) and several other media outlets nationwide.
- "Professor Arthur Diamond on Sustaining Innovative Dynamism," podcast was posted to the Economics for Entrepreneurs podcast site - https://hunterhastings.com/professor-arthur-diamond-on-sustaining-innovative-dynamism/.
-CBA economics professor, Dr. Arthur M. Diamond, Jr.'s op-ed piece "
When New Yorkers Cheered the Wright Stuff
" was published on Sun., Sept. 22, 2019, on p. B5 of the
Davis Enterprise
in California. 
-KNEB reported on a study into the economic impact of the aviation industry on the state of Nebraska. Christopher Decker, Ph.D., Lucas Diamond Professor of Economics at UNO, contributed to the study.
-KMTV interviewed Chris Decker, Ph.D. about restaurants struggling to stay afloat before and during the COVID-19 pandemic.
- EconTalk podcast interviewed CBA economics professor, Dr. Arthur M. Diamond, Jr. about his new book, "Openness to Creative Destruction: Sustaining Innovative Dynamism." A "sneak peak" of the podcast was also featured by Russ Roberts on YouTube.
-KETV highlighted UNO students who study extremists for Department of Defense right here in CBA.
-CBA economics professor, Arthur M. Diamond, Jr.'s book, "Openness to Creative Destruction: Sustaining Innovative Dynamism" is featured in this World-Herald article.
-KMTV interviewed Chris Decker, Ph.D., economics professor at UNO, about the economic impact of COVID-19 on the Omaha area, particularly when it comes to tourism.
-KPTM reported on why you might be spending more at the grocery store. Chris Decker, PhD, professor of economics at UNO, said that when the pandemic began markets limited the number of meat consumers could buy to manage supply and demand, but now prices are starting to increase due to the additional distribution costs put on meat processors. 
-UNO's Genius of Buffett course, is highlighted by KMTV.
-Dr. Adidam is interviewed by KMTV and KETV about former Union Pacific employee searching for next job and the impact of layoffs.
Contact Us
If you have a story idea, news tip or inquiry, please contact:
Lindsey Hasenjager, Director of Social Media and Promotions, College of Business Administration
lhasenjager@unomaha.edu • 402.554.3852