UNO Renews Partnership with National Defense University and USSTRATCOM
Nebraska's premier metropolitan university continues its partnership with the nation's premier higher education institution for national security strategy to host a 10-week satellite course.
published: 2022/06/24
contact: Rachael Smith - Communication Specialist, UNO CBA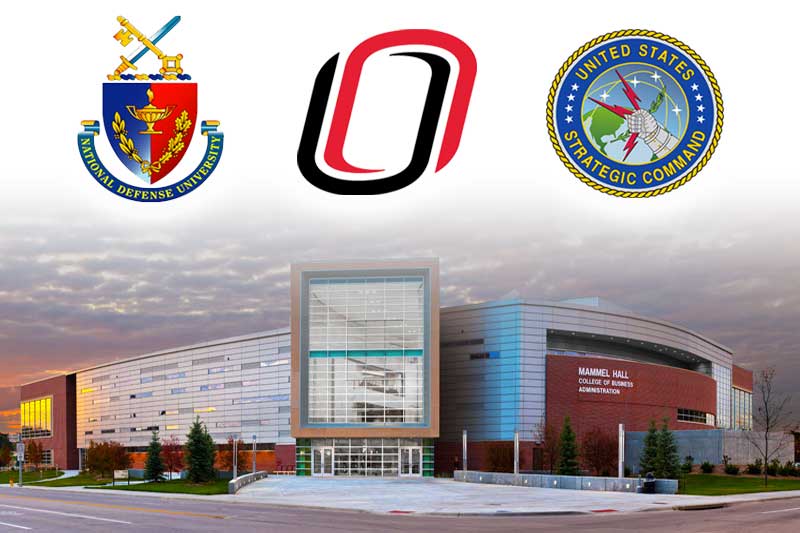 OMAHA - The University of Nebraska at Omaha (UNO) is making it easier for officers and civilians working for the U.S. military to further their education through the continuation of a unique partnership with National Defense University (NDU), the premier higher education institution for national security strategy, and U.S. Strategic Command (USSTRATCOM).
The partnership was originally established in 2016 with NDU planning to hold courses at UNO's Mammel Hall, home to UNO's College of Business Administration, every two years during the summer. In June 2022, 18 soldiers, sailors, airmen, Marines and Department of Defense civilians from USSTRATCOM started a 10-week satellite course at Mammel Hall.
The Joint and Combined Warfighting School satellite course, which provides Joint Professional Military Education, phase II credit, is administered by faculty from the Joint Forces Staff College (JFSC). This component of NDU educates members of the armed forces on how to conduct joint, multinational and interagency military operations.
The coursework, which is designed to teach effective planning for operational-level warfighting involving joint and combined military forces, will specifically benefit USSTRATCOM members, whose headquarters is located on Offutt Air Force Base, Nebraska.
"Our ongoing partnership with the University of Nebraska at Omaha is invaluable in preparing our military and civilian members how best to operate in the joint environment," said Donald Duralia, U.S. Strategic Command's chief of organizational development and innovation. "This partnership is a testament to the wise investment our schools, community, and military are making in the future of our defense workforce."
The partnership between UNO's College of Business and NDU is another in a long history of university efforts to leverage scholarship to assist national security efforts.
UNO has been consistently ranked among the top four-year universities in the nation for military friendliness and UNO's College of Business has previously been recognized as the nation's top business school for veterans.
"USSTRATCOM is a local pillar of our nation's defense, and because of that, they need the highest quality resources and facilities for the continued education of their civilian leaders," said Michelle Trawick, dean of the UNO College of Business Administration. "The College of Business Administration is ready and proud to support this partnership via our cutting-edge facilities, high quality research, and emphasis on supporting learners of all ages and backgrounds."
---
For questions regarding USSTRATCOM, please contact USSTRATCOM Public Affairs, (402) 294-4130.
About USSTRATCOM
USSTRATCOM has global responsibilities assigned through the Unified Command Plan that include strategic deterrence, nuclear operations, space operations, joint electromagnetic spectrum operations, global strike, missile defense and analysis and targeting.
About the National Defense University
NDU is the premier national security institution focused on advanced joint professional military education, leader development, and scholarship. It prepares senior leaders to think and operate effectively at the highest levels in an increasingly dynamic, complex, and unpredictable international security environment. It does this by preparing them to understand, develop, and employ strategies that incorporate all elements of national power. This senior leader development is made possible by NDU's holistic approach and unique combination of curriculum, location, and student and faculty diversity.
About the University of Nebraska at Omaha
Located in one of America's best cities to live, work and learn, the University of Nebraska at Omaha (UNO) is Nebraska's premier metropolitan university. With more than 15,000 students enrolled in 200-plus programs of study, UNO is recognized nationally for its online education, graduate education, military friendliness and community engagement efforts. Founded in 1908, UNO has served learners of all backgrounds for more than 100 years and is dedicated to another century of excellence both in the classroom and in the community.
Contact Us
If you have a story idea, news tip or inquiry, please contact:
Lindsey Hasenjager, Director of Social Media and Promotions, College of Business Administration
lhasenjager@unomaha.edu • 402.554.3852