NBDC's Lang Chosen for Top NU System Roles
NU President Ted Carter recently named Cathy Lang, director of the Nebraska Business Development Center at UNO, to serve as Senior Advisor to the President for Economic Development and as University Technology Development Corporation President.
published: 2021/04/22
contact: Lindsey Hasenjager - College of Business Administration
email: lhasenjager@unomaha.edu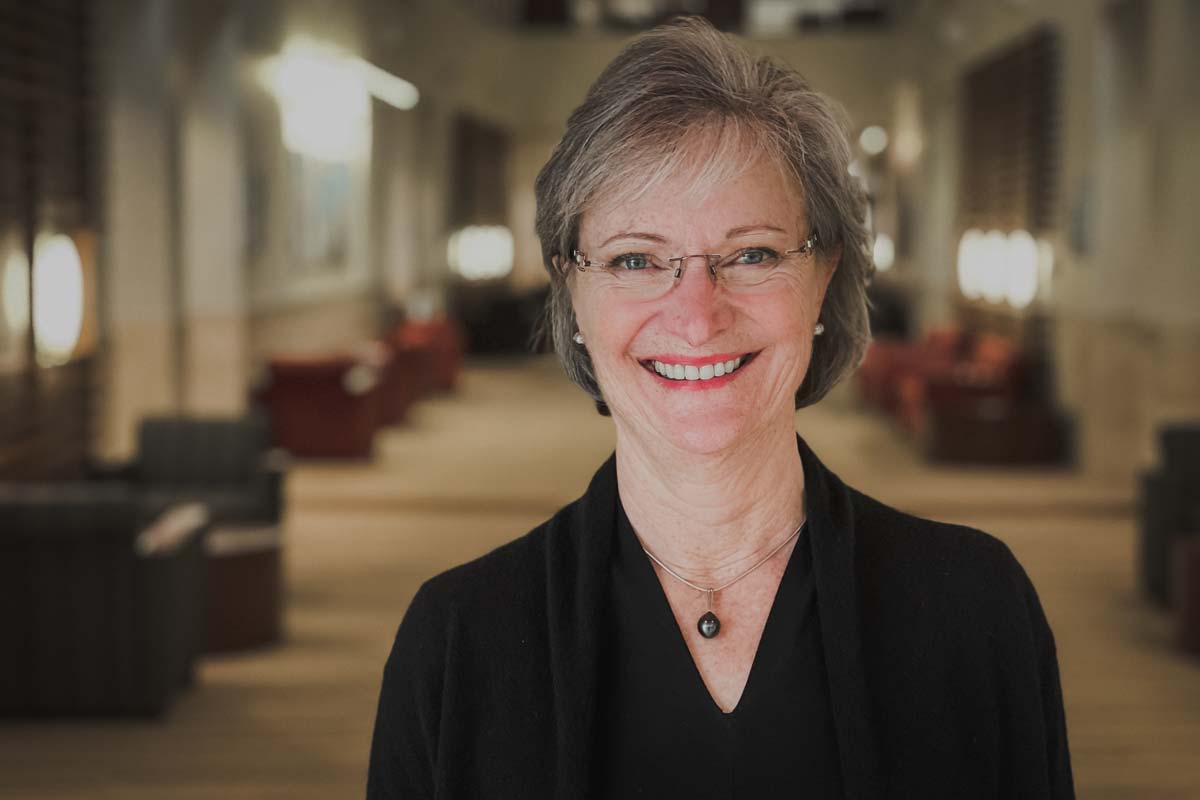 The UNO College of Business Administration (CBA) and Nebraska Business Development Center's (NBDC) role in statewide business advancement has expanded with the naming of NBDC Director Cathy Lang to two new roles within the University of Nebraska system.
In early April 2021, NU President Ted Carter named Lang, who has led the NBDC since 2016, as Senior Advisor to the President for Economic Development as well as the new president for the University Technology Development Corporation (UTDC).
Lang will continue her role as NBDC Director while taking on these new responsibilities.
"To serve the University in this new capacity is a true honor," Lang said. "I hope to bring my past experiences, along with all that I have learned over the past four-plus years, to support and strengthen the economic mission of the University of Nebraska."
In her role as director, Lang oversees a team of professionals that offer businesses from across the state support for every phase of the business life cycle -from starting and growing a business, to developing new markets for products and services, and commercializing innovation.
"Cathy and the Nebraska Business Development Center are great partners as the College of Business Administration works to have a meaningful, positive impact on the region and state," CBA Dean Michelle Trawick, Ph.D., said. "Their work to advance small businesses in our state is particularly remarkable. We are not surprised that Cathy's years of work to promote innovation and economic growth have been recognized by President Carter and I am certain that she will work tirelessly to advance the University of Nebraska's vision to build a skilled workforce and promote economic prosperity for all."
Since its founding in 1977, NBDC has operated with a statewide mission out of UNO CBA. Currently, the center has service centers in seven cities outside of Omaha: Chadron, Grand Island, Kearney, Lincoln, North Platte, Scottsbluff, and Wayne.
Over the past four years, NBDC has focused its programming on key services to support the growth of businesses in Nebraska, delivering services specific to each clients needs. Enhancing programs that support the broader economic development of Nebraska, NBDC has expanded is programming to connect businesses to resources, both at the University and across the entire Nebraska economic development ecosystem.
"The University is a treasure trove of assets that support economic growth and success for Nebraska," Lang said. "What more can the University do to assure that the talent of our students, the innovation of our faculty and researchers and the horsepower of our programs, centers and facilities can be fully leveraged in partnership for the economic growth and success of our state? I look forward to being part of this important effort of the University."
Contact Us
If you have a story idea, news tip or inquiry, please contact:
Lindsey Hasenjager, Director of Social Media and Promotions, College of Business Administration
lhasenjager@unomaha.edu • 402.554.3852