UNO CBA Honors Our Heart Heroes
The month of February is American Heart Month. In recognition, CBA is highlighting two of our own heart heroes.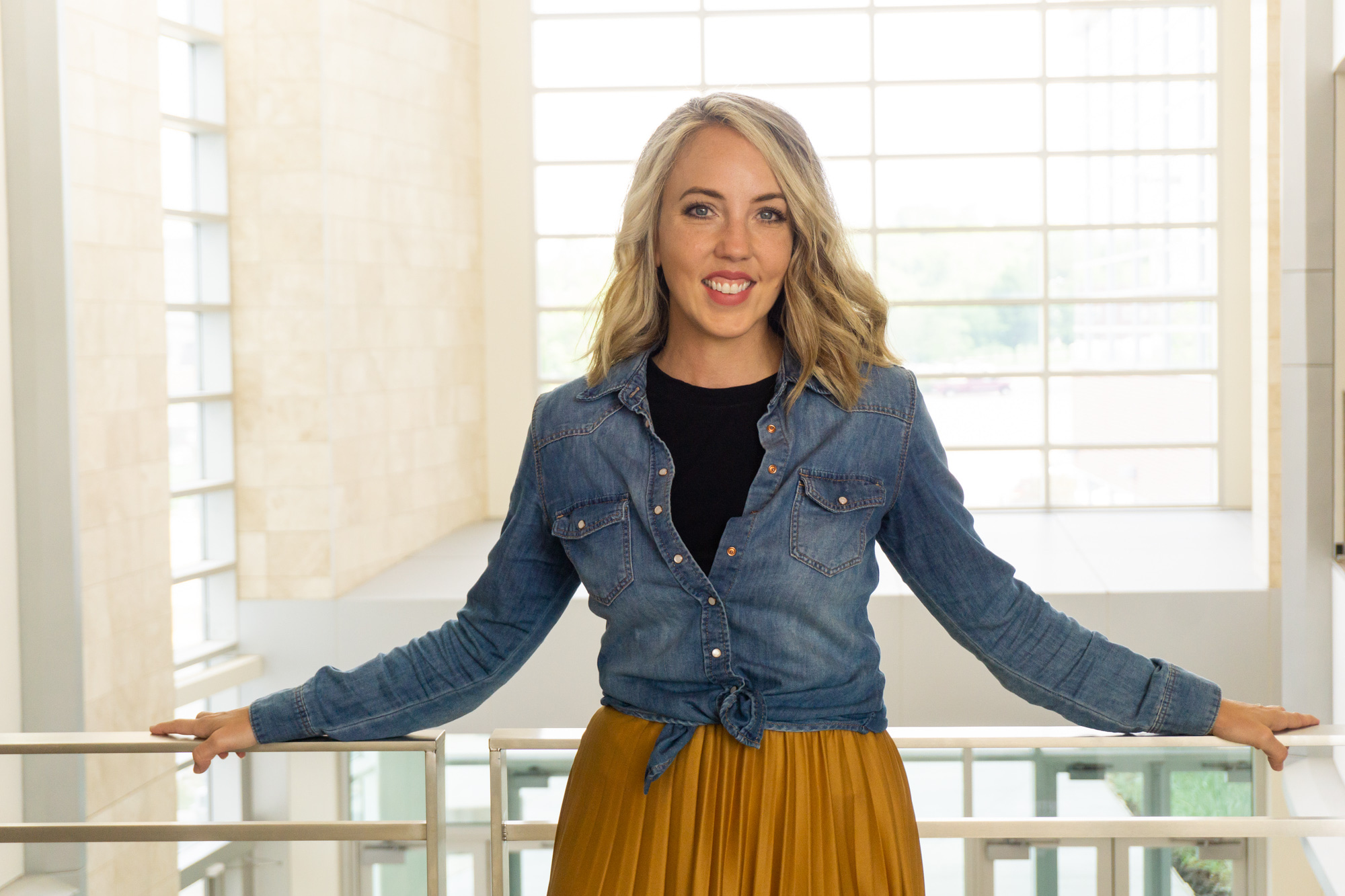 The entire month of February is American Heart Month, recognizing the importance of heart health and putting a spotlight on heart disease. In recognition of this important cause, UNO CBA is shining a light on two of our own heart heroes – Dr. Erin Bass, Associate Professor of Management, and Rachel Larson, CBA alumna and Development Director of Heart Heroes Inc.
Dr. Erin Bass, Board President of Heart Heroes Inc.
Dr. Bass was recently appointed as board president for Heart Heroes. This role is highly personal for Bass, whose son was born with a congenital heart defect (CHD) that required open-heart surgery at Children's Hospital and Medical Center when he was just four weeks old.
"While we were in the hospital, we received a care package from an organization called Heart Heroes," said Bass. "I hadn't heard of the organization before and had no idea what a role they would play in my life and my son's life in the weeks, months, and years to come."
Bass later reached out to Heart Heroes and involved them in the MBA Capstone Course, in which students completed a pro bono consulting project. When the Executive Director of Heart Heroes asked Bass how they could continue working together, Bass began serving on the board and ultimately became board president.
"As board president, my role is to support the organization and ensure we are doing everything to impact as many families and individuals affected by CHD as we can. The board oversees and monitors Heart Heroes' strategy and operations. We meet as a full board every quarter, and have board committees that meet quarterly," said Bass. "We also attend Heart Heroes' events, raise funds for Heart Heroes' programming, and spread awareness about CHD. Many people don't realize that CHD is the #1 birth defect, impacting one of every 100 children."
In her role as president, Bass assists Heart Heroes in their work with Children's Hospital to provide support to families whose children are receiving cardiac care. This support ranges from Superhero Capes, helping children – the true Heart Heroes – feel brave during their procedures, to meals for families and activities to keep the Heart Heroes occupied during hospital stays. Heart Heroes also partners with UNMC to fund CHD-related research. During COVID-19, Heart Heroes created virtual support groups and response and recovery kits for CHD families here in Nebraska.
"I'm humbled that I get to be a part of this organization and help it impact the many Nebraska children and families affected by CHD," said Bass.

Rachel Larson, Development Director for Heart Heroes Inc.
Rachel Larson, a UNO CBA alumna, has always had a passion for helping others. A nearly lifelong volunteer, Larson particularly enjoys working towards better health outcomes for her community and for children. This passion drew her to Heart Heroes Inc., where she serves as Development Director.
"The heart community is near and dear to my heart because cardiovascular disease is the number one cause of death in adults, and congenital heart defects are the number one cause of death in infants," said Larson. "These are statistics I don't like, and I am driven to change them through funding research and support initiatives."
As Development Director, Larson leverages some of the skills she learned at CBA in managing the many moving parts of a non-profit. She states that her business background from UNO has not only helped with her connections in the community, but allows her to serve as a sales professional, event planner, corporate strategist, and marketing professional all in one role. Larson graduated from UNO in 2006 – the same year her daughter was born – and brings her care for children and her community to work every day.
"My goal with Heart Heroes is to continue to serve families living with CHD locally, and expand the impact and empowerment that Heart Heroes provides on a greater scale nationally," said Larson. "Heart Heroes started in Omaha with one Hero Cape, to empower one child going through an otherwise traumatic situation to be brave. Since then, over 14,000 children have received the Hero Cape, and it is my dream that we can provide that level of support and encouragement to every family who faces CHD."
Larson also intends to continue uplifting her community and fostering a culture of health, wellness, and care in Omaha.
"It has been an honor and privilege witnessing first hand the impact of my work," said Larson. "Omaha is an extremely generous community and I am proud to be part of a culture that cares and wants to continue to strive for the best that we can be, together."
---
UNO CBA is proud of our Heart Heroes and thanks them for their support to the Omaha community!
To learn more or get involved, visit the Heart Heroes Inc. website or email info@heartheroes.org. To learn more about American Heart Month, visit the National Heart, Lung, and Blood Institute website.
Facebook: facebook.com/HeartHeroesInc
Twitter: twitter.com/HeartHeroes
Instagram: instagram.com/heartheroes/
Contact Us
If you have a story idea, news tip or inquiry, please contact:
Lindsey Hasenjager, Director of Social Media and Promotions, College of Business Administration
lhasenjager@unomaha.edu • 402.554.3852