Appsky Spotlight Article
Appsky joined the Maverick Venture Fund's portfolio in 2020 when the Maverick Venture fund invested $10,000 of convertible debt in Appsky. Appsky was founded in 2016 by UNO Alumni Taylor Korensky with the goal of delivering custom technology solutions that allow you and your audience to lead better, happier, and easier lives. The team of 11 does this by specializing in design, software, & consulting.
published: 2021/03/23
contact: TJ Andreasen - Center For Innovation, Entrepreneurship & Franchising
email: tjandreasen@unomaha.edu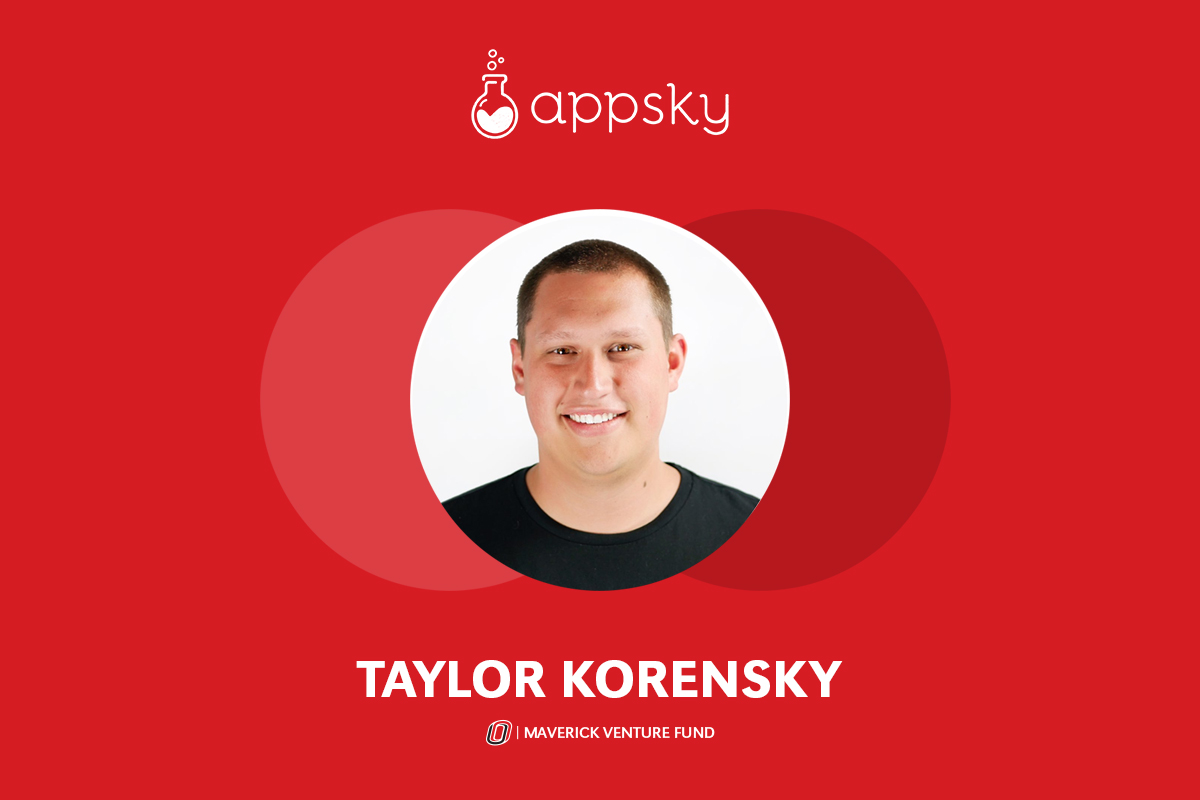 Appsky's origin story began when Taylor Korensky was inspired to be his own boss while studying at University of Nebraska Omaha. While a student at UNO, Taylor had a side hustle earning projects as a free-lancer, developing mobile apps. During his final year at UNO, Taylor took the IT & Innovation capstone course, the final course in the major. The creation of Appsky, originally called "Appsky Labs," was born in this class. During the class, he was able to interview current CEOs and companies in the space, and students. After hearing several perspectives, Taylor identified an unserved need and entered a niche gap in the mobile app market in Omaha; this was just the start for Appsky!
Having run the company for almost five years, Taylor and the Appksy team continue to grow and reach new milestones. The long-term goal is to become the face of midwestern development shops focusing on design, software, and consulting. Taylor is targeting a staff of 20-30 employees to achieve this.
The Maverick Venture Fund was a great opportunity for Taylor and his team to learn about raising funds during their early growth years. The Maverick Venture Fund played a key role in Appsky's success by providing gap funding. When asked about the group, Taylor emphasized how the Maverick Venture Fund provides "an amazing opportunity for students to get a really good look at what it actually takes to run a business," which can be hard to find in academia. Taylor is getting students involved early and helping the Omaha Community grow by creating jobs, economic value, and a landing spot for UNO Alumni! As new opportunities and ventures interest Taylor, he looks forward to working with the Maverick Venture Fund in the future.
About the Maverick Venture Fund
Students gain insights into the world of Venture Capital and Angel Investing. They learn the key principles and concepts necessary to conduct due diligence, calculate investment returns, write term sheets, make investment recommendations, and manage the investments made in student, alumni, and community ventures.
Student cohorts research, recommend, and monitor several investments of $5,000 to $10,000+ under the supervision of local venture capitalists who train the students in the art of startup investing. During the spring and fall semesters of 2020, the Maverick Venture Fund invested $50,000 in five companies. Since the first investment in December of 2019, the fund has invested $80,000 in eight companies.
Led by Tom Chapman and Levi Cermak, the Maverick Venture Fund invests seed capital into startups, especially those founded by UNO students and alumni. Throughout his career, Tom Chapman has helped hundreds of early-stage companies grow and secure venture capital funding. He has worked on product validation in healthcare, software, government, e-commerce, and other fields. Tom is especially helpful to startups by finding customers throughout a variety of sectors and has introduced hundreds of people to potential clients.
To learn more about Appsky visit: appsky.io/
To learn more about Maverick Venture Fund visit: entrepreneurship.unomaha.edu/MaverickVentureFund
Contact Us
If you have a story idea, news tip or inquiry, please contact:
Lindsey Hasenjager, Director of Social Media and Promotions, College of Business Administration
lhasenjager@unomaha.edu • 402.554.3852