I am the ROI: Buey Ray Tut
Immersing himself in the university community is what gave Tut an appreciation for democratic ideals fundamental to his nonprofit organization.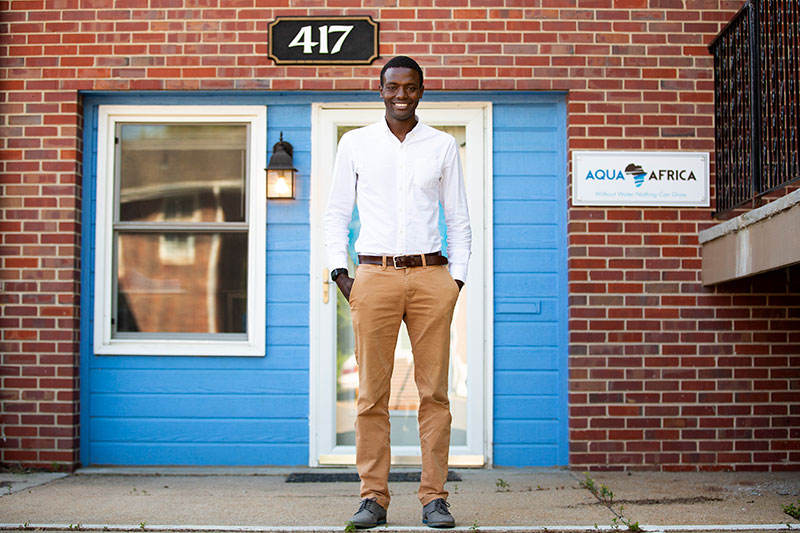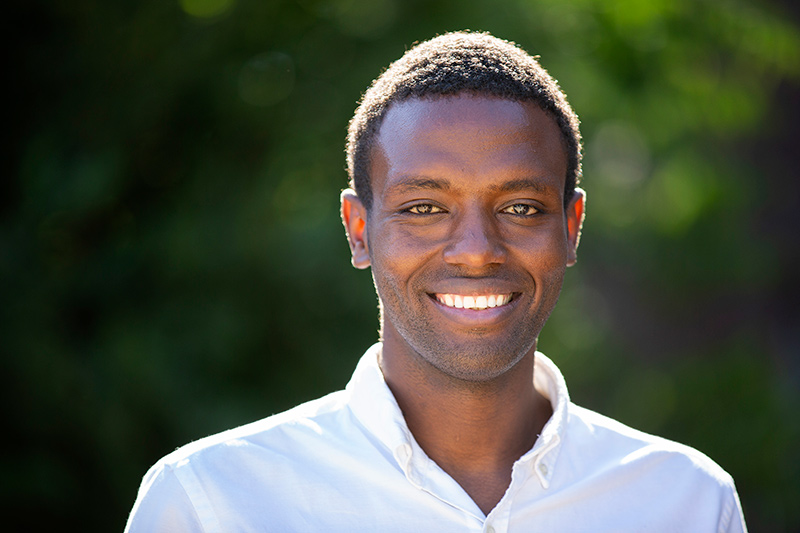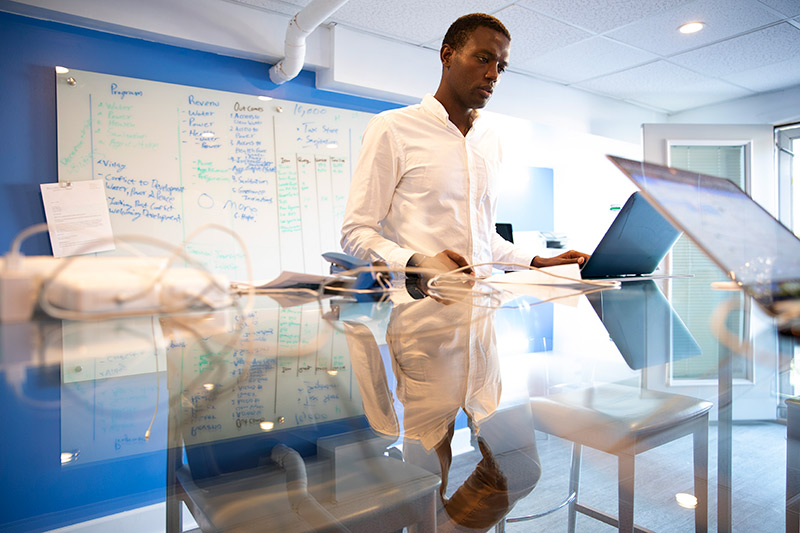 Buey Ray Tut may live and work in Omaha, Nebraska, but his heart, mind, and motivation are focused on those in South Sudan.
Tut is one of the co-founders of Aqua Africa, Inc., a nonprofit organization dedicated to bringing sustainable access to clean water and social development to villages in east Africa. The nonprofit's mission to help those thousands of miles away started in the heart of Omaha at the University of Nebraska at Omaha (UNO) campus.
Tut and his family moved from South Sudan to Omaha while he was still young.
"Nebraska has been really nice to my family and it has been a great place to live," Tut said. "Omaha has been a very welcoming city for my family and for South Sudanese in general."
When it was time to pursue a college education, Tut chose to study at UNO. The university's proximity and the reputation of its Department of Political Science made his decision easy.
Tut immersed himself in the university community once he stepped on campus. He participated in forensics and student government while studying political science and economics at UNO. "It gave me an appreciation for democratic ideals, which is fundamental to Aqua Africa's strategy with our micro-democracy and access to clean water."
He speaks highly of the faculty members who served as mentors.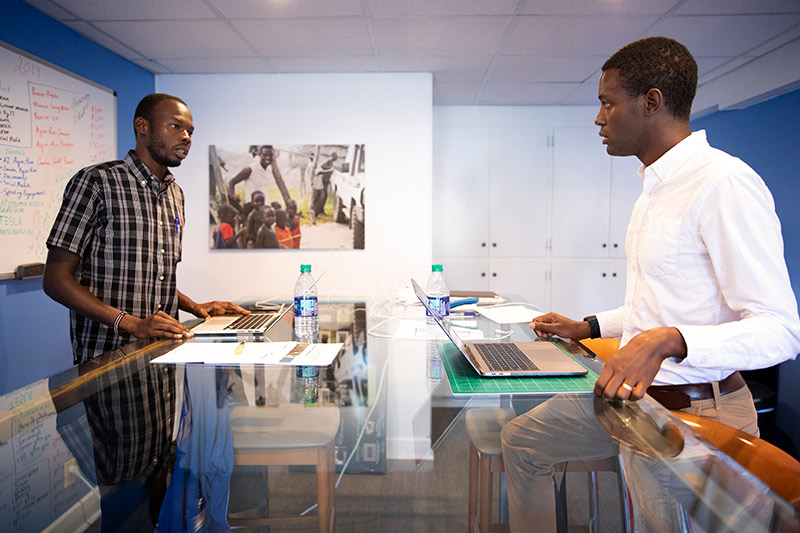 "Whether it is expanding on your academic or your professional career and you seek help from any of your professors, even the Deans, you get an email within the next few days," he said. "They don't care what status you are, what level you are, whatever you're pursuing. They are really accessible and open."
UNO faculty members are committed to expanding students' horizon and opening new doors.
"Going to Washington D.C., working for [Congressman] Lee Terry – that was facilitated by my UNO professors," he said. "It just gave me a lot of room to grow so that was important to me."
The nonprofit's slogan reflects the value that Tut places on having room to grow: "Without water nothing can grow."
Access to any water has obvious implications for agriculture, but Tut says that access to clean water specifically can drastically improve the health and general well-being of a community practically overnight.
"They drill the water well and the next day, people start having access to clean water," Tut said. "They stop walking six to seven miles trying to collect water. Their entire life transforms the next day." He said that this instant gratification is one of the most rewarding parts of his work. Other efforts regarding healthcare or education may not show benefits for years.
The work doesn't end once the faucet is turned on. Aqua Africa also establishes micro-democracies so that villagers take ownership of their new water source and ensure that their access to clean water is uninterrupted.
Since its inception in 2011, Aqua Africa has brought access to clean water to thousands of people throughout South Sudan. Tut credits UNO and the generosity of the Omaha community for making these projects happen.
"That is what makes Omaha a really great place to be because that kind of community exists," he said.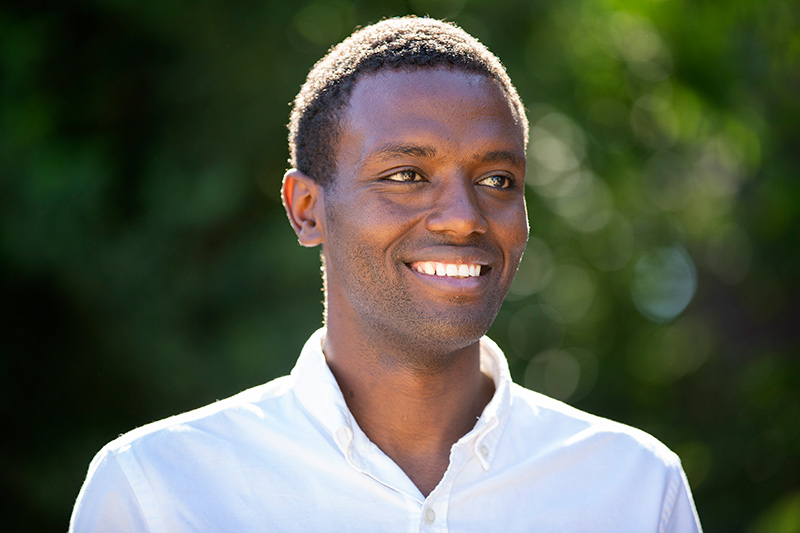 About "I am the ROI"
"I am the ROI" introduces you to alumni whose return on their investment in a UNO education goes far beyond career opportunities. UNO brought out the best in these leaders, change makers and innovators who are making a difference in our communities and enriching our quality of life.
From UNO's Office of University Communications and the UNO Alumni Association, this joint storytelling effort runs July 1 through August 12, 2019 with a new story every Monday.

About the University of Nebraska at Omaha
Located in one of America's best cities to live, work and learn, the University of Nebraska at Omaha (UNO) is Nebraska's premier metropolitan university. With more than 15,000 students enrolled in 200-plus programs of study, UNO is recognized nationally for its online education, graduate education, military friendliness and community engagement efforts. Founded in 1908, UNO has served learners of all backgrounds for more than 100 years and is dedicated to another century of excellence both in the classroom and in the community.
Follow UNO on Facebook, Twitter, Instagram, TikTok, LinkedIn, and YouTube.