CBA's Rod Rhoden Business Innovation Center Opens 44,000 Square Foot Addition
The Rod Rhoden Business Innovation Center further distinguishes the College of Business Administration (CBA) by enhancing the delivery of knowledge to its students and expanding the vibrant relationships between the college, the community and the region's businesses.
published: 2021/09/08
contact: Nick Schinker - CBA Marketing Department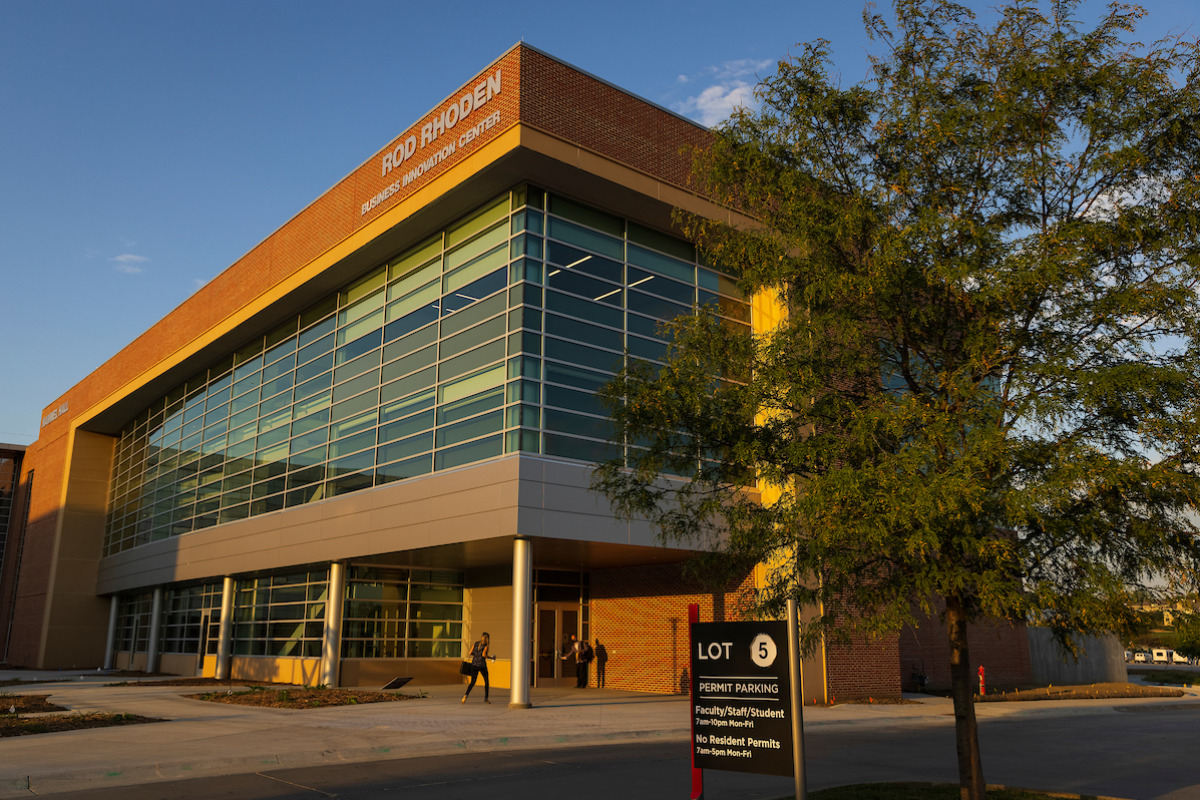 "We are a public institution with a public mission, and a big part of that is to connect with the community," says CBA Dean and Professor of Economics Michelle W. Trawick, Ph.D. "This new space will enable us to do that in a much more meaningful way."
Due to be officially unveiled October 15, the Rod Rhoden Business Innovation Center is a 44,000-square-foot, state-of-the-art addition to Mammel Hall that will house programs and resources that focus on building the relationships that grow business and fuel the economy.
It features an Entrepreneurship Lab that will support UNO's Center for Innovation, Entrepreneurship and Franchising; along with the newly-formed School of Accounting; the CBA Scholars Academy; a new business activity center dedicated to public events; and the home for the National Counterterrorism Innovation, Technology and Education (NCITE) Center of Excellence.
The addition was paid for through a privately funded initiative, with lead gifts from the Mammel Foundation, Rod Rhoden Foundation, Union Pacific Foundation, Jack and Stephanie Koraleski, and Robert Stedman.
It is named for Rod Rhoden, a 1967 business graduate of UNO who has been a leader in entrepreneurship and business for nearly 50 years. Since returning to Omaha in 1971, he has been a major investor in auto dealerships and real estate ventures in the area. He has interest in four auto dealerships in Omaha and Lincoln employing more than 300 people.
In recognition of the Union Pacific's contribution, the college's outdoor gathering space will be named the Union Pacific Plaza.
Community-engaged research and service will be enhanced through the newly designed and expanded Jack and Stephanie Koraleski Commerce and Applied Behavioral Lab (CABLAB), and the addition of a 184-person business activity center.
Faculty and graduate students in the Department of Homeland Security's NCITE center will conduct groundbreaking research and create relevant workforce expansion programming that will directly impact many sectors of the metropolitan community.
The new space raises the bar for the School of Accounting, which was changed from the Department of Accounting in 2019.
Accounting students will have state-of-the-art classrooms, student support services, and study areas in the newly designed wing. Entrepreneurship students will have space to work with Omahans on high-tech startup strategies in their Maverick Ventures Bullpen, and the college's award-winning Scholars Academy program will enjoy dedicated space to advance the education of high-achieving business students.
Endowment contributions from the naming of two classrooms (Deloitte and BKD), the mezzanine (the Sommer Family), and a study space will provide long-term financial support for accounting students, faculty and programs.
Dean Trawick says the center weaves together every aspect of education, research and engagement necessary to enable the college to continue to advance Nebraska's economic growth and workforce development.
"Ultimately, we are educators and we are grounded in collaborative relationships with our students, our business partners and the community we support and serve," Trawick says. "The Rod Rhoden Business Innovation Center is a platform for excellence today, and for generations of students to follow."
Contact Us
If you have a story idea, news tip or inquiry, please contact:
Lindsey Hasenjager, Director of Social Media and Promotions, College of Business Administration
lhasenjager@unomaha.edu • 402.554.3852