Dr. Susan Eldridge profile
The wall of Susan Eldridge's office at Mammel Hall could be filled with the hats she wears. Professor, researcher, Certified Public Accountant, mentor, auditor, planner, innovator, decision-maker, writer, motivator, relationship-builder. She does them all, and if you ask her fellow administrators, faculty and students, she does them very well.
contact: Nick Schinker - CBA Marketing Department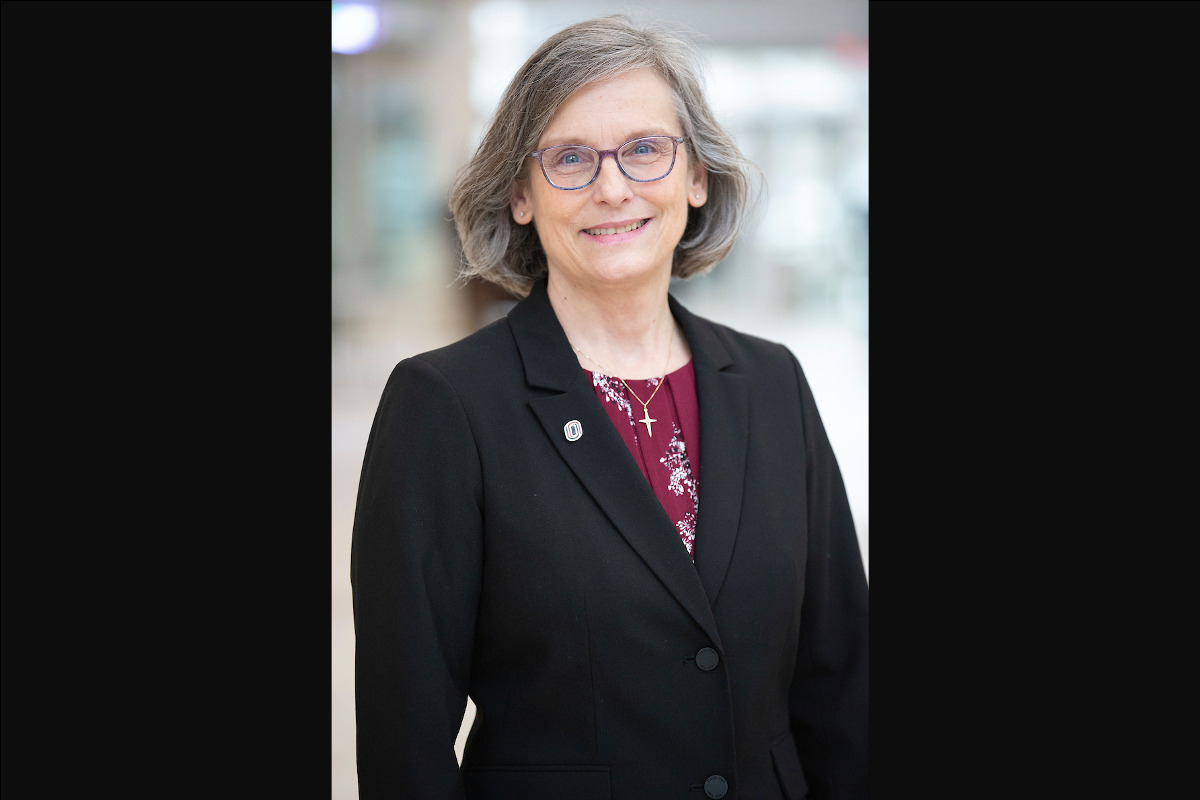 A proven leader and avid learner, Eldridge, Ph.D., was named in July 2021 the Associate Dean for Faculty, Research and Planning in the College of Business Administration (CBA). Prior to that, she served as Director of UNO's School of Accounting.
Her new title is also a newly created position. And if the phrase "for Faculty, Research and Planning" seems all-encompassing, that makes Eldridge perfectly suited for the job.
"The faculty side is related to what I have done for years: promoting faculty development and encouraging career progression," she explains. "The faculty piece of this new position is really what drew me to it.
"I have a passion for supporting my fellow faculty. It's a way to celebrate other people's successes," she says. "The new position is a more global way to do that, and I am excited to be working with a larger set of faculty and department chairs beyond the School of Accounting."
Research, Eldridge says, is a responsibility of each faculty member, along with teaching and service. And, she acknowledges that research in business doesn't always command the attention as research in science or medicine.
"Business research is often more applied research," she says. "For example, we conduct cutting-edge research in decision-making, including decisions by managers, investors, strategists, auditors, consumers, students, entrepreneurs, analysts, policy-makers, and others. What we need to do is elevate our research profile. We need to make certain we are telling our story. If we don't share the practical aspect of our research as well as our contributions to scholarly thought, it won't have the impact it deserves."
As for planning, Eldridge has always looked to the future. She just didn't see her own future as clearly as the goals she envisions for CBA.
"I don't know if I would ever have dreamed up where I am, or the position I have today," Eldridge says. "And yet, looking backward, I feel like I have always been preparing for this."
Born in Lumberton, N.C., she grew up in a loving home safely nestled not far from both sets of her grandparents. She enjoyed Sunday church and the fried chicken lunches that followed, and spent hours just riding her bicycle with her friends. In high school, she played volleyball and piano, and presented the valedictorian speech at her Lumberton Senior High School commencement.
"I loved school because I loved learning," she says. "Math and English were favorites. I loved to read, fiction and nonfiction, and I loved diagramming sentences."
Eldridge earned her bachelor's degree in business administration/accounting in 1983 at the University of North Carolina (UNC) at Chapel Hill. That same year she passed the CPA exam. "That was back when it was a paper and pencil exam over two and half days," she says. "I passed on my first attempt."
She went to work for KPMG (formerly Peat Marwick Mitchell), one of the "Big 8" CPA firms, starting out as an auditor.
Her name was still Susan Williams when she met her future husband, Mark, a fellow member of the Beta Alpha Psi international honor society for accounting, finance and information systems students. "He was the treasurer," she recalls. "I fondly say he took my money, and my heart."
The couple were married in 1984 and have three children: Jennifer, 33, who lives in Tallahassee and is working on her doctorate in early childhood special education; James, 30, a Marine Corps. officer who earned an accounting degree at UNL and a MBA at UNO; and Mitch, 24, who is working toward a master's degree in IT Innovation at UNO.
After holding positions in public accounting and as a controller in the construction industry, Eldridge earned her master's degree in accounting in 1992 at Appalachian State University, and her Ph.D. in 1997 at UNC-Chapel Hill. She also served as a lecturer at the University of Texas at Austin, and in 2002 joined the faculty at UNO's CBA.
Since coming to Omaha, Eldridge has worked hard and earned the respect of her peers and her students, along with numerous honors, including the Graduate Accounting Professor of the Year Award, Dean's Citation for Outstanding Service, Dean's Citation for Extraordinary Performance, Lady Vestey Woman of Achievement Award from the Accounting and Financial Women's Alliance, and the Woman Leader in Nebraska Education Award from the Platte Valley Institute of Management Accountants.
She remains a licensed CPA and an active member of the American Accounting Association, the American Institute of CPAs, Financial Executives International, and the Accounting and Financial Women's Alliance.
For her, a turning point was when she returned to Chapel Hill to earn her doctorate. "That's really what set me on the trajectory to where I am today," she says.
It wasn't an easy choice to make at the time, and the realization that in a difficult decision often lies opportunity is a lesson she tries to pass on to her accounting students and to her fellow faculty.
"Being aware of opportunities is critically important," she says. "If you don't stay aware, if you aren't on the lookout for potential opportunities, you're not going to grow into your full potential. I feel very fortunate that I have grown and developed as a leader and can impact others' lives by taking advantage of great opportunities."
She is confident her new role is an opportunity to grow and serve even more.
Contact Us
If you have a story idea, news tip or inquiry, please contact:
Lindsey Hasenjager, Director of Social Media and Promotions, College of Business Administration
lhasenjager@unomaha.edu • 402.554.3852