Strauss Performing Arts Center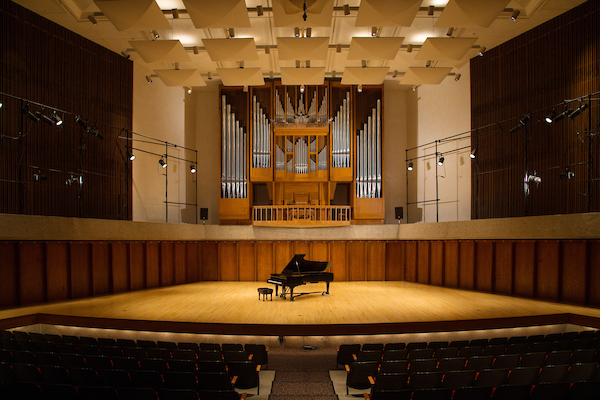 The Strauss Performing Arts Center includes classrooms, faculty studios, and rehearsal spaces. The facility also has a Concert Hall, over 25 practice rooms, a recording studio, a piano laboratory, a multi-station music computer lab, instrument checkout room, faculty offices, and administrative offices. The Strauss Performing Arts Center Concert Hall, seating 460, spread in two levels, is housed on the center of the Strauss Performing Arts Center and hosts rehearsals as well as student, faculty, and guest artist recitals, and lectures.
Library
Most scores and audio/visual materials are located at the Dr. C.C. and Mabel L. Criss Library, which serves as the primary source of academic information for the university community through its collections, academic and reference services, innovative and modern technology, exhibit and event programming, and modern physical facilities. It is located in front of the School of Music and next to the Barbara Weitz Community Engagement Center. Easily accessed by a short walk, students have access to scores, sound recordings, DVDs, music education materials, and a number of music reference sources.
To find resource materials, use the University's on-line catalog. Librarians and staff members are available to assist with questions. The library's website has more details on loan periods and other library policies. Tours of the library and workshops regarding available tools and services are provided upon request.
Click here to learn about the library fines, holds, renewals, recalls, and claims. For more information about the music resources at the Criss Library contact Tammi Owens.
Music Computer Lab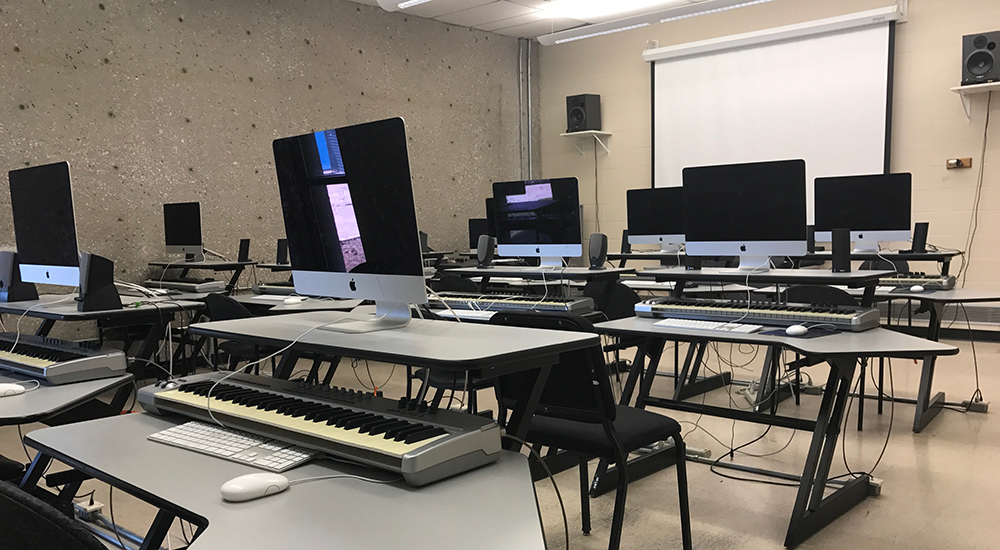 The Music Computer Lab at the Strauss Performing Arts Center is an open-access laboratory and classroom space available to all music students via 24-hour keycard access. The lab features 13 workstations consisting of an iMac computer, MIDI keyboard, 2-in/-out audio interface, and headphones. In addition, the lab has a 2-channel loudspeaker system, video projector, networked printer, and Mackie 24-channel/8-bus analog mixer. The lab supports the following software: Pro Tools, Finale, pure data, VCV Rack, the Adobe Creative Suite, and the Microsoft Office Suite.
Practice rooms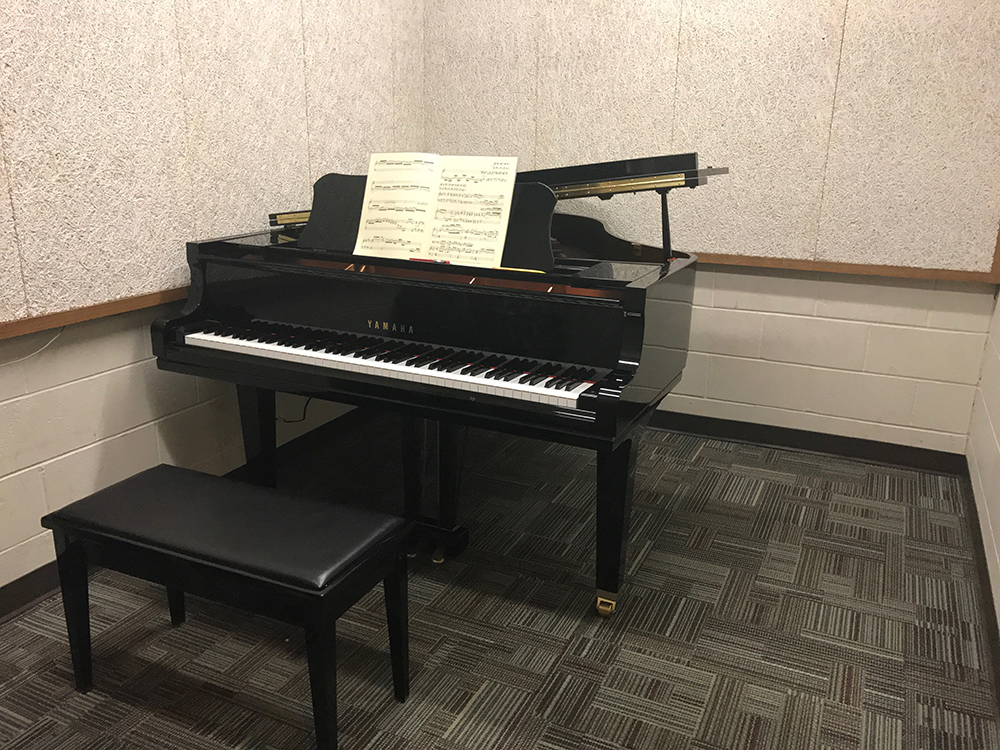 The Strauss Performing Arts Center has 23 practice rooms located on the second floor. In addition, there are piano major practice rooms on the 3rd floor and percussion practice rooms on the 4th floor. Practice rooms are available to all music majors and to students enrolled in applied music lessons or ensembles sanctioned by the School of Music. Students must request practice room access from the Operations Manager. An active MavCard is required for access.
Use of practice rooms is restricted to times when the Strauss Performing Arts Center is open to the public. Only those students who have requested and been approved (by their Applied Instructor, the Operations Manager, and Facilities Management) for 24/7 MavCard access to the building will be allowed to use the practice rooms after the building is locked. Practice rooms are closed during holidays and some special events.
Food and drinks are not to be consumed in the practice rooms, and personal items cannot be stored or left in rooms between use. If items are left unattended for more than 15 minutes, they may be turned in to Public Safety's Lost & Found. The School of Music is not responsible for any lost or stolen items. Windows are to remain uncovered at all times for safety reasons. Chamber rooms are for chamber rehearsal and should only be used for individual practice if all solo rooms are full. Equipment should not be moved from room to room.
Any questions or concerns about practice rooms should be addressed with the Operations Manager.