Academic advising will help you learn more about yourself, the services UNO has to offer, and develop a course of study that will help you achieve your academic and career goals.
We encourage you to meet with your advisor often to ensure that you are on the right track to graduation. Music majors will have a registration hold which can only be removed once they have met with their advisor.
While you are ultimately responsible for your degree and coursework, the advisor's mission is to assist you with your academic choices and adjustments before and during your residency at UNO.
What Advisors Will Help You With
Suggest coursework for each semester
Assist with registration problems (time conflict, special approval, closed classes, etc.)
Assist with Degree Audits
Assist with graduation planning
Assist with graduation application
Provide advice about specific majors
Evaluate transfer credits
What is Expected of Students
Check UNO email regularly. University emails and advisor emails are sent to UNO email accounts
Make regular contact with the advisor each semester
Ask questions!
Organize official UNO documents, advising sheets, fliers and handouts so that the advisors can easily access the information
Accept responsibility for your decisions
Communicate your interests, abilities, and goals to the advisor
Become knowledgeable about UNO college programs, policies, and procedures. (i.e. dropping classes, enrollment, probation/suspension, student accounts/financial aid, student code of conduct, etc.)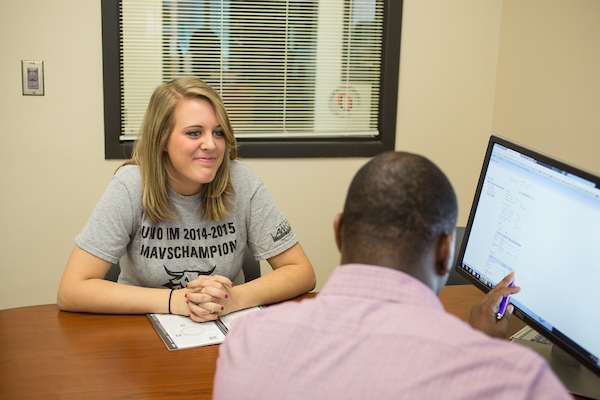 Advising for First-Year and Transfer Students
After a student has been officially admitted to the University of Nebraska Omaha (UNO), the student should visit MavCONNECT to schedule an appointment with the academic advisor. During this advising session, the student will review the curriculum tracks available and enrollment process.
The advisor will evaluate transcripts for transfer students at this time. The minimum cumulative grade point average for transfer into the College of Communication, Fine Arts and Media is 2.25 (based on a 4.0 scale). Students are encouraged to make an appointment with the academic advisor to evaluate transcripts in consideration of transfer.

Additional Transfer Student Requirements/Information
Transfer students are encouraged to meet with the academic advisor so that course transferability and equivalents are accurately reflected on their degree audit. Although a course may transfer, it may not meet the requirements for a particular degree plan or the student may not meet the required proficiency level.
For example, even though a student might have taken several semesters of applied lessons, the faculty may require the student to enroll in additional semesters of applied lessons depending on the student's proficiency.
UNO will transfer as many of your courses/hours that are considered transferable from a four-year institution but students will need to take at least their last 30 credit hours at UNO in order to graduate with a UNO degree.
From two-year/junior or community college, students can transfer a maximum of 64 semester credit hours. Additionally, if you are an undergraduate Music Education student seeking teacher certification, you need to make sure that you have met the grade requirements established by the College of Education, Health, and Human Sciences.
Please consult this handbook regarding Piano Proficiency to learn about specific requirements.

School of Music Degree Plan Changes
Music students wishing to change their major within the School of Music must complete the following (in order):
Receive approval from the coordinator of Music Education, the applied lesson instructor and the area coordinator, or the coordinator of Music Technology (whichever is applicable)
Complete a School of Music change of major request form and turn it in to the advisor.