Band, Orchestra, and Choir Honor (BOCH) Festival
We are excited to announce the 2023 UNO BOCH Festival! It will take place at the University of Nebraska at Omaha Strauss Performing Arts Center on Jan. 27-28, 2023.

---
UNO's School of Music created the BOCH Festival in 2007. While most institutions hold separate honors events for each ensemble, the BOCH Festival combines these groups to host an event that brings more than 300 high school students from across Nebraska and the Midwest to work with nationally renowned clinicians. This unique experience will culminate in a performance at the newly-renovated Strauss Performing Arts Center on the campus of UNO.
Though a rigorous audition process, high school musicians from across Nebraska and surrounding states are selected to come together and perform with other musicians at one of Omaha's premiere performance venues. Students have the opportunity to work with UNO Music faculty and students as well as guest clinicians in both masterclass and rehearsal settings. It is a fun-filled weekend of music making and learning with other talented musicians.
---
2023 BOCH Festival Important Documents
Results & Participation Information: posted below after Dec. 12, 2022
2023 BOCH Festival Results: Wind Ensemble | Band | String Orchestra | Mixed Choir
2023 BOCH Festival Concert Day Instructions
Chair placement information and/or PDFs of repertoire (when possible)
---
Finale Concerts Information (Updated 1.24.23)
There is no cost to attend any of the BOCH finale concerts on Saturday. No ticket required.
The event will not be livestreamed.
---
Parking Information (Updated 1.19.23)
Friday, 1/27
Pending spot availability, buses may park in the Northwest portion of Lot 5 adjacent to Mammel Hall. Overflow bus parking is in Baxter Lot 24, and drivers may shuttle to/from campus using the campus shuttle. Note that the closest walkable shuttle stop is at Scott Crossing/Scott Hall. See linked shuttle map above for details.
Festival participants who will not be bussed can park in the East or West Garage on campus.
For the 6:30pm concert, parking on campus will open up to the public at 5:00pm, including the CEC parking (Lots D/E next to Strauss).
Saturday, 1/28
Open parking on campus all day/evening
Buses can park anywhere – the most convenient would be CEC (Lots D/E next to Strauss) or Lot F (just a few buildings west of Strauss)
---
Bands
Students who audition for the BOCH Festival Bands will be placed in one of our two ensembles, the Wind Ensemble or Band. Students will get to work with UNO faculty, attend rehearsals, masterclasses, and concerts during the festival.
The Wind Ensemble conductor for 2023 will be Dr. Joshua Kearney, UNO Interim Director of Bands.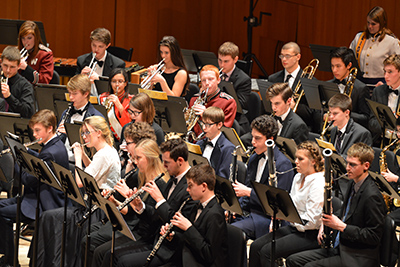 The Band conductor for 2023 will be Prof. Peter Wilger, Director of the UNO University Band.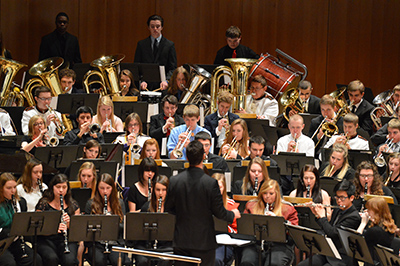 ---
String Orchestra
String students throughout the Midwest participate yearly in the UNO BOCH String Orchestra. These students have the opportunity to work with UNO faculty and guest clinicians to perform great repertoire, as well as attend concerts and masterclasses throughout the weekend.
The String Orchestra conductor for 2023 will be Dr. Matthew Brooks, Director of Orchestral Activities in Music & Medicine.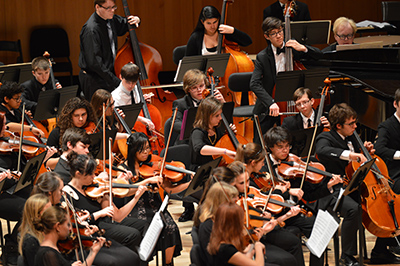 ---
Choirs
Dr. Derrick Fox, UNO Director of Choral Activities, and Dr. Katrina Cox, UNO Assistant Professor of Choral Music Education, will conduct the 2023 SATB Choir. This two-day event will include rehearsals of the Honor Choir, masterclasses, a UNO Faculty Showcase recital, and other fun activities.