University Chorus
Directed by Dr. Derrick Fox
The University Choir is a non-auditioned ensemble open to all UNO students, faculty, and staff. The 60 plus singers involved in this group perform hallmark choral works such as Gloria by Vivaldi and Handel's Messiah. This ensemble is designed to meet the music needs of singers who wish to continue their choral experience. It is a performing organization that has varied programming, but emphasizes larger choral works. University Chorus meets at noon on Tuesdays and Thursdays each week of the semester. Students can take up to three semesters of University Chorus and receive General Education credit.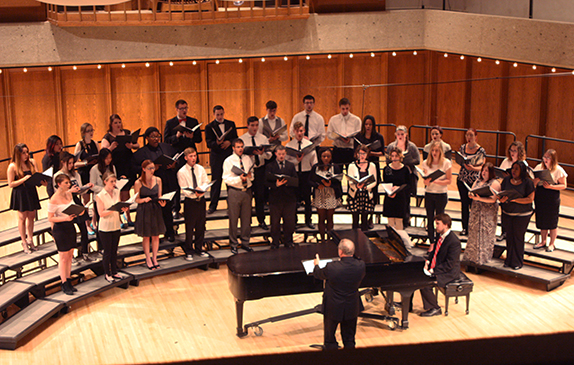 Concert Choir
Directed by Dr. Derrick Fox
The Concert Choir is the large auditioned choral ensemble.  The choir performs large master works and performs one concert with the Omaha Symphony each year. The Concert Choir is made up of students from all majors and open auditions are held each fall for openings in the choir.
In addition to campus and local performances, the UNO Concert Choir has made several international tours including the countries of Lithuania, Sweden, Germany, the Czech Republic, Romania, Moldova, Russia, Finland, and the Baltics.  The Concert Choir returned from a very successful tour of Holland, Brussels, and Germany in May of 2007 and was in New York to perform in Carnegie Hall for the most recent tour in May of 2011.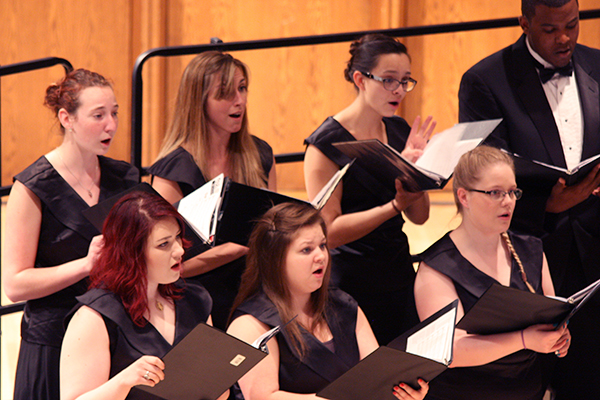 Chamber Choir
Directed by Dr. Derrick Fox
The Chamber Choir is the premier small choral ensemble in the School of Music. Auditions are required for membership in this ensemble, and this choir is a mix of music majors and non-music majors. All singers have an especially strong interest in singing in a small ensemble and performing challenging literature. 
The choir appears frequently in the metropolitan area performing at the Joslyn Art Museum, the Western Heritage Museum, area churches, and other venues. In March of 2008, the UNO Chamber Choir traveled to Xalapa, Omaha's sister city in Mexico, performed a series of concerts, and toured Veracruz, a beautiful state in eastern Mexico. In November of 2009, the Chamber Choir was chosen to perform at the Nebraska Music Educators Association Annual Conference in Lincoln. In May of 2011, the choir joined other UNO choirs and choirs from around the United States to perform Faure's Requiem in Carnegie Hall.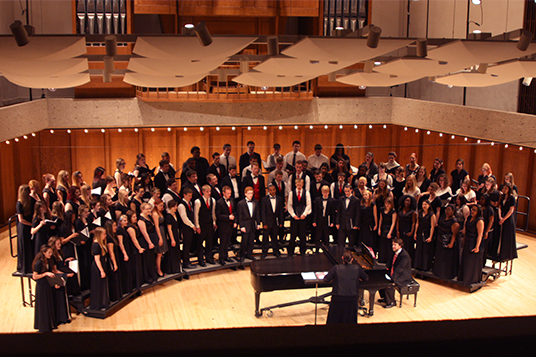 Choral Concerts
Saturday, October 8 | 7:30 P.M.
Strauss Performing Arts Center Recital Hall
Saturday, December 3 | 7:30 P.M.
Strauss Performing Arts Center Recital Hall
Saturday, March 4 | 7:30 P.M.
Strauss Performing Arts Center Recital Hall
Thursday, April 27 | 7:30 P.M.
Joint Concert with the Heartland Philharmonic Orchestra
Strauss Performing Arts Center Recital Hall