Ensemble 768 | New Music Ensemble
Directed by Dr. Christie Beard
Founded in 2012, Ensemble 768 (pronounced "Ensemble Seven, Six, Eight") is so named because the speed of sound through dry air is 768mph.

Ensemble 768 is the new music ensemble of the University of Nebraska at Omaha. The ensemble is dedicated to the performance of student and local composer works as well as masterworks of the 20th and 21st centuries. Students must audition to be in this ensemble. Please check out our Facebook page.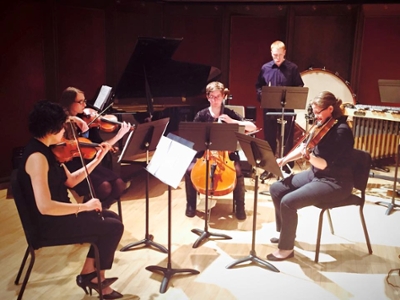 Heartland Community Flute Choir
Directed by Dr. Christie Beard
Since its inception, the Heartland Community Flute Choir (HCFC) has captivated audiences across the state with its enchanting sonorities and diverse repertoire which has included four world premiere performances of new arrangements and new commissions for flute choir. The HCFC gives an average of four local concerts in and around Omaha each year, and selected performance throughout the country. In 2011, the HCFC embarked upon their first European tour to Amsterdam, Belgium and France which included a personal tour of Eva Kingma's flute workshop in The Netherlands, and concerts featuring piccoloist Peter Verhoyen in Belgium.

For more information, click here or look for our page on Facebook and MySpace.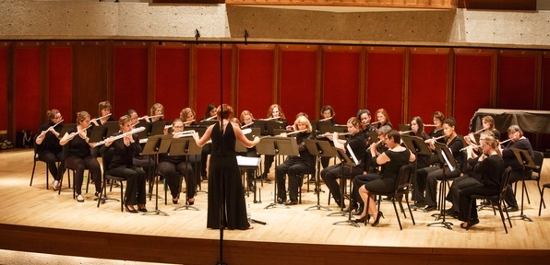 Horn Ensemble
Directed by Prof. Alena Zidlicky
The UNO Horn Ensemble is a group comprised of undergraduate and graduate horn players from the UNO Horn Studio.  The ensemble performs publicly each semester in various settings.  The Horn Ensemble plays recitals, community concerts and educational engagements each year.  Meeting once a week the group also covers orchestral rep in studio class as well as focusing on works composed for two or more horns by the greatest composers.  The UNO Horn Ensemble is a major emphasis for all horn players in the studio regardless of major.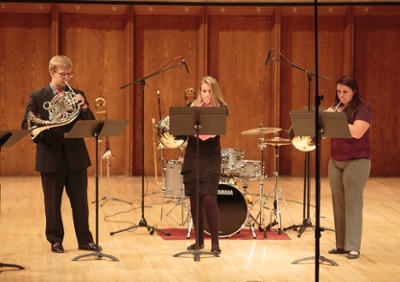 Low Down Brass Ensemble
Directed by Dr. Pete Madsen
UNO's Low Down Brass Ensemble hones students' musicianship skills through the performance of chamber music that ranges in size from trios to large low brass choirs. Literature includes transcriptions of classical music, jazz, pop, and compositions and arrangements by UNO faculty and students. The UNO Low Down Brass Ensemble performs several concerts each semester on campus and in the community.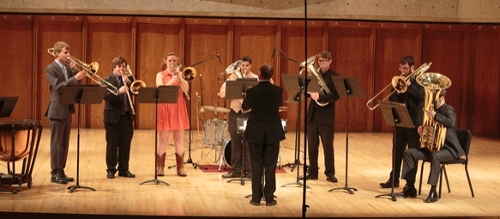 Percussion Ensemble
Directed by Dr. Scott Shinbara
UNO Percussion Ensemble performs a wide range of literature written (and arranged) for only percussionist. The UNO Percussion Ensemble was founded in 2000 by Tomm Roland and has been recognized both regionally and nationally in that time. In 2011 and in 2012 the ensemble was picked to perform at the Percussive Arts Society International Convention. It has performed at the Nebraska Music Educator's Convention twice and for the Nebraska Day of Percussion, the Iowa Day of Percussion, and the Concordia Day of Percussion. Students in the group have had the opportunity to tour throughout Nebraska as well as international tours to Japan and China.
Literature for the group spans many areas including classical percussion ensemble literature, western popular music, and non-western traditional music. The group mainly consists of percussion majors, but non-majors are encouraged to audition. For more information on the group please contact us at unopercussion@gmail.com or check out our Facebook page.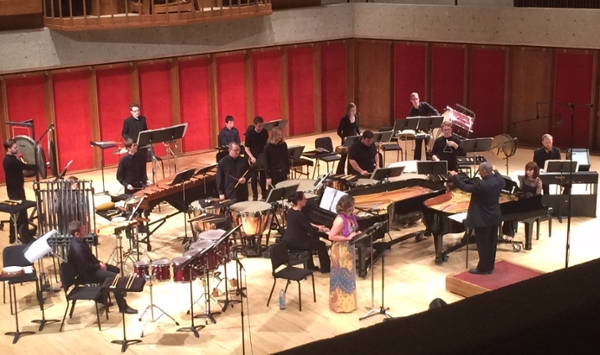 Trumpet Ensemble
Directed by Prof. Jason Johnson
The UNO Trumpet Ensemble seeks to explore the versatile nature of the instrument in a multitude of historical and modern settings.  Student arranging and improvisation are highly encouraged.  
The ensemble performs regularly around campus as well as events taking place in and around the greater Omaha community.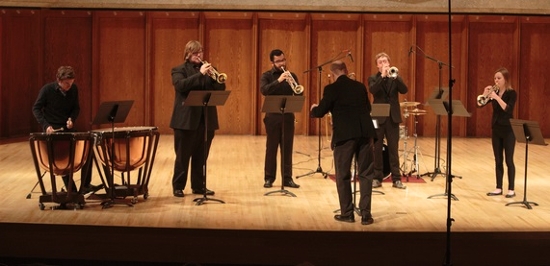 Our Campus. Otherwise Known as Omaha.
The University of Nebraska does not discriminate based on race, color, ethnicity, national origin, sex, pregnancy, sexual orientation, gender identity, religion, disability, age, genetic information, veteran status, marital status, and/or political affiliation in its programs, activities, or employment. Learn more about Equity, Access and Diversity.
scroll to top of page