Engaging the Community Through Partnerships
---
Heartland Community Flute Choir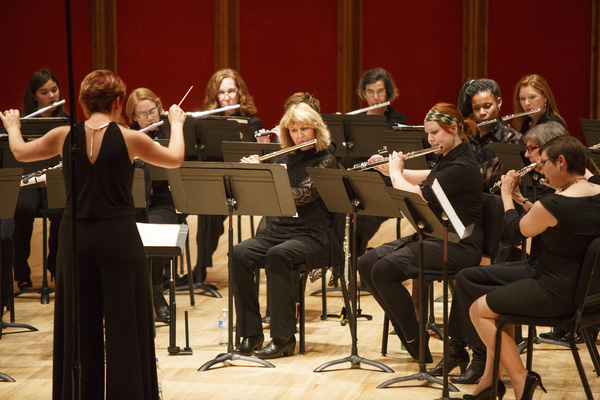 Directed by Dr. Christine Beard
Since its inception, the Heartland Community Flute Choir (HCFC) has captivated audiences across the state with its enchanting sonorities and diverse repertoire which has included four world premiere performances of new arrangements and new commissions for flute choir. The HCFC gives an average of four local concerts in and around Omaha each year, and selected performances throughout the country. In 2011, the HCFC embarked upon their first European tour to Amsterdam, Belgium and France which included a personal tour of Eva Kingma's flute workshop in the Netherlands, and concerts featuring piccoloist Peter Verhoyen in Belgium.

You may find additional information about the Heartland Community Flute Choir by visiting us on Facebook or by contacting the director, Dr. Christine Beard, by email at cbeard@unomaha.edu. For more information about Woodwinds at UNO, please visit the Woodwind Area page.
---
Heartland Philharmonic Orchestra
Directed by Dr. Matthew Brooks
The orchestral program at UNO centers around the 70 member Heartland Philharmonic Orchestra comprised of students and community players. In order to provide a rich variety of musical experiences, the orchestra presents a minimum of two concerts each semester covering a wide range of repertoire from the Baroque era to the present and offers a challenging and rewarding symphonic experience. The Heartland Philharmonic Orchestra's programs have been featured on Omaha's local classical radio station, and they recently performed at Nebraska MENC conference for the first time.
Auditions are held each fall and community members are invited to audition. For more information about the Heartland Philharmonic Orchestra, contact Dr. Matthew Brooks. Information for upcoming concerts is available on our Events page.
---
Maverick Quartet
The Maverick Quartet was founded in 2016 by UNO string faculty Drs. Mary Perkinson and Olga Smola, violins; Brian Sherwood, viola; and Gregory Clinton, cello.  The members have established careers as soloists, chamber musicians, and orchestral musicians and have performed throughout North and South America, Europe, Russia, and Asia. The quartet performs annual chamber music concerts and frequently perform with invited guest artists from Omaha and beyond. 
The Maverick Quartet is dedicated to enriching the lives of young string players through pedagogy and artistry.  They conduct frequent clinics throughout the state and co-founded Partners in Performance, nationally recognized and award winning and program that partners with Omaha Area Youth Orchestras and area schools to contribute to a culture of leadership and mentorship. 
In addition, the quartet takes part in annual events to benefit the string community such as, String Olympics, All-State Help Sessions and All-State You-Tube tutorials,  the workshop Teaching Strings for the Non-String Player, and the UNO BOCH festival.  UNO's Maverick String Quartet has been string-quartet-in-residence at the Fred and Pamela Buffett Cancer Center's Healing Arts program since 2018.
---
Metropolitan Area Youth Jazz Orchestra
Directed by Dr. Patrick Brown
MAYJO is the premier high school honors jazz ensemble in the Midwest.  An audition only group, MAYJO is made up of the finest high school music students in the Omaha/Council Bluffs area.  MAYJO rehearses twice weekly on the UNO campus and performs several concerts each semester on campus and in the community.  MAYJO is directed by UNO's coordinator of jazz studies, Dr. Pete Madsen assisted by UNO music faculty, students, and UNO artist-in-residence drummer Joey Gulizia.  Mr. Gulizia's residency is sponsored by the Nebraska Arts Council and the UNO Department of Music.  MAYJO has received invitations to be featured at many local jazz festivals, and has performed at the Jazz Education Network International Conference.  MAYJO has performed or participated in clinics with Stefan Harris, Jon Faddis, Peter Erskine, Eric Marienthal, Randy Brecker, the New Orleans Jazz Orchestra, Jim Widner, Dave Pietro, Matt Harris, Jim Pugh, Donny McCaslin, and many others.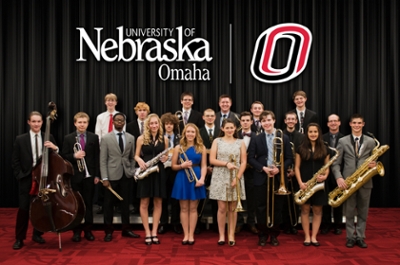 ---
Omaha Area Youth Orchestra
The Omaha Area Youth Orchestras (OAYO) was established in 1958 and consists of 6 ensembles that provide instruction and performance opportunities for over 550 students each season. OAYO participants range in age from 8 to 18 and are from over 100 schools and 20 schools districts in the Omaha Area. 

All of the Omaha Area Youth Orchestra programs are designed to enhance the lives and musical abilities of youth in a group setting that also builds leadership skills, fosters discipline, and develops educated listeners and future arts supporters.  Although only some of these students will become professional musicians, all of them are provided with the skills to enjoy a life of active participation in the arts as volunteers, teachers, and concert attendees. The Youth Symphony, Philharmonic, and Chamber Ensembles all rehearse at UNO.
For more information about the Omaha Area Youth Orchestra, please click here.