For students, choosing classes that contain a service learning component brings them out of the classroom and into the community.
Every semester, there are a variety of courses at UNO that incorporate service learning. Students like you are given the opportunity to apply classroom curriculum to actual community needs. The opportunities provide a means of learning about the surrounding community and the organizations that serve those in need and take on important issues within the community. By doing your part, you will strengthen skills that will help you progress through your studies and/or career.
Top 10 Reasons to take Service Learning Classes
Apply your textbook knowledge to the real world
Use your strengths
Discover new skills and talents
Find your passions
Discover your leadership style
Learn to communicate with others and work in teams
Sharpen skills that employers want (Problem solving, critical thinking, innovation & creativity)
Explore your community – its needs and offerings
Build your resume
Become engaged with your homework
Find Service Learning Classes
Finding classes with a service learning component is easy:
Visit the class search page
At the bottom of the page, click on the dropdown menu next to "Program" where it says "Select a program..."
Select "Service Learning"
After filling out the other fields of the class search page, click the "Submit" button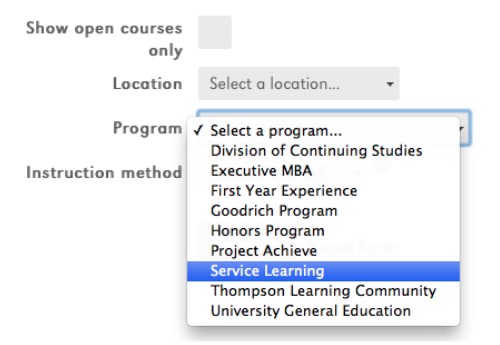 Build Your Resume
Participation in service learning courses not only enhances your academic learning experiences but also builds your resume. A great pathway for career exploration, networking, and professional skill development, service learning can prepare you for your life after college. Don't miss out on showcasing the skills and experiences you've had in service learning projects at UNO.
The Academic & Career Development Center (ACDC) is a great resource for translating these experiences into career readiness. They facilitate academic and career success and career development with resources and services for academic and career exploration. For more information, explore the ACDC page here.