CEC Guest Parking
Visitors should enter through the Lot E parking booth, which is staffed with a UNO parking attendant.
Hours for the CEC Lots E and D are:
Monday-Friday: 7 A.M. to 5 P.M.
If Lots E and D have reached capacity for an event, instructions for parking will be issued by the booth attendant.
Parking requests for event reservations must be included at the time you submit your meeting or event reservation inquiry.
---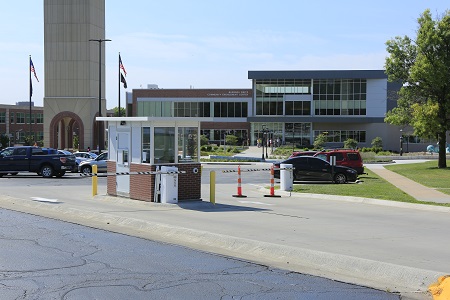 Directions By Car
The GPS address will direct you to enter through Lot E and the parking booth. Please do not use alternative addresses that populate into your searches within GPS systems.
GPS Address:
6400 South,
University Drive Road North
Omaha, NE 68182
West Entrance | From Dodge Street
Turn onto University Drive West, then left onto University Drive Road North.
East Entrance | From Dodge Street
Turn onto University Drive East, then right onto University Drive Road North.
Lot D is located between Criss Library and the Strauss Performing Arts Center and is available for visitor and event parking.
---
Walking or Bicycling
Use Google Maps to find the best bicycling or walking route for you.
Public Safety offers bike safety information and a list of bike rack locations on campus.
---
Traveling By Bus
View the Omaha Metro bus routes.
#2 bus makes stops every 15-20 minutes on Dodge Street, in front of the CEC.
#11 bus passes close by on Leavenworth Street with a 15-minute walk through Elmwood Park to campus.
#15/55 buses operate frequently on Center Street—you can walk from there or take a Maverick shuttle near 67th & Pine, which will drop you off next to the CEC on Dodge Campus.