The Service Learning Academy offers numerous avenues of support for students.
Check out this video about how to register for service learning classes:
---
Student Support
Every semester, there is a variety of courses at UNO that incorporate service learning. Students are given the opportunity to apply the classroom curriculum to actual community-identified opportunities through hands-on projects. Service learning classes allow students to learn about the surrounding communities and the organizations that serve our community. Students who take service learning courses walk away with new skillsets and better course knowledge.
The Service Learning Academy supports courses partnered with community organizations as co-teachers and includes opportunities for students to experience a sense of community, civic engagement, and personal responsibility while building capacity and contributing real community impact.
Deciding on what course to take can be a challenge each semester, especially when you are seeking one that will be engaging and informative while still meeting your academic goals. To make that decision easier, the Service Learning Academy has created a video to inform students of the various types of service learning courses that exist at UNO and how to sign up for them. Check out the video here for more information on how to register for your service learning course today.
The Stephenson-Harrington Internship
Program Overview
Founded in 1992, the Stephenson-Harrington Internship provides Goodrich Scholars with an internship experience where they gain hands-on experience in a field of their interest. The program is named in honor of Wilda Stephenson and Judy Harrington, two women instrumental in the program's creation. The program began with a single intern and the goal of fostering the professional and leadership development of women in the Goodrich Scholarship Program. The program has since expanded, with over 200 Goodrich Scholars having participated in the program to date. The Service Learning Academy currently facilitates this program in partnership with the Goodrich Scholarship Program.
Program Qualifications
Be a Goodrich Scholar (from any major)

Have completed 50 credit hours at UNO

Have a cumulative 3.0 GPA
Program Requirements
Internship placement at a community-based site in the Omaha Metropolitan Area or in a major-related office on UNO's campus

Work up to 10 hours a week at your internship site

Enrollment in a 1-3 credit weekly, one-hour professional development and leadership seminar
Recruitment and Placement
During February and March, the Service Learning Academy facilitates the application and selection process for the program that coming fall. The Service Learning Academy also works with the cohort over the summer to identify site placements for the fall semester internship.
The program is open to Goodrich Scholars pursuing any major who have completed a minimum of 50 credit hours at UNO and maintained a cumulative 3.0 GPA. Additional application details will be shared during the active recruitment process.
Student Benefits
Gain hands-on experience in your field of interest

Participate in a paid internship where you will receive $15/hour for 10 hours per week

Enjoy a flexible work schedule

Strengthen your professional and leadership skills through a weekly seminar

Experience additional professional development opportunities through conferences, seminar, and community events
Previous Student Experience
"These past few months working on the assigned task helped me build my confidence tremendously. I was able to overcome my fears and come out of my shell."
UNO Senior, 2020 SHI Cohort
Contact Us
For more information, contact Service Learning Academy at 402.554.6019 or unosla@unomaha.edu.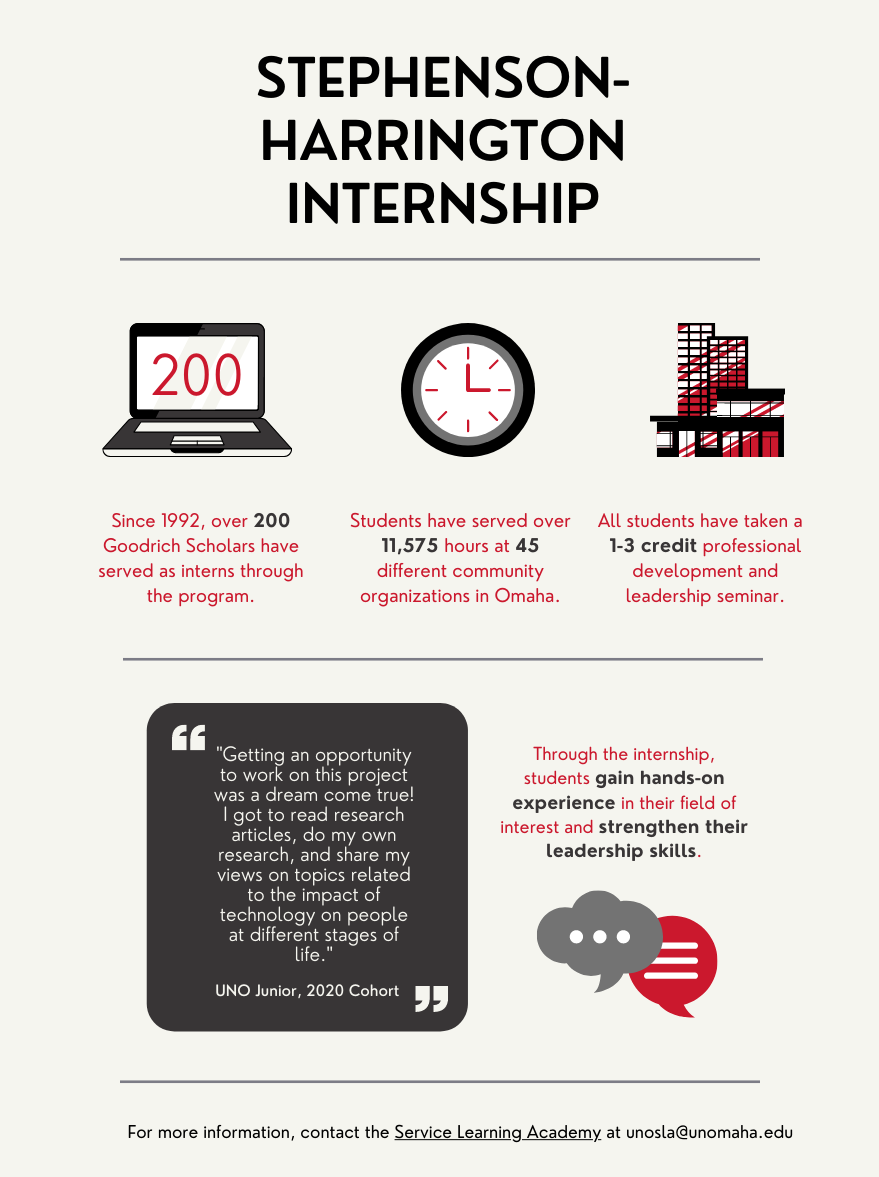 Additional Resources
In addition to creating engaging learning environments, service learning also leads to new avenues for research and publication. For students and educators interested in research opportunities, please view the following pages.
Conference Opportunities
Publication Opportunities
Research Resource Site