Service Learning Seminar 2020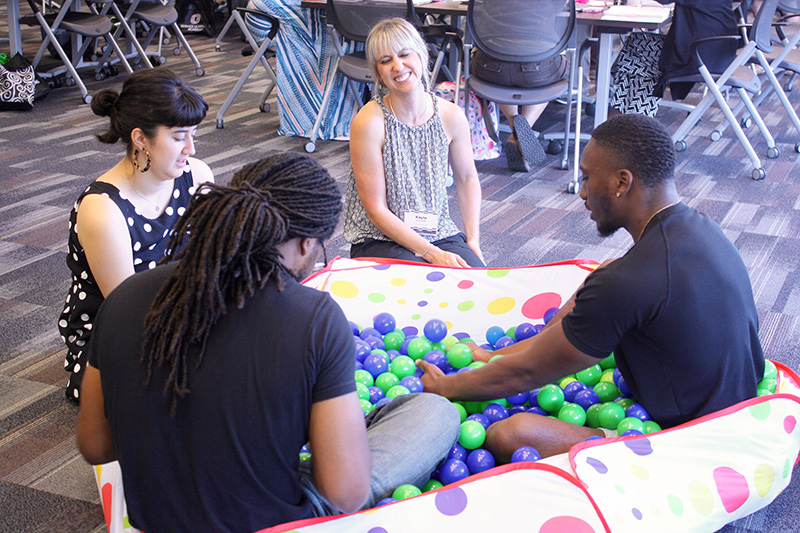 Service Learning Seminar 2020 July 13-17, 2020. 
Service Learning Seminar
The goal of Seminar is to partner UNO faculty, K-12 educators, after-school programs, and community partners to develop service learning projects. Seminars are four and a half days and include compensation for attendees as well as the resources of project budget and time used by graduate assistants for project coordination. During seminar participants will identify the following learning outcomes.
Increase awareness of the Omaha community, their needs, assets, personnel, and practice.
Understand the K-12 Service Learning Standards for Quality Practice.
Understand the benefits of service learning and it's connection to other key frameworks.
Building collaborative relationships and begin project planning.
Create a quality service learning experience.
All sessions will begin and end at the Barbara Weitz Community Engagement Center on UNO's campus with parking and meals provided. The seminar is interactive and involves visiting community partners and engaging in collaborative brainstorming with participants and potential partners. RSVP now.
Seminar Statistics
In 2017, 40 participants, representing P-12 educators, UNO faculty and staff, community partners attended the Service Learning Seminar. Participants enjoyed the 4.5 day conference where they were able to visit various community partner sties around the metro while learning about service learning standards and best practice.
Thermometer of Understanding
On the final day of the seminar, participants engaged in a reflection activity that asked them to gauge their understanding of service learning prior to and after attending the seminar. Participants used a thermometer as their gauge. On average, participants had a low understanding of service learning initially, averaging just -10.5 on a scale of -5 to +5. After attending seminar, understanding increased significantly to an average of 3/2, showing just how impactful the seminar was for attendees.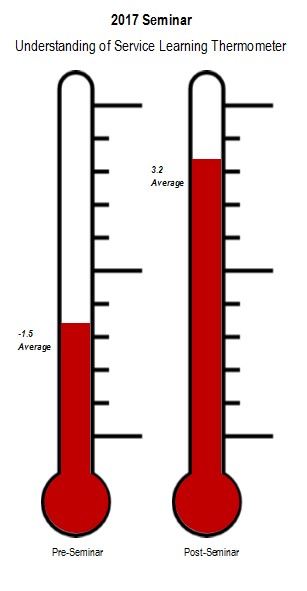 Comments from Community Partners
We had 32 different community partners engaged in the seminar through service sites, lunch and learns and the agency fair. Here's what they had to say...
"I loved the information about how service learning is supposed to look!" 
"Extremely informative and helpful networking opportunities."
Comments from Attendees
"The non-profit fair and site visits were helpful. They allowed me to learn about many organizations and make connections.
"As an entire experience, I feel my learning was enhanced with the balance of direct instruction, discussion, partner work, networking and individual reflection. The full composite was a positive, helpful experience!"
"Previously I didn't have or know others who were trying to do this work. Now I have a network of collaborators!"