Service Learning Seminars
Seminar Statistics and Benefits
In 2020, 27 participants, representing P-12 educators, UNO faculty and staff, and community partners attended the Service Learning Seminar. Due to the COVID-19 pandemic, the Service Learning Seminar took place virtually.
Participants enjoyed the week-long virtual conference, where they were able to learn about service learning standards and best practices. Participants were able to build connections with one another as well as with the Service Learning Academy staff, all while hearing first-hand accounts and recommendations from educators, community partners, and the Service Learning Academy staff.
Gauging Participant Preparedness
Participants were asked to rate 12 statements on a scale of 1 (Not at all Prepared) to 5 (Very Prepared) both before and after the seminar. The statements were designed to gauge participants' comfort with using Service Learning as a method of teaching. The pre-seminar average response was 2.35, showing a low level of comfort with using service learning. The post average response was 3.33.
The graph below shows the average change of nearly 1 point on the rating scale, indicating an increase in comfort regarding service learning. This increase demonstrates the impact of the seminar.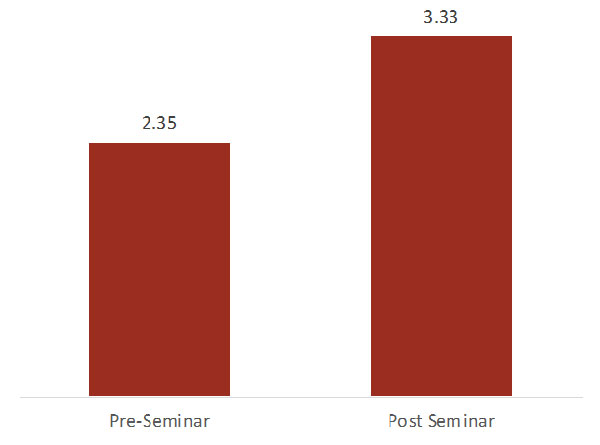 Service Learning Seminar Survey (July, 2020).
Attendee Feedback
At the end of the week, participants were asked to provide feedback on their experience during the Seminar. Here's what they had to say:
"The different frameworks to use to understand service learning helped me to see how layered and multifaceted service learning is."
"My biggest challenge was just how to get started.  I now have a roadmap and resources."
"At the beginning of Seminar, I felt overwhelmed with getting something like this started and honestly didn't truly understand what service learning even was or what I was doing. I didn't realize how much support UNO gave to these projects. I feel much less overwhelmed in making something meaningful happen for my students with UNO support. I appreciated how open-minded everyone was during the sessions and my ideas felt heard."