2021 Service Learning Seminar
July 12, 13, 14, 15, and 16
---
General Information and Benefits of Seminar 
Seminar Statistics
In 2017, 40 participants, representing P-12 educators, UNO faculty and staff, community partners attended the Service Learning Seminar. Participants enjoyed the four to and a half-day conference where they were able to visit various community partner sites around the metro while learning about service learning standards and best practices.
Thermometer of Understanding
On the final day of the seminar, participants engaged in a reflection activity that asked them to gauge their understanding of service learning prior to and after attending the seminar. Participants used a thermometer as their gauge. On average, participants had a low understanding of service learning, averaging just -10.5 on a scale of -5 to +5. After attending a seminar, understanding increased significantly to an average of 3/2, showing just how impactful the seminar was for attendees.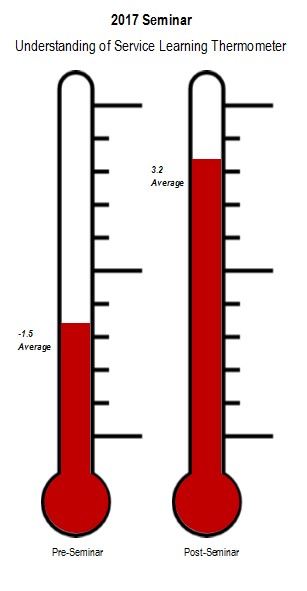 Community Partner Feedback
We had 32 different community partners engaged in the seminar through service sites, lunch and learns, and the agency fair. Here's what they had to say...
"I loved the information about how service learning is supposed to look!"
"Extremely informative and helpful networking opportunities."
Attendee Feedback
"

The non-profit fair and site visits were helpful. They allowed me to learn about many organizations and make connections.

"As an entire experience, I feel my learning was enhanced with the balance of direct instruction, discussion, partner work, networking, and individual reflection. The full composite was a positive, helpful experience!"
"Previously I didn't have or know others who were trying to do this work. Now I have a network of collaborators!"