UNO and the College World Series
UNO has more than a few connections to the College World Series, which is "back home in Omaha" in June.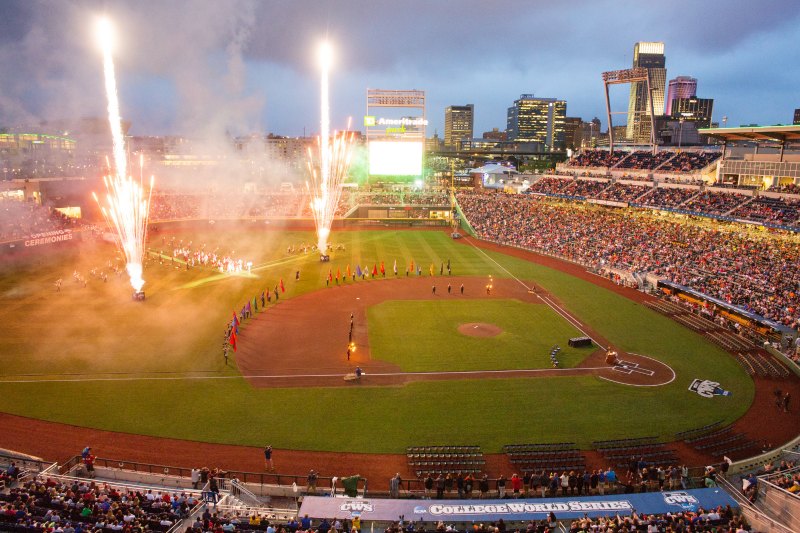 Stare Down Sammy
Queens
Posers
Scribe
The Blatt
Meet and Greets
Top Dog
Yerrrrr, In!
Field of Dreams
He Played
Check Please
---
Stare Down Sammy
Viral video sensation Sammy DiDonato is a Mavericks fan! Sammy was spotted sporting his favorite Mavericks apparel during a stare down with ESPN cameras during the 2016 NCAA College World Series.
Queens
From 1950 through 1991, the College World Series included CWS "Sweethearts," selected to represent area service clubs, colleges, universities, etc. More than two dozen UNO students represented the university as sweethearts during that time, and at least 14 were named CWS Queen. First was Pat Cosford in 1953. The last named queen was Maverick volleyball All-American Amy Gradoville in 1990. The CWS Sweethearts program was discontinued in 1991 and replaced by an ambassadors program including men and women. More than a dozen UNO students also participated in that program, discontinued after the 2007 CWS.
Posers
The CWS statue outside TD Ameritrade Park, "The Road to Omaha," was designed by former UNO student John Labja. He used 13 UNO students as models while designing the statue.

Scribe
UNO graduate Steve Pivovar reported on hundreds of CWS games for the Omaha World-Herald over several decades. He wrote "Rosenblatt Stadium: Omaha's Diamond on the Hill," published in 2010. The book explores the history of the former CWS home and stadium where Pivovar covered more than 1,700 games. View his book.

The Blatt
Rosenblatt Stadium was named in honor of former Omaha Mayor Johnny Rosenblatt, a student at Omaha University in 1929 who played basketball and baseball for the school.
Meet and Greets
College World Series of Omaha Inc. has hosted its quarterly board of directors meetings and others gatherings at the Thompson Center for more than a decade. The nonprofit organization, formed in 1967, is the local organizing group of the CWS.
Top Dog
Omaha University Baseball Coach Virgil Yelkin in 1962 was named director of the NCAA College World Series. Omaha University was the host school that year.
Yerrrrr, In!
One-time UNO Sports Information Director Fred Gerardi — also a part-time umpire — was behind plate for CWS games in 1975 and 1976.
Field of Dreams
A $46,000 grant from the CWS Committee in 1975 enabled UNO to lease a baseball field in the Westgate baseball complex at 84th St. and Interstate 80. It became the Mavericks' first home field in more than 10 years and was named College World Series Park.
He Played
Clarke Lange, a third baseman on the 1982 UNO baseball team, played in the 1984 CWS with the Miami Hurricanes. The only UNO student ever to have played in the CWS, Lange later was drafted by the Houston Astros in the sixth round of the MLB draft.
Check Please
In 1985 the College World Series Inc. began donating $30,000 to UNO baseball each year. The program was to be cut in 1985 after the Nebraska Legislature reduced athletics funding at UNO, UNL, and four state colleges. CWS donations lasted for more than a decade and helped the program stay in place. CWS in return owns the title to the baseball field.   
Contact Us
If you have a story idea, news tip, or other question, please email the UNO News team at unonews@unomaha.edu.
Our Campus. Otherwise Known as Omaha.
The University of Nebraska does not discriminate based on race, color, ethnicity, national origin, sex, pregnancy, sexual orientation, gender identity, religion, disability, age, genetic information, veteran status, marital status, and/or political affiliation in its programs, activities, or employment. Learn more about Equity, Access and Diversity.
scroll to top of page