Live from the Stands: MavRadio.FM Has You Covered
Eight teams made the trip to Omaha to face off in the College World Series. Tune in the MavRadio.FM for highlights and coverage throughout the final games of the series as our Mavericks continue to cover the action!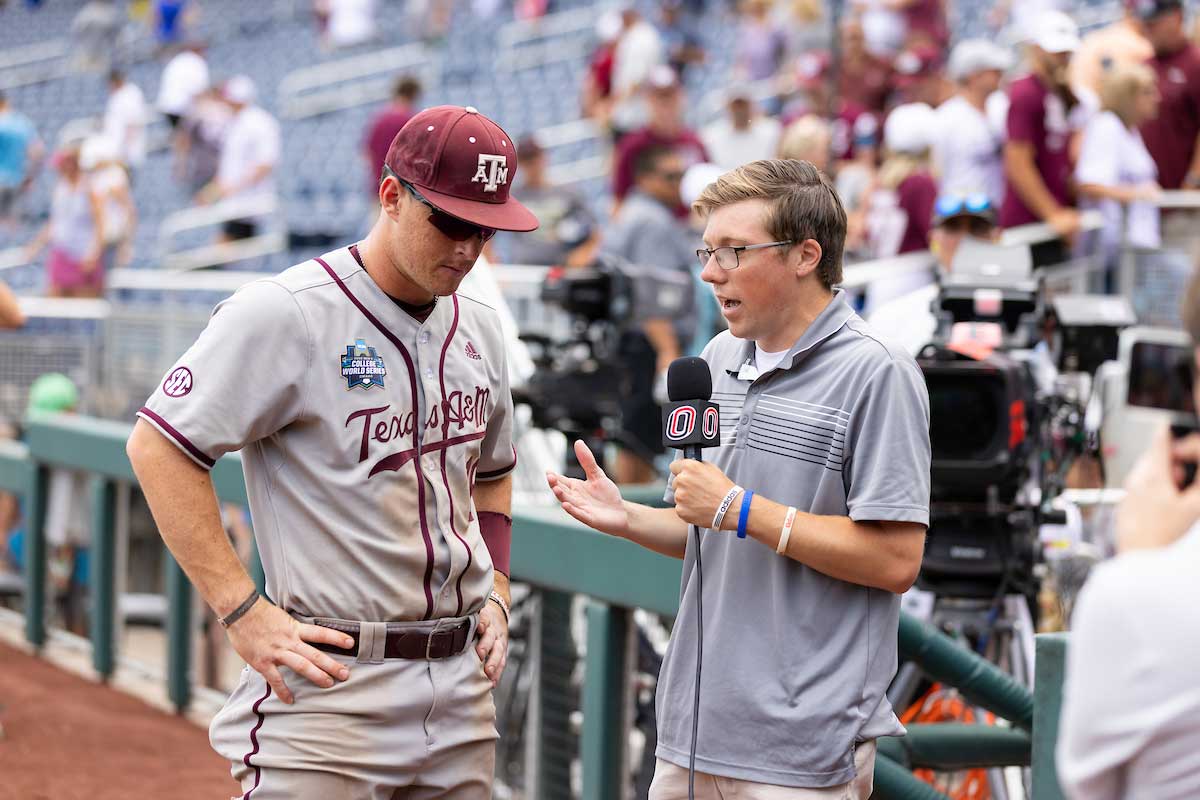 The College World Series is a cornerstone of Omaha in the month of June. Sports fans from across the nation make their way to Charles Schwab Field Omaha, where the stage is set, and players face off as Oklahoma, Texas A&M, Notre Dame, Texas, Arkansas, Ole Miss, and Auburn have each taken the field.
According to the Omaha World-Herald, 2021 saw an average of 22,300 fans per game, with the total of 14 games bringing it to 313,537 in attendance.
While Omaha Baseball may not be out on the diamond (this year!), UNO still has plenty of involvement in the tournament. Up in the booth UNO's own MavRadio students, overseen by faculty advisor Jodeane Brownlee, have seven sports reporters covering this year's tournament.
"What amazes me," Brownlee said, "is how these students are coming off a global pandemic, and while some of our resources weren't available, these folks have never let that impact their fire to cover sports. In fact, they're incredibly ingenious in their sports, music, and production coverage." She added, "They are so excited. For our sports team, this is their Oscars."
MavRadio.FM has been able to cover the CWS for the past six years. Together, these students are responsible for a range of coverage starting with previews ahead of the games to live coverage and inside looks. While they can't broadcast (or call) the games, per NCAA rules, they are tweeting every game and giving the audience daily reports. As part of their coverage, the UNO Students look for chances to take their audience inside the dugout, outside with the tailgaters, and offer interviews with the coaches and players.
MavRadio.FM's coverage of the 2022 College World Series is represented by:
Austin Ulmer, General Manager
Jack McGonigal, Sports Director
Pauline Dulang, Social Media and Graphics
Jayden Cates, Production Director
Avarie Howard, Sports
Jacob Thimjon, Sports
Riley McCall, Sports
Together, these seven students are the Maverick voice from the stands, live tweeting games, writing up recaps, and finding behind-the-scenes photos and videos. "We're all over," says Jack McGonigal, "We've got two people in press row with one person writing up articles and one person live tweeting the action. Then throughout the tournament, we are keeping a couple people wandering the concourse at a time, interacting with fans, and preparing for interviews, like the post-game interviews right on the field where we get to talk to starters or impactful players and really get in the action."
For these Mavericks, this is a true calling and passion. Master's student Jacob Thimjon remembers being interested in sportscasting since he was a child, a common thread shared by his peers.
"I remember, when I was little, turning on a baseball game, turning down the volume on my T.V., and calling the game myself. That was one of my favorite things to do and it brought me so much joy," Thimjon recalls. And today, he and his fellow MavRadio Sports team members get to share that same joy with their fans.
Fans and friends of MavRadio.FM can connect with their coverage through their website at www.MavRadio.FM, and follow them on Facebook, Twitter, and Instagram for live updates throughout the tournament.
About the University of Nebraska at Omaha
Located in one of America's best cities to live, work and learn, the University of Nebraska at Omaha (UNO) is Nebraska's premier metropolitan university. With more than 15,000 students enrolled in 200-plus programs of study, UNO is recognized nationally for its online education, graduate education, military friendliness and community engagement efforts. Founded in 1908, UNO has served learners of all backgrounds for more than 100 years and is dedicated to another century of excellence both in the classroom and in the community.
Follow UNO on Facebook, Twitter, Instagram, TikTok, LinkedIn, and YouTube. 
Contact Us
If you have a story idea, news tip, or other question, please email the UNO News team at unonews@unomaha.edu.