UNO Pitching Lab Experience Gives Doctoral Student an Edge in the Dugout
published: 2023/07/07
contact: Brandon Bartling - Office of Strategic Marketing and Communications
email: unonews@unomaha.edu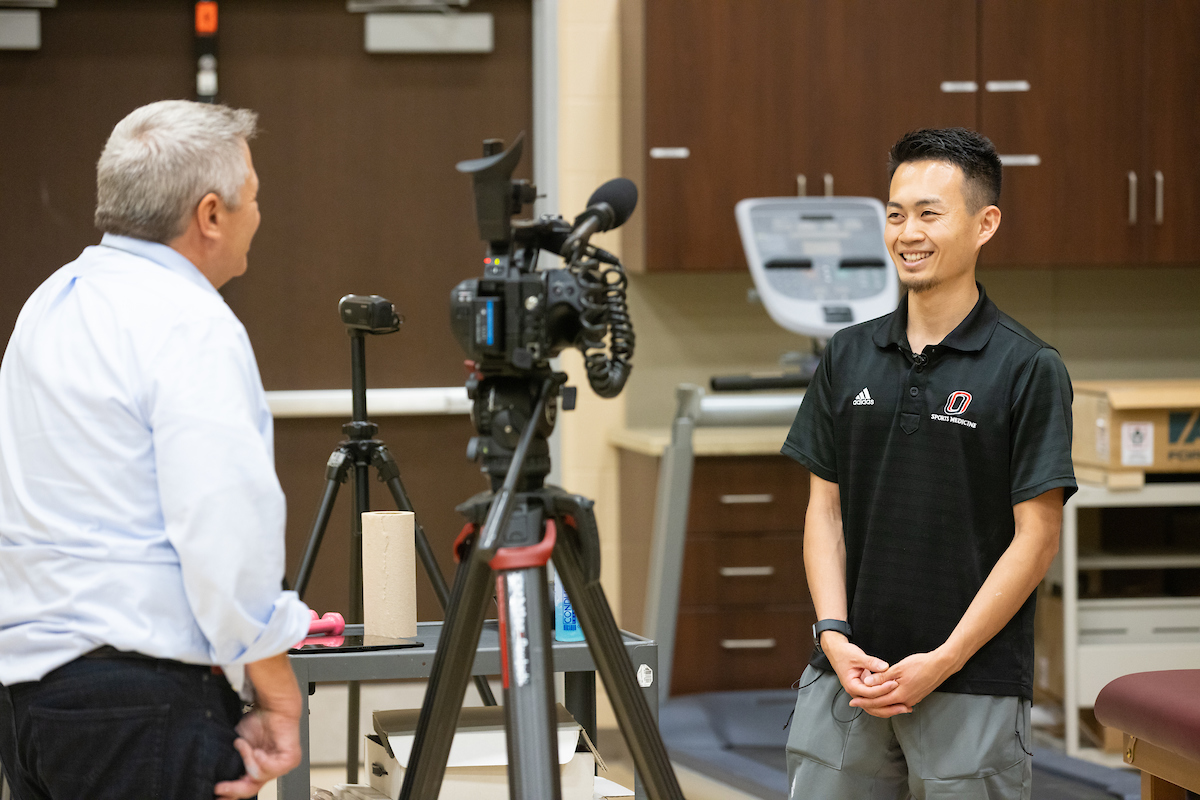 Tomohiro "Tomo" Ide, a doctoral student at UNO, speaks with WOWT reporter Brent Weber about his role at the UNO Pitching Lab prior to an evaluation for a college pitcher.
Making the jump to the major leagues is no small task, but thanks to work with the UNO Pitching Lab in the Department of Biomechanics, a UNO doctoral student is getting a taste of professional baseball.
Tomohiro "Tomo" Ide is in the midst of his second season as an intern with the Iowa Cubs, the minor league AAA affiliate of the Chicago Cubs. WOWT recently interviewed Ide about his experience with the team, in the UNO Pitching Lab, and building on his athletic training certification.
Ide spoke to how his experience at UNO has provided him with an edge to succeed in his role in the minor leagues and for working with professional athletes. The Japan native even had an opportunity to work with Chicago Cubs outfielder Seiya Suzuki while he was in Iowa as part of a rehabilitation assignment, providing a rare opportunity for Ide to apply his skills while speaking in his native language. The full story can be seen on WOWT's website.
The UNO Pitching Lab was also recently featured on WOWT ahead of the College World Series. The story showcased how the lab helps pitchers perfect their delivery for every fastball they throw, among other pitches. WOWT interviewed Sam Wilkins, Ph.D., who serves as co-director of the UNO Pitching Lab along with Brian Knarr, Ph.D., and Adam Rosen, Ph.D., as they evaluated a student athlete from Washburn University.
"Based on what we find here, critical measurement, but also biomechanical evaluation, I kind of combine both sets if information," Ide previously told WOWT. "And as an athletic trainer (I) try to prevent injury, (by saying), 'Hey, you need to work on this for the next couple weeks,' checking it again, see how they feel, see how they progress."
Additional students and researchers were also interviewed for the piece. See this full story on WOWT's website.