A cutting-edge process to gaining an edge on the competition

The UNO Pitching Lab is the premier destination for pitching biomechanics evaluations. We strive to be the very best in our field by providing all athletes with the knowledge and understanding of how their movement affects their health and performance.
Keeping athletes healthy and on the field is our number one priority. Using the leading technology in the field, this multi-step assessment will help you further understand your pitching motion.
After your evaluation, our team of movement experts will provide a detailed clinical and biomechanical analysis that can be used to develop a customized training program targeted at addressing your specific needs.
Book an Appointment
Interested in scheduling an appointment? Email us at bmchpitchinglab@unomaha.edu or complete an inquiry form.

Advanced Pitching Evaluation

Elite Pitching Evaluation

Single rate:

$300

Coming Soon

Group rate:

$225 per pitcher (when scheduling 5-9 pitchers)

$150 per pitcher (when scheduling 10 or more pitchers)

Coming Soon
Group or Team evaluations are available by special request. Groups or teams looking to get assessments will receive special large-group discounted pricing.
Available Appointments
Monday-Friday: 8 am-3 pm
Our Multi-Step Approach to Owning Your Mechanics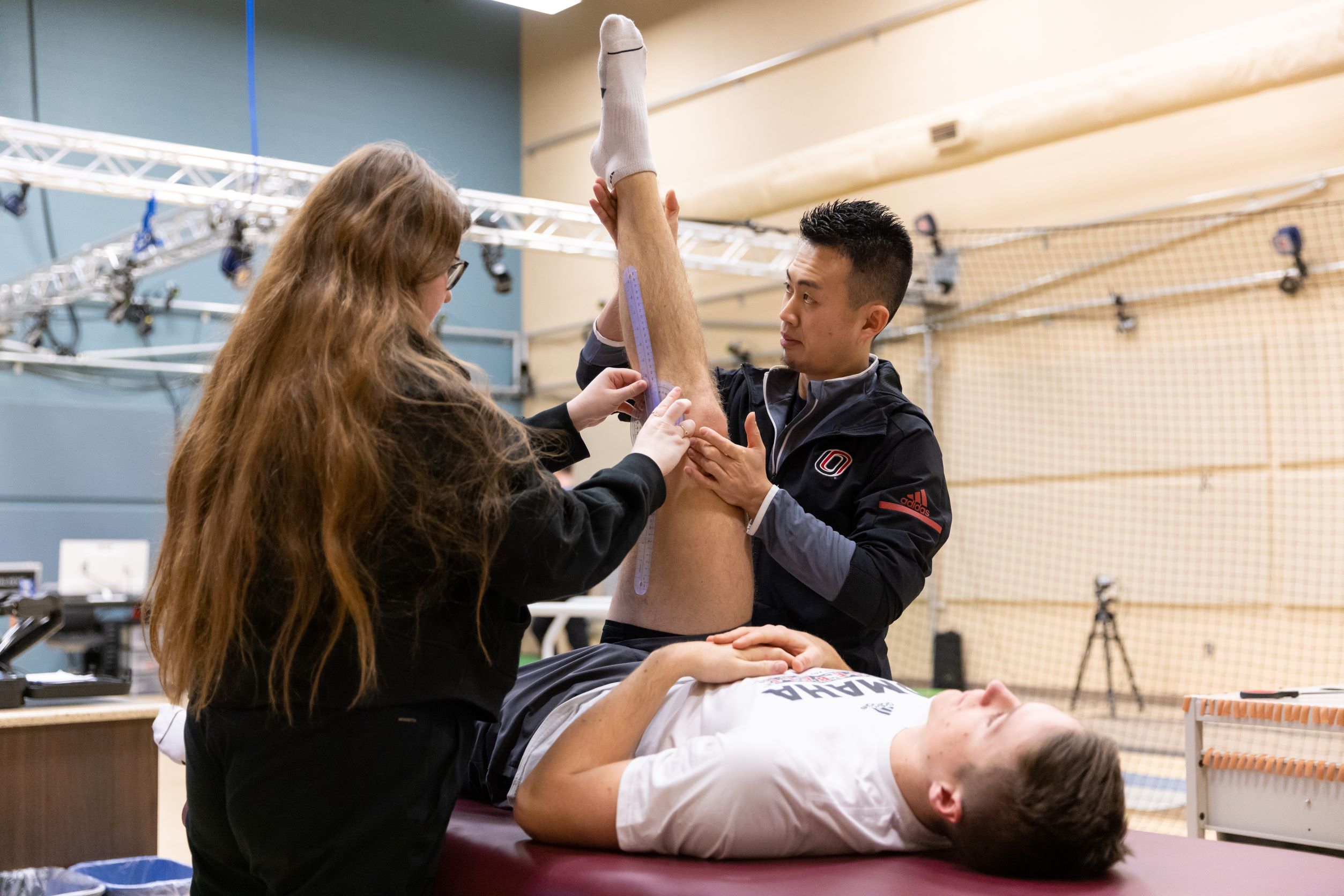 Advanced Clinical Analysis
We believe in creating an accurate understanding of how movement throughout the body carries over to the pitching mound. Our clinical analysis is the foundation behind diagnosing every athlete's mechanics and our first stop for every athlete.
Drs. Adam Rosen and Sam Wilkins, our lead athletic trainers, will walk each athlete through a series of clinical movement assessments.
Shoulder range of motion will be measured to examine each athlete's total external and internal range of motion within their throwing and non-throwing arms.
Shoulder strength will be measured through a state-of-the-art clinical device designed to measure the precise force an athlete exerts against it as they perform a series of shoulder rotations.
Scapular dyskinesis assessments examine the position and rotation of the scapula as athletes complete a series of short exercises.
Lastly, ulnar collateral ligament (UCL) ultrasound examinations will determine the spacing between the bones of the elbow, a recent development indicating the amount of stress placed upon the UCL.
An individualized report detailing your clinical analysis will then be generated by our team and provided to you in a simple, easy to read format.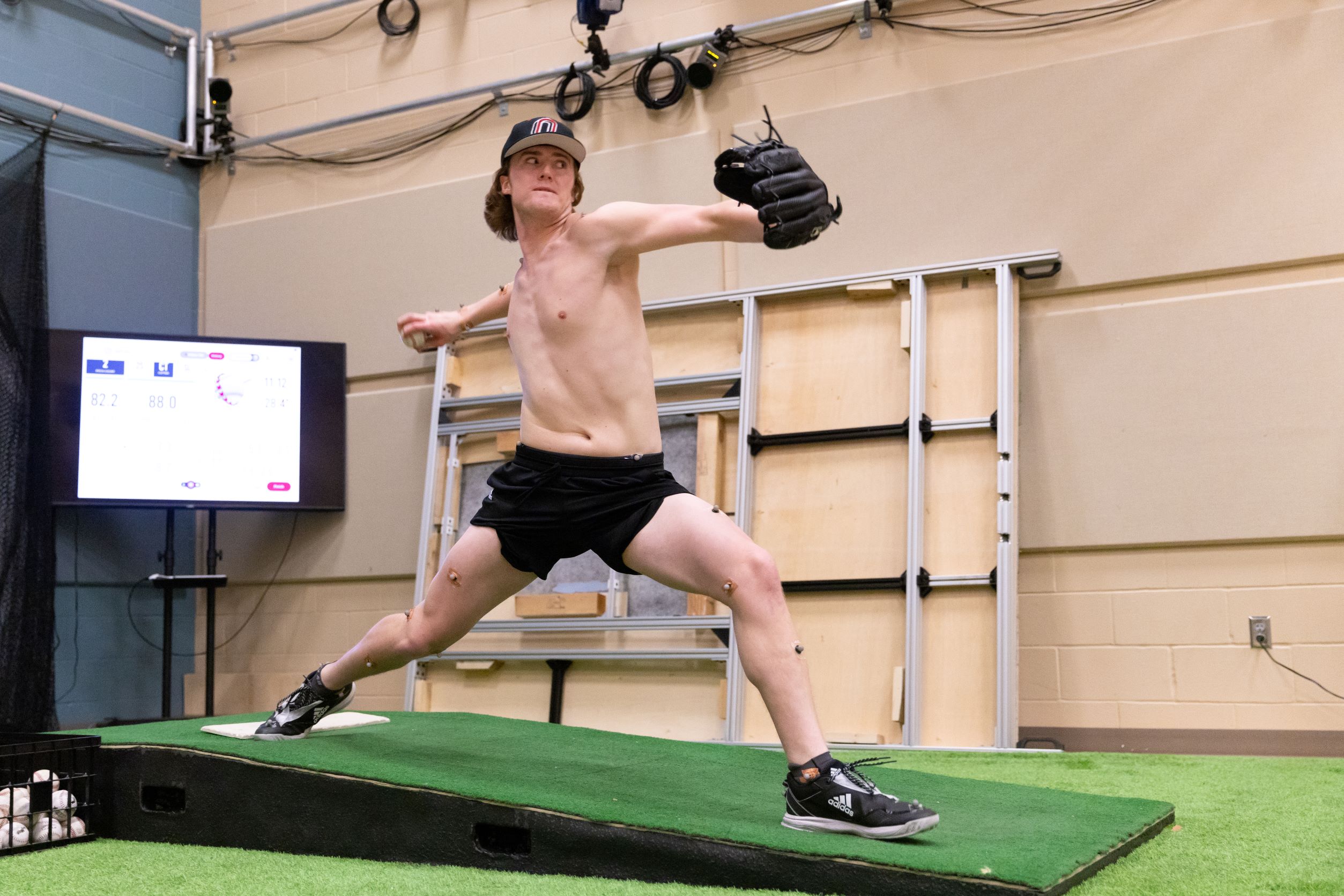 State-of-the-art Biomechanical Analysis
Our elite motion-capture system will record your pitching mechanics as you throw from a force-plate instrumented pitching mound, allowing our research team to analyze movement in the most detailed fashion.
Our team of biomechanics experts will record each pitcher during a bullpen session using state-of-the-art motion capture cameras surrounding our force plate instrumented pitching mound. Research-grade motion capture technology used throughout this process removes the guesswork from your pitching mechanics by offering specific and detailed values corresponding to your pitching motion.
Our assessments will spotlight movement inefficiencies that the athlete should address in order to maximize throwing velocity potential and minimize injury risk. Data from your biomechanics evaluation will be broken down into a customized report designed to take the guessing out of your mechanics by providing concrete, specific values pertaining to your every movement.

Individualized Player Reports
Reports directed specifically at your movement needs will allow you to gain a complete understanding of your pitching motion and how to maximize your potential!
We couple the findings from our athletic training staff with data from our elite motion capture cameras, allowing our team to analyze data holistically and accurately. This data is then provided to each athlete in the form of customized online reports containing over twenty-five variables.
Descriptions and videos detailing what each movement means, how the athlete is performing that movement, and what to do next are provided throughout, allowing for easy comprehension by the athlete, parents, and coaches. An optional in-person or virtual consultation meeting is then offered after each evaluation designed to break everything down, allow time for questions, and provide a clear understanding of what each athlete's game plan looks like moving forward.
What does our biomechanics report look like? Click here for a sample.

Our Facility
The UNO Pitching Lab is located on the main floor of UNO's Biomechanics Research Building. Our lab is a part of an internationally recognized biomechanics department responsible for many advancements in biomechanics research. The UNO Pitching Lab features twenty high-speed Qualisys motion capture and slow-motion video cameras, three research-grade Bertec force plates instrumented within the pitching mound, and a Rapsodo 3.0 unit to provide instant feedback of the spin for each pitch.
Pitchers will be able to throw from a pitching mound instrumented with three force plates designed to gather the forces they exert as they load over the rubber as well as within stride impact. Twenty high-speed motion capture and video cameras surround the pitching mound allowing for a complete analysis of joint angles and angular velocities.
Our Team
Dr. Brian Knarr
Pitching Lab Co-Director
Dr. Brian Knarr is an assistant professor in the Department of Biomechanics at UNO. Dr. Knarr has spent the past 14 years studying and researching human movement and injury prevention. He completed his M.S. in Mechanical engineering and Ph.D. in Biomechanics and Movement Science from the University of Delaware, providing expertise in both the technology and implementation of motion capture. Dr. Knarr's research is nationally and internally recognized and has been funded through the National Institutes of Health.

Dr. Adam B. Rosen
Pitching Lab Co-Director
Dr. Adam Rosen is an associate professor and director of the athletic training program in the School of Health and Kinesiology at UNO. As a clinician, biomechanist, and researcher, he aims to identify risk factors for a variety of musculoskeletal injuries, including throwing injuries. He completed his Ph.D. in Kinesiology with concentrations in Athletic Training and Biomechanics from the University of Georgia. Dr. Rosen has spent 7 years working with D1 baseball teams while at the University of Delaware and as an assistant athletic trainer at the University of Pennsylvania. There, one of his major roles was to preserve arm health for the pitching staff through injury risk factor identification and rehabilitation interventions. He has published over 30 research manuscripts and has given presentations at numerous local, national, and international conferences.

Dr. Sam Wilkins
Pitching Lab Co-Director
Dr. Sam Wilkins is an Assistant Professor and the Clinical Education Coordinator in the Athletic Training Program within UNO's School of Health and Kinesiology at UNO. He brings clinical and research experience to identify risk factors for a variety of musculoskeletal injuries, including throwing injuries. He also has an interest in studying the effects of early sport specialization and its impact on long-term health in baseball athletes. He completed his Ph.D. in Health Science with a concentration in Athletic Training from Rocky Mountain University of Health Professions. Dr. Wilkins has 5 years of experience with collegiate baseball teams, including UNO during their transition to NCAA Division I competition, and as an assistant athletic trainer at the University of Central Arkansas, where he worked with the 2013 Southland Conference Baseball Championship team.