Staff, Faculty, Advisors Celebrated at 2022 Awards Banquet
On May 16, recognitions and awards were handed out by UNO's Staff Advisory Council, Faculty Senate, and Academic Advising Council to celebrate employee contributions to the campus over the past year.
published: 2022/05/20
contact: Strategic Marketing and Communications
email: contact@unomaha.edu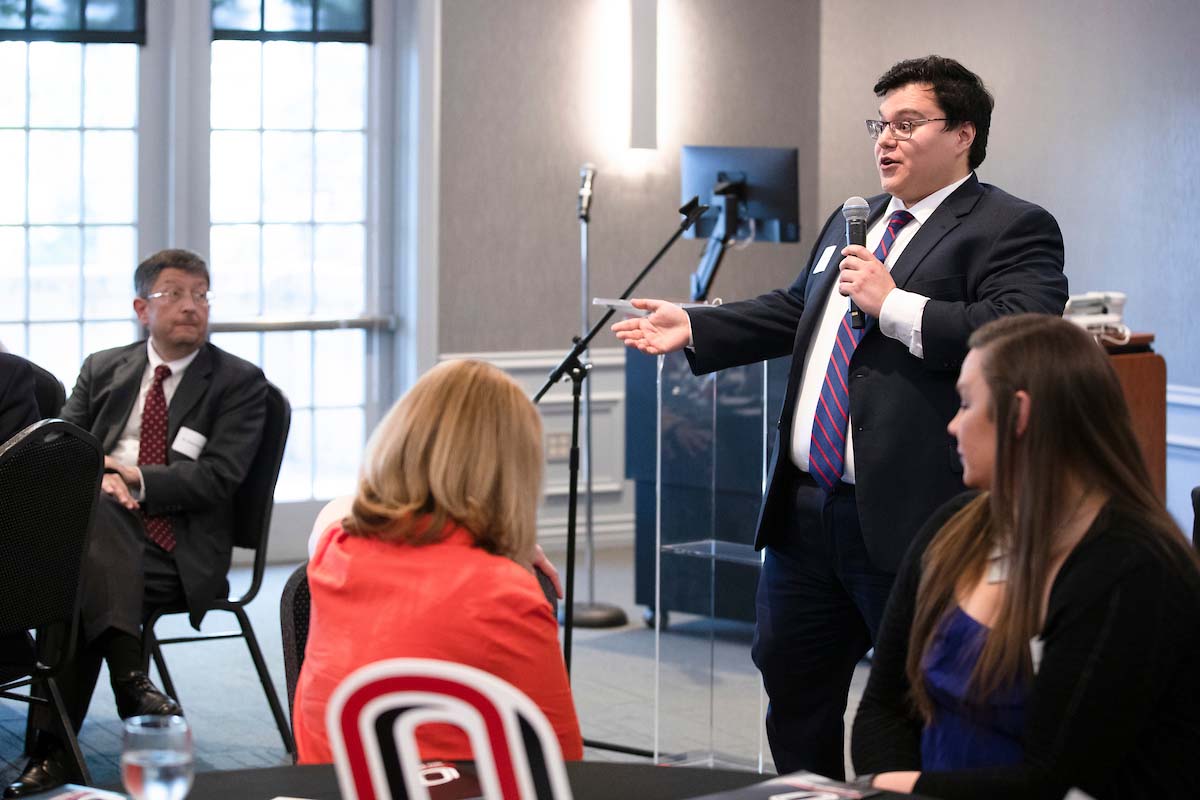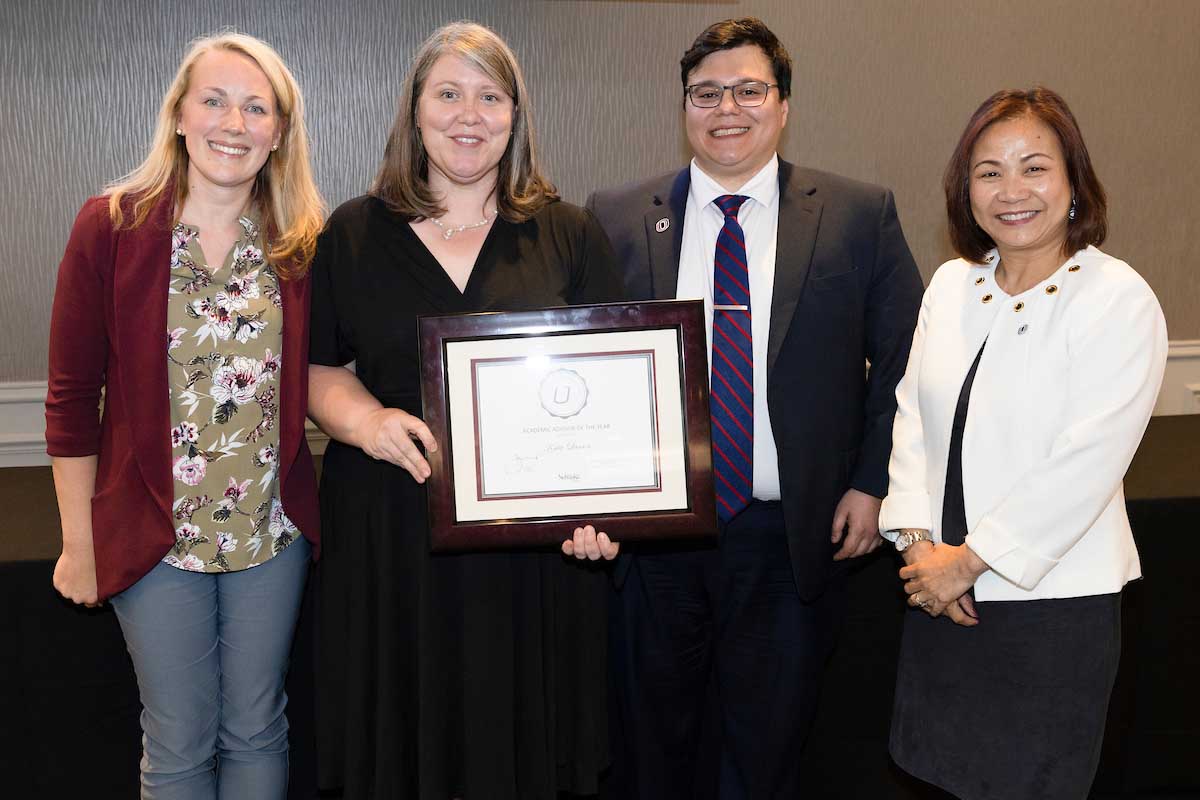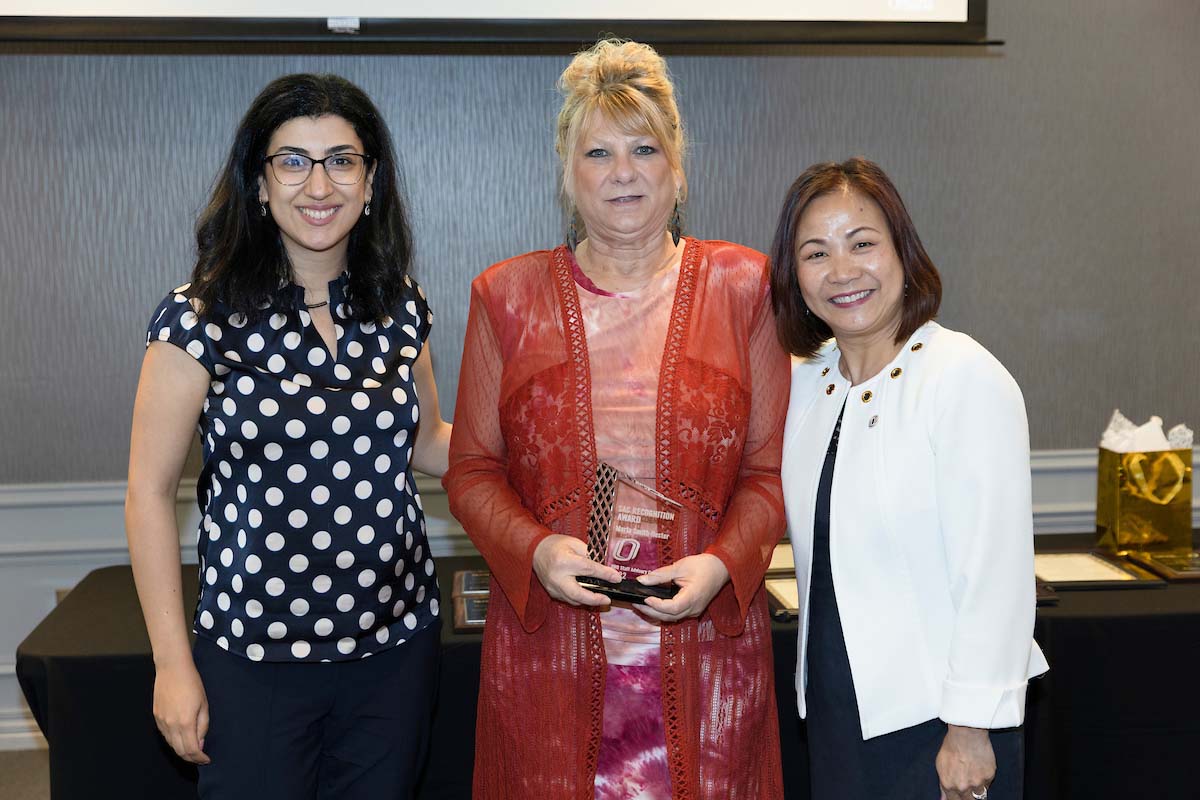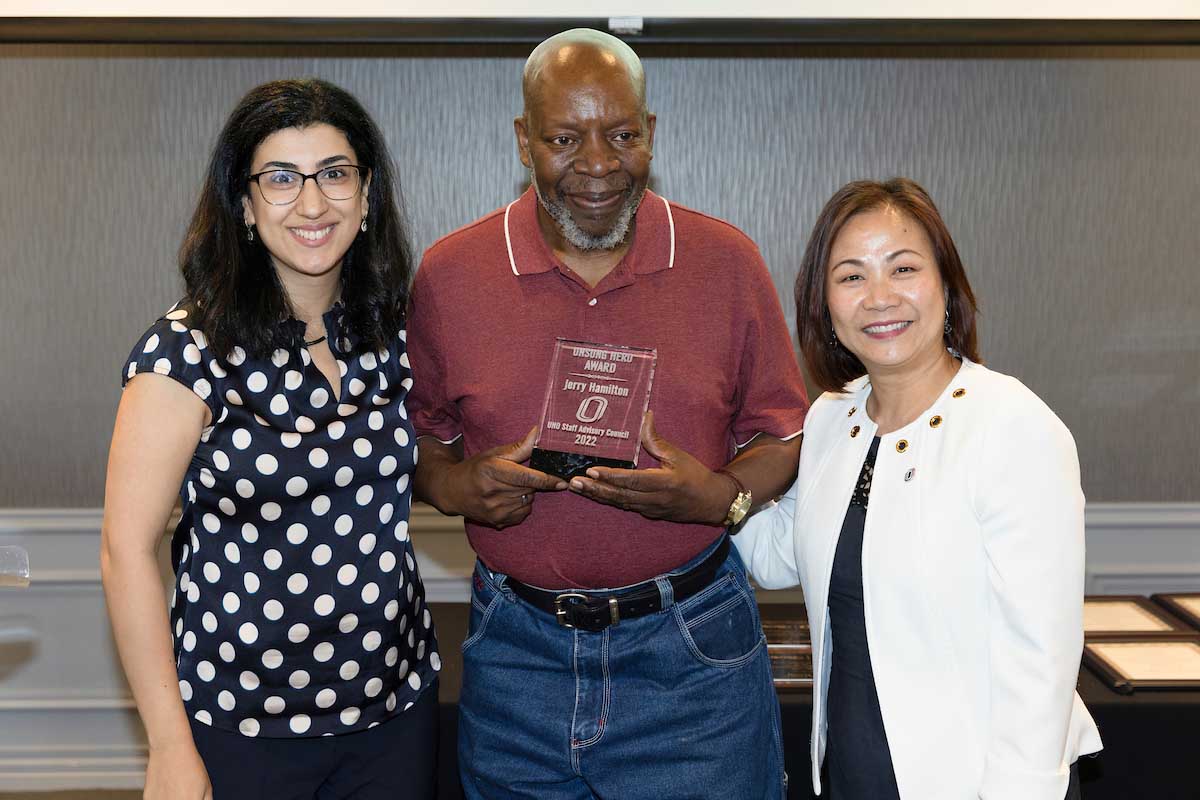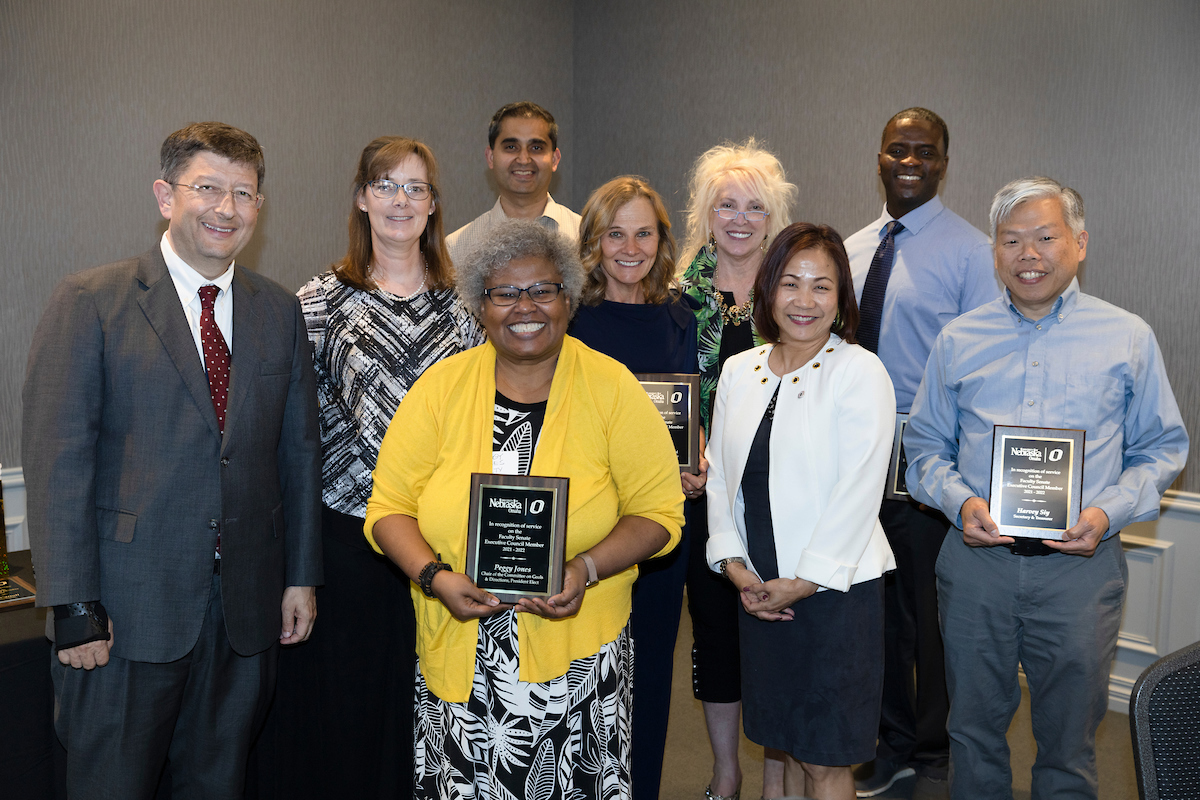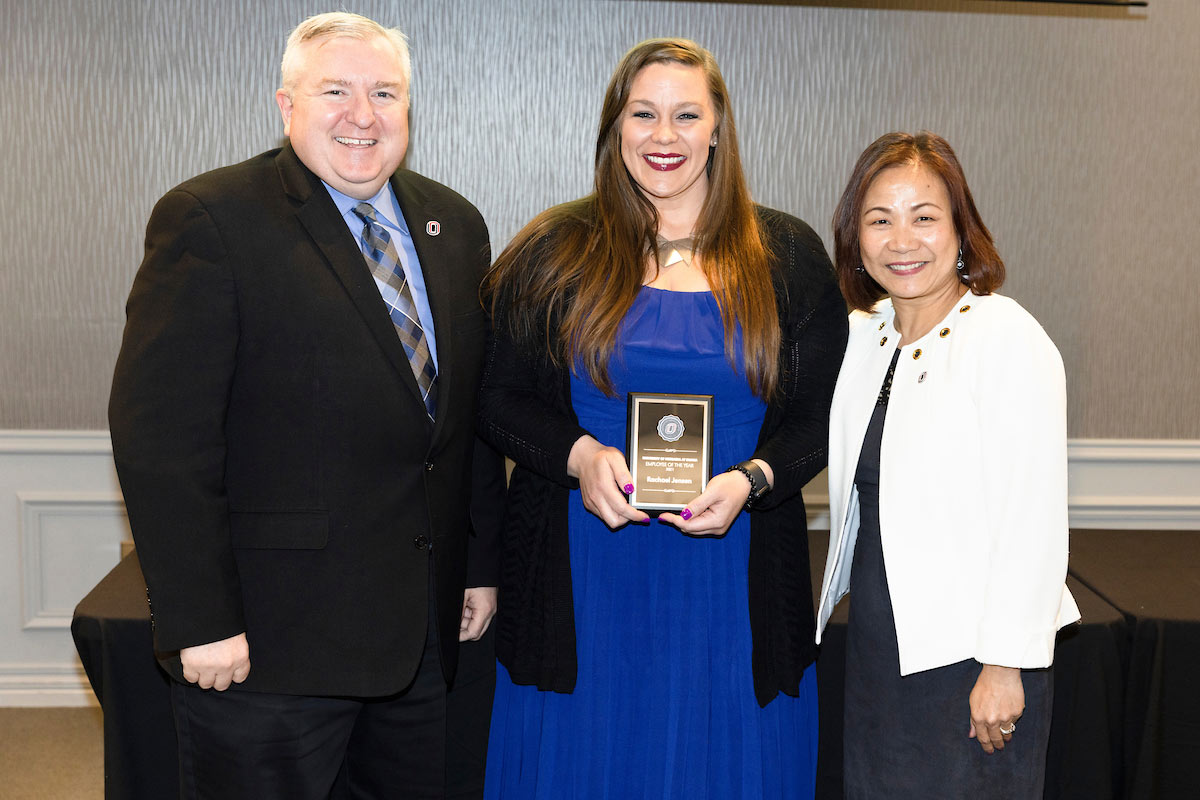 For the first time in two years, UNO's Staff Advisory Council (SAC), Faculty Senate, and Academic Advising Council met in person to recognize the achievements of employee service to the university's mission.
A true campus-wide celebration, hundreds gathered on Monday, May 16, to recognize efforts that went above and beyond over the past year, particularly during a time of significant change and new opportunities as students, faculty, and staff were able to finally return to campus from remote operations.
Chancellor Joanne Li, Ph.D., CFA, gave her congratulations to those in attendance who were supporting the important work being done by their colleagues.
"Without our care and dedication to one another and to our students, I would not be able to share UNO's amazing story when I speak with the community," Li said. "Through uncertain, unprecedented events, you have all shown your tremendous Maverick spirit and dedication to our students' success."
Awards and recognitions were presented throughout the evening across the faculty, staff, and advising groups on campus including recognition of the outgoing members of the Academic Advising Council, Staff Advisory Council, and Faculty senate.
Winners of the following awards included:
Advising Awards
Rich Klein, Ph.D., vice chancellor for strategic institution and student success, helped introduce the awards presented to the academic advisors who helped students stay on track throughout the struggles presented due to COVID-19 or caused by any number of other circumstances.
"As Dr. Li says, to maximize the success of our students, we need both the alpha and omega,
Klein said. "UNO's academic advisors are our omega."
Jonathan Acosta, president of UNO's Academic Advising Council, recognized members of the AAC executive team as well as previous Advisors of the Month:
Sammi Kaiser, Ph.D., director of the UNO Academic and Career Development Center and senior director of academic advising, was in attendance to honor Katie Larson, assistant director of academic advising in the College of Education, Health, and Human Sciences, as Advisor of the Year.
Employee of the Year Award
Steve Kerrigan, assistant vice chancellor of human resources, provided recognition to UNO's employee of the year, which was chosen among the previous 12 months of Employee of the Month recognitions.
Rachael Jensen, director of youth safety and health security, was honored as 2022 Employee of the Year for her work supporting the campus throughout the COVID-19 pandemic all while continuing her work ensuring the university's youth safety policies were compliant.
Staff Advisory Council Awards
Keristiena Dodge, the chancellor's chief of staff and outgoing president of SAC presented several awards voted on by SAC members.
SAC Recognition Award
The SAC Recognition Award winner demonstrates exemplary support to UNO staff members.
This year's recipient is Marla Smith-Hester, business manager for campus recreation, for her tireless work behind the scenes to ensure campus recreation staff, and therefore the entire Maverick campus community, can be successful and well.
Unsung Hero Award
The Unsung Hero Award winner is selected by the SAC Professional Development committee and recognizes a staff member who makes a significant contribution to the campus, but has not received the recognition that they deserve.
This year's recipient is Jerry Hamilton, a custodian for UNO custodial services, for his tireless work overnights to ensure buildings like Arts and Sciences Hall are safe, clean, and ready for faculty, staff, and students to arrive.
Above and Beyond Award
The Above and Beyond Award winner is selected by the SAC Professional Development committee and honors a staff member who has shown outstanding achievements in the workplace, exceptional contributions toward efficiency and effectiveness of operations, special efforts in promoting workforce excellence, or outstanding service to the University community and constituents.
This year's recipient is Rachel Radel, employment success consultant for UNO Human Resources, for her ability to tackle any project and anticipate the needs of hiring manages from across campus. She also empowers others and always asks what she can do to provide more value to campus operations.
About the University of Nebraska at Omaha
Located in one of America's best cities to live, work and learn, the University of Nebraska at Omaha (UNO) is Nebraska's premier metropolitan university. With more than 15,000 students enrolled in 200-plus programs of study, UNO is recognized nationally for its online education, graduate education, military friendliness and community engagement efforts. Founded in 1908, UNO has served learners of all backgrounds for more than 100 years and is dedicated to another century of excellence both in the classroom and in the community.
Follow UNO on Facebook, Twitter, Instagram, TikTok, LinkedIn, and YouTube.