Report Proposes Solutions for Low Entrepreneurship Rates in Nebraska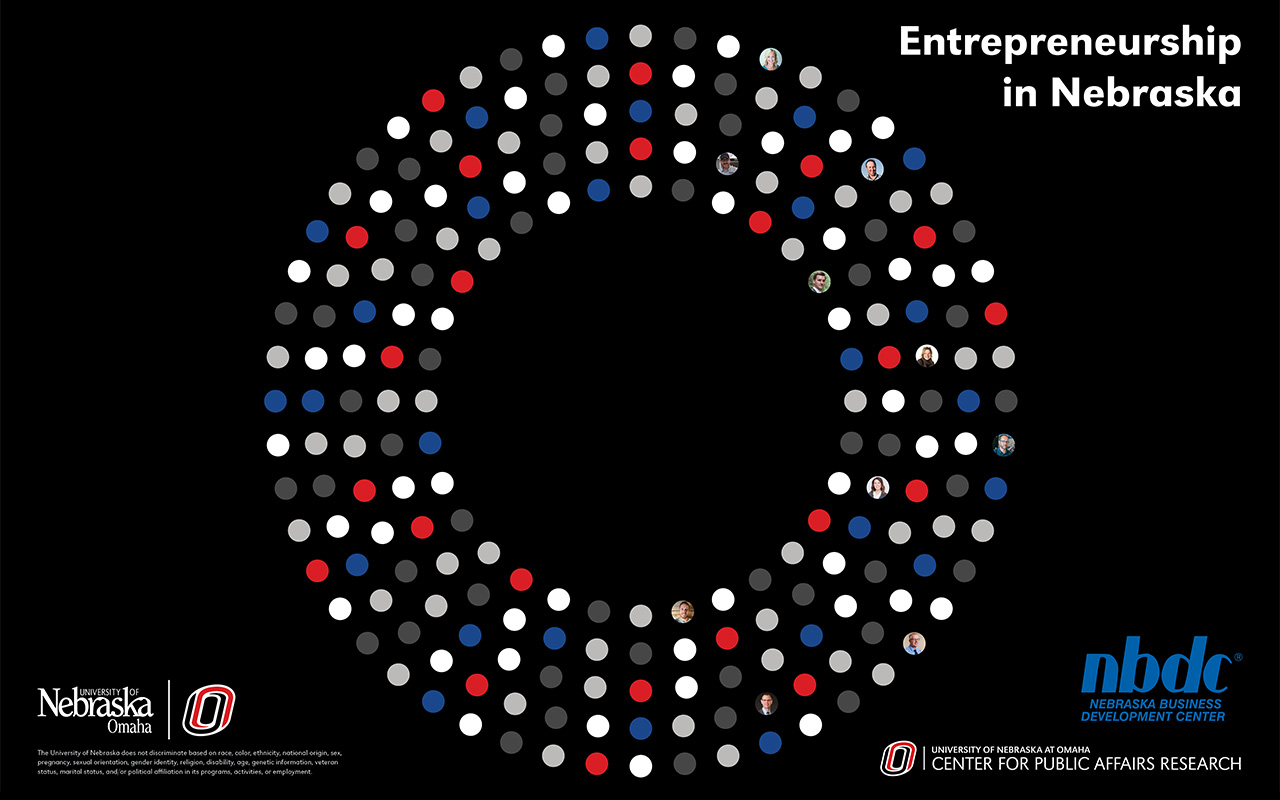 Entrepreneurship rates in Nebraska increased slightly this year but remain lower than surrounding states, according to a new joint report released this month by the Center for Public Affairs Research (CPAR) and the Nebraska Business Development Center (NBDC) both at the University of Nebraska Omaha (UNO).
The report, Entrepreneurship in Nebraska, provides data on the status of entrepreneurship in the state, key challenges for growth, and action steps for improvement.
Researchers in the report identified themes that contribute to low entrepreneurship rates, including the need for a more stable and diverse entrepreneurship pipeline, navigating the culture of "Nebraska Nice," a tendency toward risk-aversion in the entrepreneurship ecosystem, and gaps in programming and resources throughout the state. The report also includes calls to action with ideas for changes in service delivery, public policy, and funding strategies based on research interviews and best practices across the country.
"Our research shows that while today's entrepreneurs are facing considerable challenges, there are straightforward steps that we can take as a state to encourage growth. The report not only outlines the challenges we found, but proposes solutions based on feedback from our state's most successful entrepreneurs, funders, and resource providers," said Josie Gatti Schafer, CPAR director.
Data in the report was collected through a broad survey of hundreds of members of the entrepreneurship ecosystem, including funders, incubators, educators, and entrepreneurs themselves. Researchers also conducted interviews with business owners and ecosystem members in the state to understand opportunities and challenges facing the industry today.
"As we continue to move through the pandemic and work to support our entrepreneurs and business owners, we have also made a concerted effort to look forward and prepare for our state's economic future. The data in this report will help us do that, and I hope it serves as a resource to everyone in the entrepreneurship ecosystem in Nebraska," said Catherine Lang, NBDC state director.
The full report can be found online on the UNO CPAR website. CPAR collaboratively produces and disseminates high-quality public scholarship about topics that impact the lives of Nebraskans, including policy analyses for the Planning Committee of the Nebraska State Legislature, the Nebraska Rural Transit Project, governing.unomaha.edu, and designation by the U.S. Census Bureau as a statewide liaison for disseminating a range of data products. Visit cpar.unomaha.edu to access CPAR's extensive data resources on state and local issues in Nebraska.
About the University of Nebraska at Omaha
Located in one of America's best cities to live, work and learn, the University of Nebraska at Omaha (UNO) is Nebraska's premier metropolitan university. With more than 15,000 students enrolled in 200-plus programs of study, UNO is recognized nationally for its online education, graduate education, military friendliness and community engagement efforts. Founded in 1908, UNO has served learners of all backgrounds for more than 100 years and is dedicated to another century of excellence both in the classroom and in the community.
Follow UNO on Facebook, Twitter, Instagram, TikTok, LinkedIn, and YouTube.