Walter Scott, Jr.: A True Maverick
The UNO community mourns, and remembers, a true visionary in Walter Scott, Jr., whose decades of contributions to the university and the city of Omaha have impacted so many. Scott passed away Saturday, Sept. 25, at the age of 90.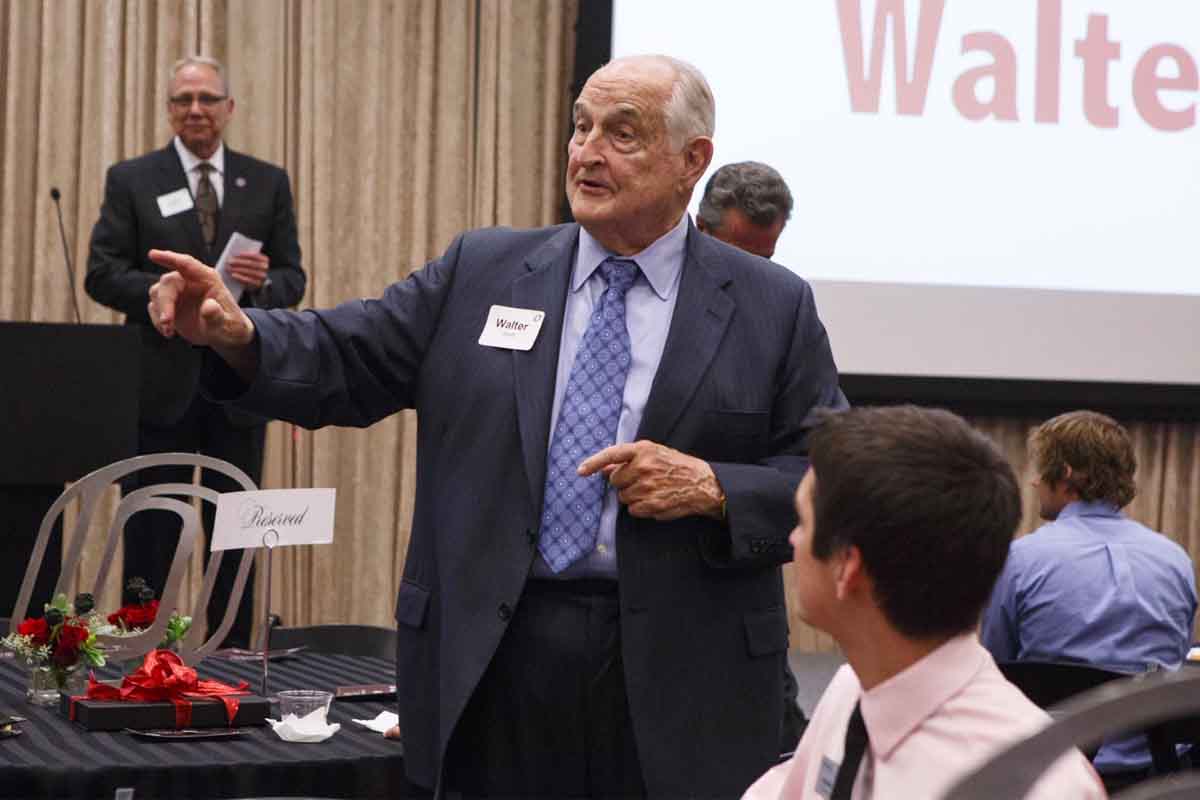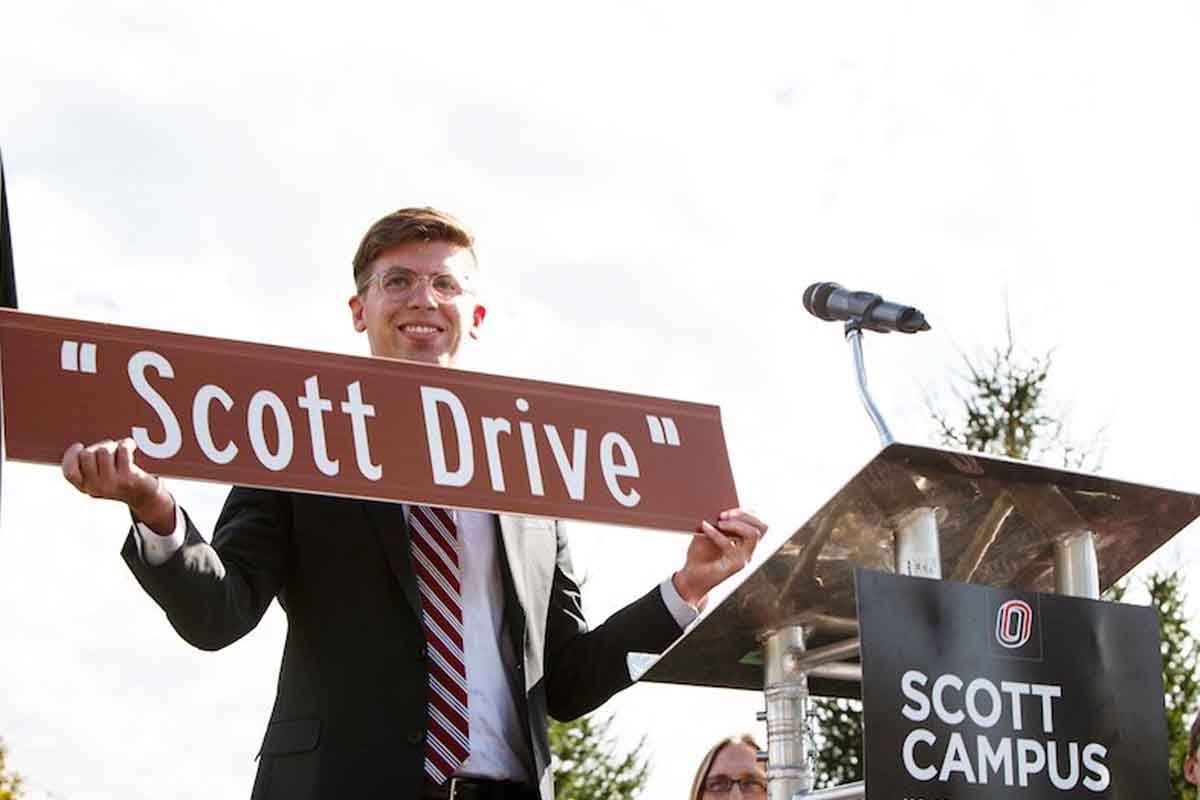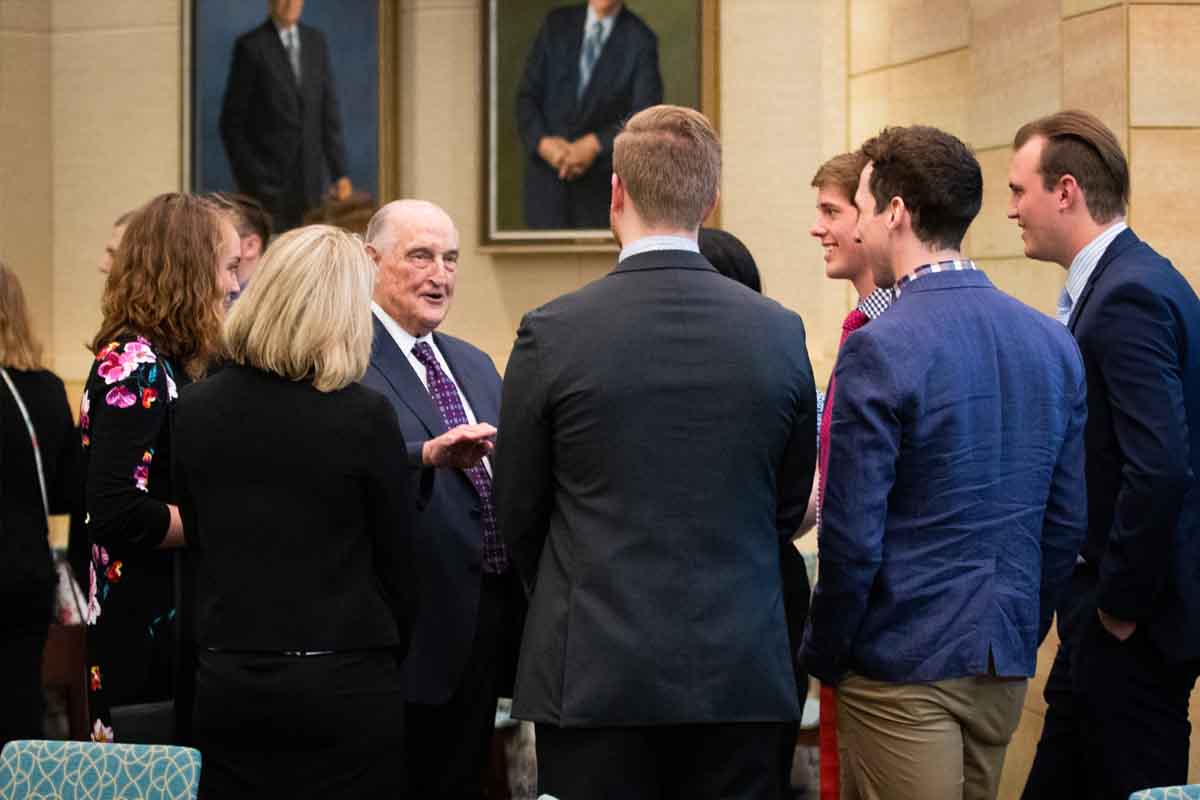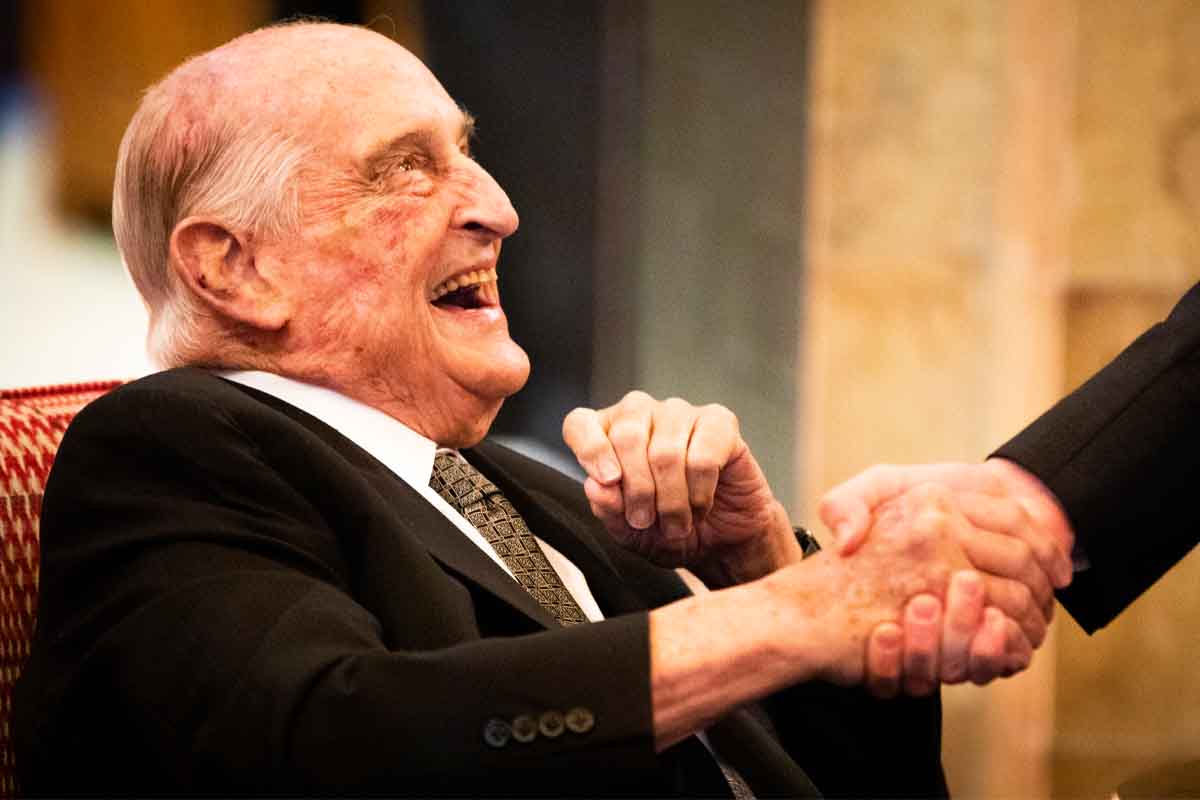 It is no hyperbole to say that the University of Nebraska at Omaha would not be what it is today without Walter Scott, Jr.
Scott, a business leader, philanthropist, and committed supporter of UNO passed away on Saturday, Sept. 25, 2021, at the age of 90. The Maverick community mourns his loss but celebrates all that he meant to this university.
"There are very few people in the business world who do not know Walter Scott's name, as an innovator and as a philanthropist," UNO Chancellor Joanne Li, Ph.D., CFA, said. "But it is here on the UNO campus that we have grown to know who Walter Scott truly is, and that is a kind, generous, selfless advocate for the power of education."
Scott, a native Omahan, helped lead Peter Kiewit Sons' Inc., a worldwide construction firm, for more than 30 years. He was named vice president 1964 and was named president in 1979 following founder Peter Kiewit's death that year. Scott ultimately served as chairman and CEO of Peter Kiewit Sons' until 1998.
Scott, who graduated from Benson High School and then enrolled in Colorado State University before returning to Omaha in 1953, has also served as a director of Berkshire Hathaway, MidAmerican Energy Holdings and Valmont Industries.
The iconic philanthropist has four children by his first wife, Carolyn, who passed away in 1983, and married his second wife, Suzanne (Sue) in 1987. They remained married until Sue passed away in 2013.
Together, Walter and Suzanne saw a bright future for Omaha's university and made sure others did as well.
Today, one doesn't need to look hard to see the impact Walter Scott, and his family, have had on UNO's success. Nowhere is that more evident than the campus named in his honor in 2017, 20 years after he changed the face of UNO – and Omaha – by helping the campus secure portions of the expansive AK-SAR-BEN property, which was once home to a coliseum and racetrack.
It would be this gesture, in 1997, that would set UNO on an upward trajectory to become one of the world's premier metropolitan institutions. However, Scott's commitment and belief in UNO stretches back even further. In fact, since 1990, Scott has provided more than $220 million in support to UNO either directly or through the University of Nebraska Foundation.
Not only did the Scott Foundation help secure private dollars to build the Peter Kiewit Institute as a new, joint home for the University of Nebraska-Lincoln's College of Engineering and UNO's new College of Information Science & Technology, but he also helped provide full-ride scholarships to more than 100 UNO and UNL students in the form of the Walter Scott, Jr. Scholarship Program.
"Walter Scott has literally helped thousands of young people pursue their dreams of making an impact in their communities with the scholarships his foundation has provided," Wayne Watkins, BSME, MBA, JD, Executive Director of the Walter Scott, Jr. Scholarship Program. "There is an entire generation of Scott Scholars who are in the workforce today – transforming Nebraska, and the rest of the world."
Scott's impact also resonated by greatly expanding opportunities for on-campus housing at UNO. With University Village serving as UNO's first official housing unit in 1999, Scott led the way in building Scott Hall in 2000 to serve as a home for the newly-minted Scott Scholars.
However, this was just the beginning, as more than 1,000 beds would be added as options for any and all UNO students with the construction and opening of Scott Village, Scott Court, and Scott Crossing, which also serves as the home to Maverick Landing – the front door to UNO's campus where all new students and their families begin their Maverick journey.
In addition to the Peter Kiewit Institute and UNO housing, Scott has provided philanthropic support to UNO including renovations to Sapp Fieldhouse in the 1990s and the building of Baxter Arena in 2015.
"With his support, Walter Scott not only helped to make an investment in Omaha Athletics, but he made an investment in what UNO could do for the community through his support of the creation of Baxter Arena", Mike Kemp, UNO Interim Athletic Director, said. "From community events, to commencements, to public skating, to the US Olympic Curling Trials, and even a Presidential Address, Walter's support has expanded the concept of what it truly means to be a metropolitan university."
Both Walter and Sue Scott were exceptionally active in community affairs, serving on nonprofit boards and chairing numerous fundraising events and campaigns. Sue was a director of Joslyn Art Museum, Omaha Zoological Society, The Salvation Army, and was Board Chair for United Way of the Midlands and Bellevue University. Walter also served as director of numerous charitable and educational organizations and served as Board Chair for the Omaha Zoological Society, Omaha Zoo Foundation, Joslyn Art Museum, Horatio Alger Association, Heritage Services and the Board of Policy Advisors for the Peter Kiewit Institute.
As a champion for students, and the city of Omaha, for decades there are no words that can truly express the seismic positive impact on thousands upon thousands of lives thanks to the generosity and vision of Walter Scott, Jr.
The Maverick community sends its condolences, as well as its immense gratitude, to the entire Scott family during this difficult time. The legacy of Walter Scott, Jr., will live on long into the future through UNO's mission to provide all students access to exceptional opportunities.
About the University of Nebraska at Omaha
Located in one of America's best cities to live, work and learn, the University of Nebraska at Omaha (UNO) is Nebraska's premier metropolitan university. With more than 15,000 students enrolled in 200-plus programs of study, UNO is recognized nationally for its online education, graduate education, military friendliness and community engagement efforts. Founded in 1908, UNO has served learners of all backgrounds for more than 100 years and is dedicated to another century of excellence both in the classroom and in the community.
Follow UNO on Facebook, Twitter (X), Instagram, TikTok, LinkedIn, and YouTube.