Chancellor Li: Honor the Journey, Embrace the Future
A message from UNO Chancellor Joanne Li, Ph.D., CFA, as she reflects on her first 90 days as Chancellor.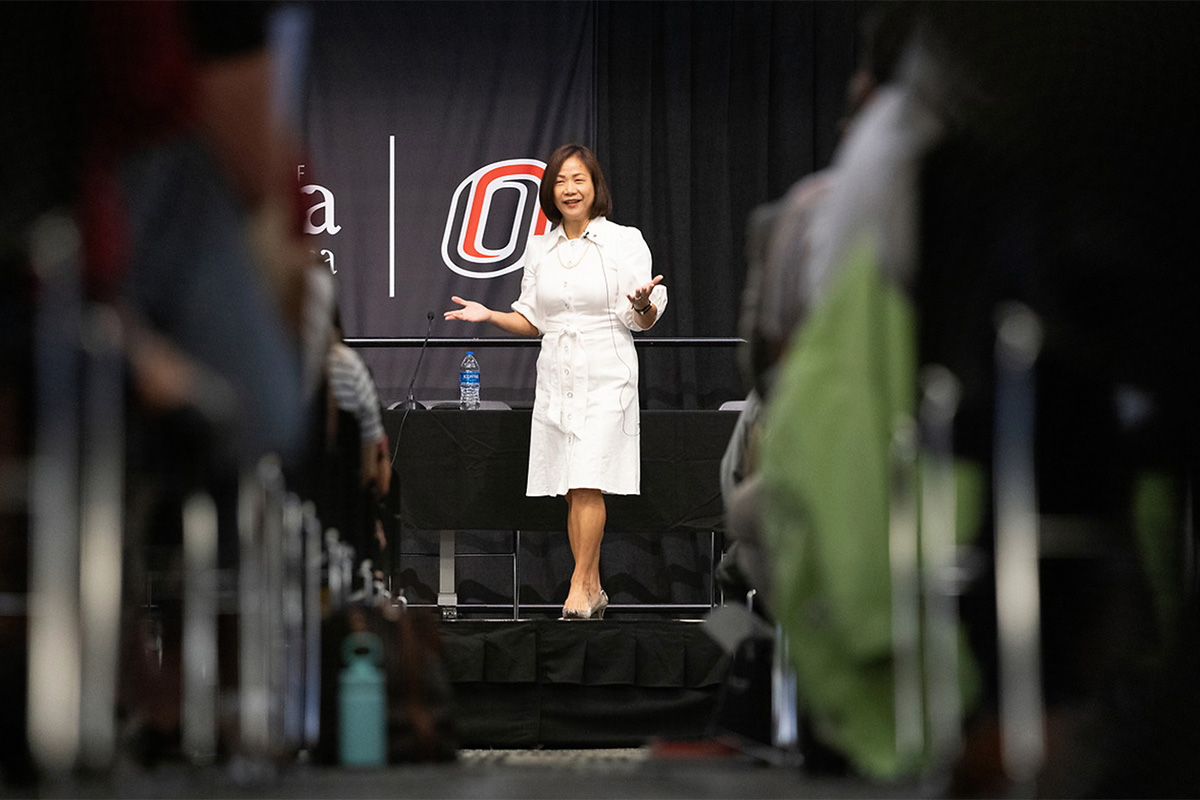 Read more from Chancellor Li in her first campuswide newsletter


---

In my first message to you as UNO's chancellor 90 days ago, I spoke about how there is an undeniable energy that radiates from this university, and how it draws in people of all backgrounds and inspires them to do incredible things.
That energy has led this campus to develop a remarkable research portfolio in cutting-edge fields that include biomechanics, counterterrorism, cybersecurity, criminal justice, the arts, and so much more. It has produced a large and growing number of community partnerships through efforts like Career Currency, the Service Learning Academy, and the Community Engagement Center's Community Engagement Partnership Initiative (CEPI). It has also equipped the two thirds of Omaha Public Schools teachers who have at least one UNO degree with the tools they need to support our city's K-12 students.
I write you today—after countless meetings with students, faculty, staff, alumni, community partners, and stakeholders as well as ongoing campus listening sessions underway—to say that now is the time to harness that energy and take our university and community to new heights. We have the capacity to be an even greater force for good not only on the local stage, but across the state and around the world.
This is how we will do it, together.
First, effectively tell the university's story and advocate for its mission in the halls of power.
Stories are powerful things. They grab attention, build communities around a set of ideals, and inspire action.
Everything we hope to achieve as an institution starts with effectively telling our story with the end goal of recruiting and retaining exceptional students, faculty, and staff. That is why our Office of University Communications (UCOMM) – led by Chief Communications and Marketing Officer Makayla McMorris – has been tasked with developing and executing an over-arching communications strategy that will set the tone for how we communicate our vision and inspire others to be a part of this community. This strategy will reinvigorate the UNO brand and touch each of our target audiences and stakeholders in a way that engages, informs, inspires. It will give everyone in the UNO orbit the playbook to be storytellers in their own lives. UCOMM's work laying the foundation of that story and how we share it is underway.
To use this story to its fullest potential, we will grow our state and community relations team within the Office of the Chancellor. Armed with a clear and concise message, a more robust team will be able to effectively advocate for UNO in city halls, to community boards, to state legislative bodies, to groups of alumni and donors, and more. They will also be able to build new partnerships with community and corporate groups while strengthening the many that already exist.
Second, we will drive a statewide culture shift around topics of student safety, diversity, equity, access, and inclusion.
There is no limit to what we can achieve together if we all have the peace of mind to learn, teach, and work to our fullest potential. Sadly, this is an environment that all institutions of higher learning struggle to foster. A 2019 AAU survey found that 1 in 4 undergraduate women experienced some type of sexual misconduct in college. Incidents targeting students of color and of different sexualities and religions are on the rise, according to a 2019 report.
If we commit ourselves to make our campus a safer, more welcoming place for all, we can be the catalyst that sparks change in our state and across the country. This will be difficult work, but work worth doing is never easy. We have already taken a foundational step by launching a national search for a chief diversity officer. Senior Vice Chancellor for Academic Affairs Dr. Sacha Kopp is leading this search alongside a diverse group of faculty and staff.
The individual who takes on this role will be a major factor in driving the culture shift that makes UNO a safer, more welcoming campus environment and leads by example for a more equitable community.
Achieving our end goal of becoming the leader in these spaces will require us to get comfortable being uncomfortable in some regards.
There will always be friction or tension in the exchange of ideas that take place every day on college campuses, in board rooms, and in gathering spaces. To set up our students for lifelong success and prepare them for leadership opportunities upon graduation, we must all take on an "iron sharpens iron" mentality around difficult conversations on our campus and in our community. I count on you to be our catalyst to foster a safe environment that is dear to our hearts.
I truly believe that if we encourage our students to be thoughtful and confident in their convictions, they can create space for others to share and exchange new and different ideas.
Third, we will disrupt the traditional student-to-university relationship to better support the modern learner.
For far too long, the relationship between students and their university has been transactional. Students pay tuition, receive an education, and with enough hard work and dedication, earn a degree. This is not acceptable for a student success-obsessed institution like UNO.
To meet the workforce needs of our state, we must move away from the transactional model to one that says: "If you have the courage to invest in your future, we will do everything in our power to ensure you are successful."
We will tell students that we exist to ensure they will earn a degree on time with minimal debt and be placed into a career they love. We will address "bottleneck" courses so that the student journey progresses without any roadblocks. We will work to enhance every aspect of the UNO campus experience so that it is a dynamic, supportive, and engaging environment that inspires students in their journey. We will combine high-tech data and analysis to identify issues and implement high-touch, person-to-person engagement to solve them. We will embrace the lifelong learner mentality and provide opportunities for students to earn the skills they need to excel in an evolving workforce through innovative degree programs, certificates, and credentialing. We will make in-person and online courses more accessible to people like working parents, individuals who want to change careers, active military members, and so much more. We are here to convert transactions into relations
Finally, we must believe in ourselves and trust our process.
Organizations that trust each other are organizations that succeed. We will be an organization that inspires trust within our campus and throughout the community by setting goals, measuring our success, and communicating openly with stakeholders. That trust is what will enable us to evolve our strategies in order to meet the needs of our students and our state.
I hope that this preview of our journey ahead inspires you in the same way that you have inspired me. This vision for UNO's future will continue to take shape in the coming months as I listen and learn from everyone in the Maverick community about their needs, goals, and ambitions.
I plan to share a clear, detailed, cohesive university plan built on these four principals during my State of the University and Investiture event in March – I hope you will join me in celebrating our future that we will build together.
As much as things may change on the road ahead, there is no shortage of talent in and out of the classroom that will lead us to where we want to be.
Sincerely,
Joanne Li, Ph.D., CFA
UNO Chancellor
About the University of Nebraska at Omaha
Located in one of America's best cities to live, work and learn, the University of Nebraska at Omaha (UNO) is Nebraska's premier metropolitan university. With more than 15,000 students enrolled in 200-plus programs of study, UNO is recognized nationally for its online education, graduate education, military friendliness and community engagement efforts. Founded in 1908, UNO has served learners of all backgrounds for more than 100 years and is dedicated to another century of excellence both in the classroom and in the community.
Follow UNO on Facebook, Twitter, Instagram, TikTok, LinkedIn, and YouTube.