Global Learning January Session
Explore your opportunities to study abroad this winter during UNO's January session, January 3 - 20, 2023. Choose from three program types and dozens of destinations where you can take a course that fits with your major, minor, general education or elective requirements this winter.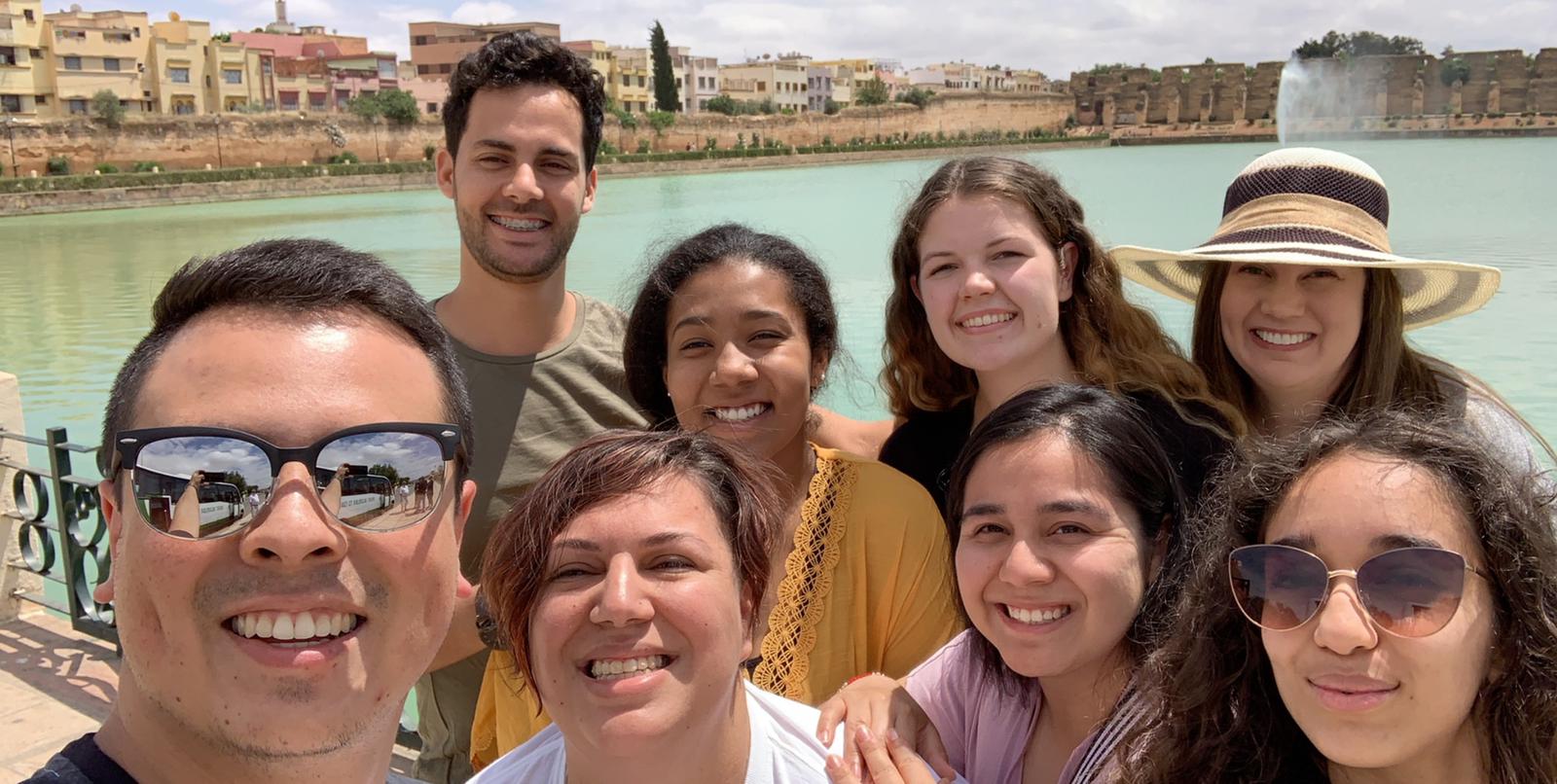 UNO Education Abroad is cautiously optimistic about January session study abroad programs. While we are excited to offer Mavericks the opportunity to physically travel during the session, we are also aware that health and safety conditions continue to fluctuate worldwide due to the COVID 19 pandemic.
We feel it is important to make all students, faculty, and staff aware that we cannot guarantee that January session travel programs will take place. We recommend students have an alternate plan as a back-up option should their first choice fall through. As an example, students may consider enrolling in an alternative course if their study abroad course is cancelled due to COVID-19. Students, please check in with UNO Education Abroad before paying any non-refundable expenses towards a January session travel program.
---
Program Types
UNO Global Course
Program's marked 'UNO Global Course' are UNO classes taught by UNO professors. The entire class travels together and the course + travel costs are billed through UNO. All forms of financial aid can apply towards a Global Course, including tuition scholarships, Nebraska Promise, federal and state grants, and loans.
Exchange Program
The program marked 'Exchange' is a special option to study abroad this January at Aalto University in Mikkeli, Finland, but to pay your tuition at UNO. This option allows you to apply tuition scholarships, Nebraska Promise, federal and state grants, and loans towards the program expenses.
Affiliate Partners
Program's marked 'Affiliate Partner' are organized through UNO's partner organizations, and provide many unique study opportunities around the world. These programs are not billed through UNO, but student's can still recieve and apply Nebraska Promise and their federal and state grants and loans towards the program cost, and can apply for the affiliate partner's scholarship offerings.
Academic Note: 'LL' indicates a lower level (1000-2000) course at UNO; 'UL' indicates an upper level (3000-4000) course at UNO, and 'TBD' means 'to be determined.'
| Program Name | Program Type | Course Abroad | UNO Course | Travel Dates | Program Link |
| --- | --- | --- | --- | --- | --- |
| Sustainable Ecotoursim in Costa Rica | UNO Global Course | GEOG 4620/8626: Geographical Field Studies | Same | Jan 12 - Jan 22 | PROGRAM IS FULL |
| Speech Language Pathology in the Dominican Republic | UNO Global Course | CDIS 8586 Speech-Language Global Interprofessional Clinical Experience | Same | Jan 12 - Jan 31 | PROGRAM IS FULL |
| Motivation for Physical Activity in Australia | UNO Global Course | PE 3900: Motivation for Physical Activity | Same | Jan 1 - Jan 20 | PROGRAM IS FULL |
| Biology in Yellowstone | UNO Global Course | BIOL 2030: Winter Ecology in Yellowstone National Park | Same | Jan 12 - Jan 20 | PROGRAM IS FULL |
| | Exchange Program | Brand Management | MKT 4000 | Jan 2 - Jan 20 | |
| | | Entrepreneurship in the Global Economy | TBD | Jan 2 - Jan 20 | |
| | | Investments and Portfolio Management | FNBK 4610 | Jan 2 - Jan 20 | |
| | Affiliate Partner: IES Abroad | HL395 Health Studies: Clinical Observation and the Cultural Aspects of Health Care in Chile | TBD | Jan 3 - Jan 22 | |
| | Affiliate Partner: Sant'anna Institute | HIST 350 Greek Influence in Southern Italy: Colonization & Culture | HIST UL | Jan 2 - Jan 21 | |
| | | ENGL 203 World Literature | ENGL 3500 | Jan 2 - Jan 21 | |
| | | MSC 113 Intro to Marine Biology | BIOL LL | Jan 2 - Jan 21 | |
| | | IS 350/HIST 350 History of Italian Food and Culture | SOC 4990 | Jan 2 - Jan 21 | |
| | | BIOL 221 Human Nutrition | BIOL LL | Jan 2 - Jan 21 | |
| | | MKG 320 Product Management: Food Marketing | MKT 4000 | Jan 2 - Jan 21 | |
| | | POL 375 Special Topics: Human Rights | PSCI 3240 | Jan 2 - Jan 21 | |
| | | WL 101: Elementary Italian Language | FLNG 2530 | Jan 2 - Jan 21 | |
| | Affiliate Partner: CIS Abroad | Japanese Language (at Beginner, Intermediate, or Advanced level) | FLNG 2530/3530 | Jan 1 - Jan 17 | |
| | | Anime and Japanese Pop Culture Studies | SOC 4990, ART LL | Jan 1 - Jan 17 | |
| | Affiliate Partner: IFSA | Social Media Marketing in the Age of Self | MKT 3370 | Jan 3 - Jan 21 | |
| | Affiliate Partner: IFSA | Multicultural Psychology | PSYC 4530 | Jan 3 - Jan 21 | |
| | Affiliate Partner: IFSA | Italian Art, Power, and Influence | TBD | Jan 3 - Jan 21 | |
| | Affiliate Partner: CEA | Spanish Language and Literature (9 levels) | See Below | Jan 7 - Feb 1 | |
| | | Advanced Spanish | SPAN 3040 | | |
| | | Beginner Spanish | FLNG 2530 | | |
| | | Elementary Spanish | FLNG 2530 | | |
| | | High Advanced Spanish | SPAN 4030 | | |
| | | Intermediate Spanish | SPAN 2120 | | |
| | | Lower Intermediate Spanish | SPAN 2110 | | |
| | | Proficiency Spanish | Graduate Independent Study | | |
| | | Superor Spanish | SPAN 4040 | | |
| | | Upper Intermediate Spanish | SPAN 3030 | | |
| | Affiliate Partner: ISA | Spanish Language (4 levels) | TBD | Early Jan - mid Jan | |
| | Affiliate Partner: AIFS | Music in the Age of Mozart | TBD | Jan 1 - Jan 21 | |
| | Affiliate Partner: AIFS | History 323/HIS 3293 (3) | Costa Rican Health Care System and Tropical Medicine | TBD | Jan 7 - Jan 21 | |
| | | Social Science 307/HHD 3070 (3) | Conflict Resolution and Health Care | SOC 4990 | Jan 7 - Jan 21 | |
| | Affiliate Partner: AIFS | Art History 308 (3) | Paris: World Capital of Arts and Architecture | ART 4930 | Jan 1 - Jan 21 | |
| | Affiliate Partner: AIFS | Fine Arts 307 (3) | Fashion in France 18th-21st Century | ART 4930 | Jan 1 - Jan 21 | |
| | Affiliate Partner: AIFS | BUS 310 (3) | Digital Marketing | MKT 3360 | Jan 1 - Jan 21 | |
| | Affiliate Partner: AIFS | Business 308 (3) | Cross Cultural Communication and Negotiation | MGMT 4450 | Jan 7 - Jan 22 | |
| | Affiliate Partner: AIFS | Business TBA (5) | Doing Business in South Africa | BSAD 4000 | Jan 2 - Jan 19 | |
| | | Photography TBA (3) | Travel Photography | ART UL, JMC UL | Jan 2 - Jan 19 | |
| | Affiliate Partner: AIFS | Art 327 (3) | Spanish Art and Cultural Heritage | ART 4930 | Jan 7 - Jan 21 | |
| | | Business 307 (3) | International Business | BSAD 2700 | Jan 7 - Jan 21 | |
| | Affiliate Partner: AIFS | Intensive Spanish (4 Levels) | TBD | Jan 6 - Jan 23 | |
| | Affiliate Partner: Burgundy School of Business | Creative Mindset and Entrepreneurial Leadership | MGMT 4000 (2 credits) | Jan 10 - 14 (in 2022) | |
| | Affiliate Partner: CIEE | PUBH 3001 NETU: Public Health in the Netherlands | TBD | Jan 3 - Jan 22 | |
| | | GEND 3001 AMNT: Gender, Race, Sexuality, and Popular Culture | TBD | Jan 3 - Jan 22 | |
| | Affiliate Partner: CIEE | (GI) BUSI 3013 BRGE: Entrepreneurship and Start-up Culture | ENTR 3710 | Jan 2 - Jan 22 | |
| | Affiliate Partner: USAC | Economic and Political Institutions of the European Union | TBD | Dec 27 - Jan 14 | |
| | | Spanish Culture and Civilization | TBD | Dec 27 - Jan 14 | |
| | | Spanish Language (6 levels) | TBD | Dec 27 - Jan 14 | |
| January in Seoul, South Korea | Affiliate Partner: USAC | General Studies | TBD | Dec 26 - Jan 15 | |
| | | Korean Language and Korean Studies | TBD | Dec 26 - Jan 15 | |
| | | Management and Economics | TBD | Dec 26 - Jan 15 | Visit Program Page |
| | | Social Sciences | TBD | Dec 26 - Jan 15 | Visit Program Page |