Maverick Philanthropy Initiative Seeking New UNO Faculty and Disciplines for Spring 2021 Courses
After piloting the program in 2019, the UNO Service Learning Academy is seeking to expand the Maverick Philanthropy Initiative (MPI) across course disciplines.
published: 2020/10/02
contact: Kirsten Case - UNO Service Learning Academy
email: kcase2@unomaha.edu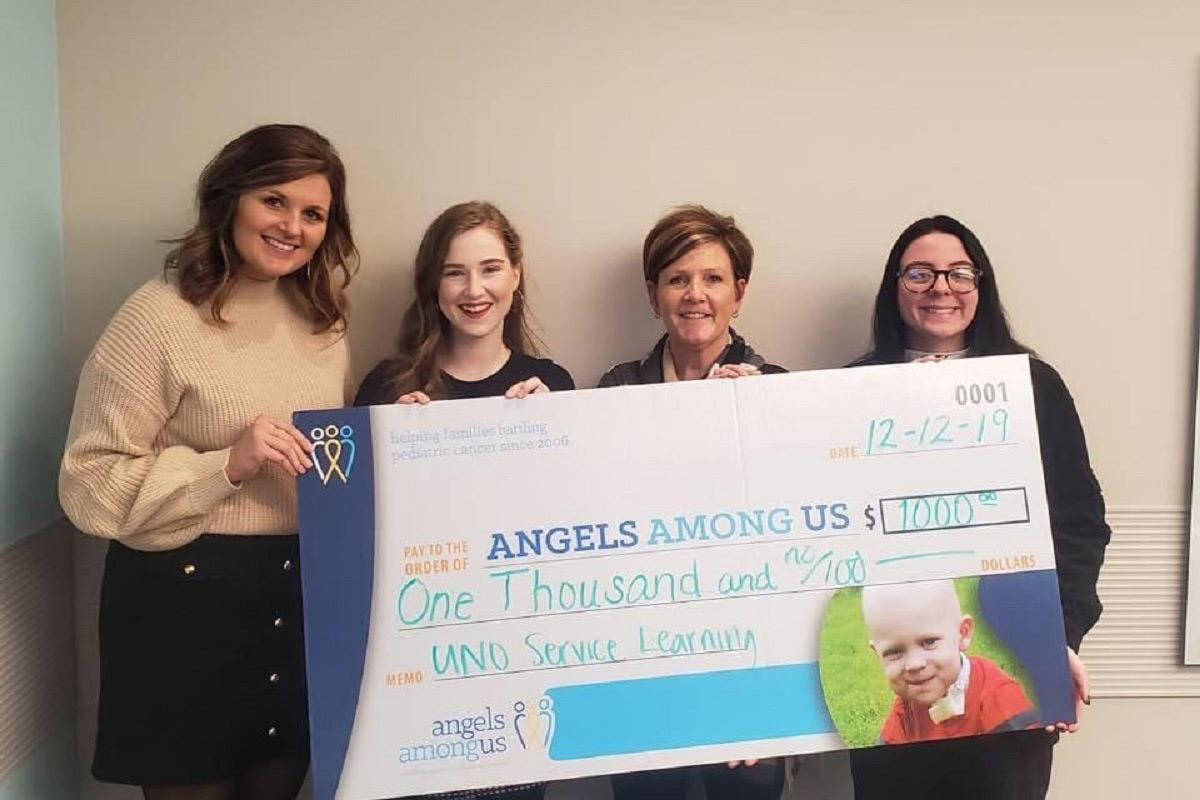 The Maverick Philanthropy Initiative (MPI) incorporates philanthropic principles into course curriculum, where students are taught about philanthropy and get access to actual funds to select a nonprofit recipient.
The courses are designed to encourage an interest in philanthropy while educating students about the real-life impacts of giving. By offering a tangible benefit to a community organization that students discover, vet, and select together, MPI courses provide a unique and memorable learning opportunity.
This student-led initiative allows students from each course section to collectively decide how to distribute a $1,000 grant in their community. Students not only get to work directly with community organizations but share their time, talent, and treasure to advocate for them and provide them with a fresh perspective on their work. The Maverick Philanthropy Initiative allows students to serve as philanthropic leaders in their own community, and experience firsthand the impacts of charitable giving.
Benefits to Your Classroom:
UNO Faculty Members benefit from engaging in this initiative in many ways. First, it promotes active engagement in course content and student learning. Second, it bolsters growth in both classroom and community partnerships. Third, UNO Faculty Members receive a stipend for the redevelopment of their course.
UNO Students cultivate important skill sets related to giving, course content, volunteering and civic engagement while developing a deeper understanding of philanthropy and engagement in their communities.
Community Partners work with UNO Faculty Members and Students to educate and engage students, our future leaders, in real-world philanthropic giving. Community partners bring expertise to the partnership and share community-identified opportunities.
Interested UNO Faculty:
Contact Kirsten Case Fuller, UNO SLA Community Liaison, at kcase2@unomaha.edu to learn more about how you can incorporate the Maverick Philanthropy Initiative into your Spring 2021 course(s) and begin planning.
The UNO SLA provides logistical support to MPI courses, allowing you to incorporate real-world experiences into your classroom with ease.
---
Here are some examples of previous projects:
Contact Us
If you are sponsoring a special or public event happening in the CEC or would like to share a news tip or story please let us know.
Robyn Loos
Special Projects Associate
Email: rloos@unomaha.edu
Phone: 402.554.2173