Eligible Groups and Events
The Barbara Weitz Community Engagement Center (CEC) at the University of Nebraska Omaha (UNO) is a building designed to provide meeting and collaboration space for area non-profits, UNO and community groups, government agencies and educational institutions for the purpose of community engagement.
The CEC has a set of criteria that qualifies groups and events to use spaces in the building. To uphold the CEC's mission, vision, and values, all event requests will be reviewed and approved based on the proposed activity or type of event at the discretion of the CEC.
| Groups We Host | Groups We Do Not Host |
| --- | --- |
| Area non-profits | For-profit Businesses |
| Engaged UNO Groups | Social Fraternity Organizations |
| Community-based Groups | Social Sorority Organizations |
| Educational Institutions | Political Groups |
| Government Agencies | Individuals Seeking Office |
| Student-run, Engagement Groups | |
Booking and Usage Policies
For more detailed information about our policies, including any of the following, please review the full Booking and Usage Policies.
Booking and hold limits
Parking reservations and policies
Room configurations, set-up and re-set time
Room condition policy
Liability and damages
Public safety, youth, and conduct
A/V
Fliers for an event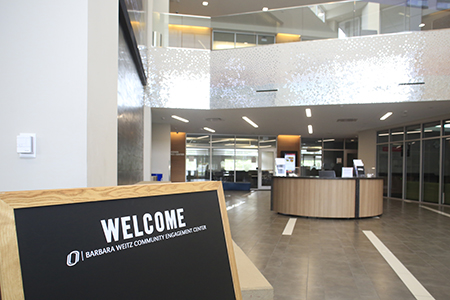 | Events We Host | Events We Do Not Host |
| --- | --- |
| UNO Community Engagement Events | Weddings and Graduation Parties |
| Educational Events | Sorority/Fraternity Meetings |
| Government Sponsored Events | Retirement Receptions |
| Student Community Engagement Events | For-profit Events |
| Building Partner Events | Third-party Vendors Press Conferences |
Reservation Priorities
Reservation requests are prioritized by date and in the following order:
Building Partner Organizations
Other UNO or External Community Organizations
How to Request Meeting Spaces
Please fill out our Reservation Request Form to request meeting space(s). For day-of or next day requests, contact Traci Fullerton at 402.554.6000, or at unocecreservations@unomaha.edu. 

All inquiries for space will require:
Detailed description of event
Date
Meeting start time
Meeting end time
Number of people
Title of event
Any parking needs
How to Reserve Parking for a Meeting or Event
Reservations for meeting or event parking should be made at the time of your meeting reservation request. Please direct your visitors for meetings and events to our Guest Parking. The CEC will do everything possible to reserve spaces for your event, however, parking in Lot E is not guaranteed and the parking attendant may issue temporary parking passes for the surface lots if parking is unavailable in Lot E at the time of check-in.
Lot E is staffed from 7 A.M. until 7 P.M. Monday through Thursday, and 7 A.M. until 5 P.M. on Fridays. No stalls can be reserved while the attendant is off duty, and the lot becomes a first-come, first served visitor lot. If you intend to drop-off or pick-up guests by bus please contact Vanessa Rath, UNO Parking/Transit Manager, at 402.554.7277, vrath@unomaha.edu to make arrangements.
Reservation Confirmation
There is no reservation without written confirmation. If you do not receive a confirmation by email, the requesting group or organization is responsible for contacting the CEC to determine the status of the request.
Signed Reservation Agreement
Reservation Agreements are sent at the time of your confirmation and must be signed and returned, within two (2) business days after confirmation is delivered, or the reservation will be canceled.